Playing youth sports is a staple of a midwestern childhood, and Brandon Oblazney knows how positive the benefits can be for a young athlete. He also knows the importance of clean personal care products. So he took his childhood memories and expertise and merged the two, creating Youthsport All-In. We recently sat down with Oblazney and discussed Youth-Sport All-In's product line, the importance of clean products, and giving back to youth sports in the Indianapolis area.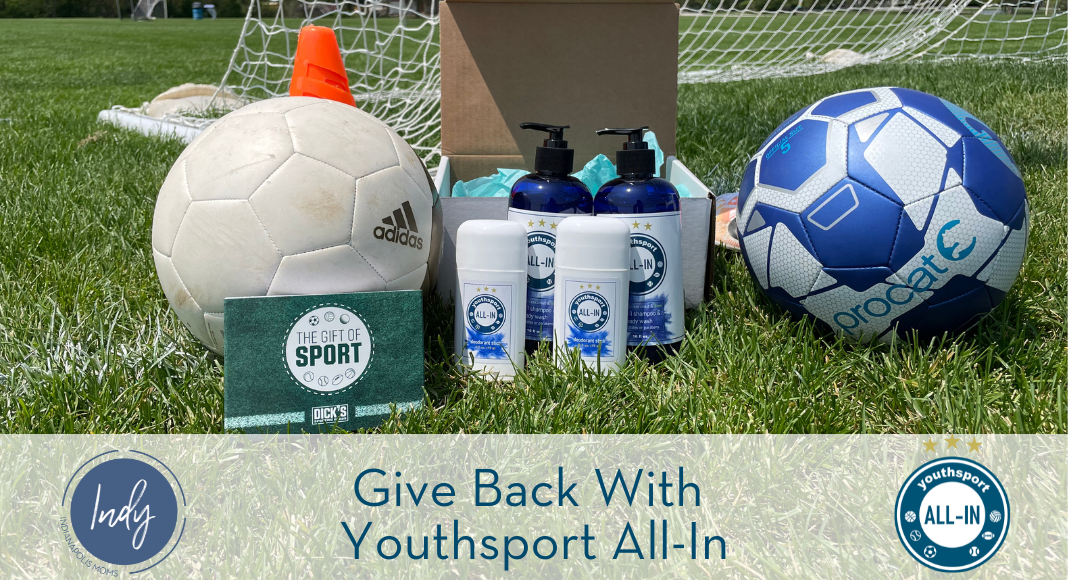 ---
Tell us your story and how you developed the products for Youthsport All-In.
Oblazney grew up in Central Indiana and played youth sports as a child – he loved track, cross country, and basketball. He graduated in 2015 from Guerin Catholic High School and went to the University of Michigan. After college, he worked in investment banking, specifically working in personal care mergers and acquisitions. "I learned way more about women's cosmetics than I ever thought I would," says Oblazney.
After returning home during the pandemic, Oblazney saw an opportunity for himself with a shift in personal care products becoming cleaner and more natural. He noticed that personal sports care products weren't really following that shift, so he took it upon himself to learn about the leading brands in personal care products and their natural ingredients. Using his experience in personal care mergers and acquisitions and his memories from youth sports, including how his athletic brother had sensitive skin growing up, Youthsport All-In was born. "I saw an opportunity to create a clean personal care product for youth athletes," says Oblazney.
The brand's meaning is twofold: "YouthSport" represents who the brand is dedicated to, and the second part, "All-In," is symbolic of parents' dedication to supporting their young athletes.
Let's talk about the products. What products do you offer and what's currently available to purchase right now?
There are two products you can purchase on Youthsport All-In's website, which launched about three months ago. First, there is a Premium Coconut & Lime 2-in-1 Body Wash & Shampoo. This 2-in-1 product, in a nice bottle with a pump for easy access, has a simpler appearance geared toward older children and teenagers. Oblazney remembers a lot of brands growing up had "childish" marketing styles, and older children or teenagers may not like that style. Youthsport All-In made sure to mature their branding to fit their demo.
Another product sold on the website is their Deoderant Stick which is a coconut-based formula. It includes a natural-based probiotic, counterbalancing the bad bacteria that hangs out in armpits and sweat.
Growing up in the Indiana Basketball Academy, Oblazney has a fond memory of getting sports cards after each practice, and if someone got a popular player, he and his friends all wanted to trade cards. So honoring that memory, each Youthsport All-In box includes three cards per product that you order. "Not only is it an exciting little collectible, but it's a great reminder of the excellence your kids can achieve and something inspirational to help lighten up their day," says Oblazney.
Your emphasis is on clean products. Explain to us the actual ingredients that are in your products.
Oblazney starts by explaining what is not in their products. A lot of the top brands have ingredient lists that will negatively affect those with sensitive skin. The three biggest ingredients that Youthsport All-In does not include are sulfates, parabens, and aluminum. Sulfates can clean your scalp too much, giving you unwanted dry scalp and ridding your hair of the moisture it needs, causing bad irritation. Parabens, an artificial preservative, can disrupt hormonal growth. Aluminum, sometimes included in other deodorant brands, is a non-natural perspiration ingredient and can really irritate the armpits.
Here is what Youthsport All-In does include in their products:
For their 2-in-1 body wash and shampoo, the leading ingredient is a coconut-water mixture of coconut liquid endosperm, glycerin, and coconut fruit juice which has moisturizing, anti-aging, and antioxidant properties. It also includes sunflower seed oil and castor oil, which both soften and provide nutrients to the skin, as well as citric acid and rosemary oil, which are anti-irritants. Last but not least, lime and coconut fragrances give it a great smell.
The deodorant stick contains coconut oil, which eliminates the bad bacteria in your armpits, as well as cornstarch to absorb moisture and sweat. The other ingredients in the deodorant stick include baking soda, candelilla wax which is a nice alternative to beeswax and is a thickener and moisturizer, jojoba seed oil which is an antibacterial moisturizing component, and probiotic, a sport-based bacteria battler.
To see a full list of their premium ingredients, click here.
How does your subscription service work?
Oblazney remembers as a kid "squeezing every last bit out of the bottle" on days when he and his family would forget they were running out of personal products, so that is why he offers a subscription service with the Youthsport All-in product line, to help busy families have one less thing on their plate.
As a convenience for parents, when you order products online, you can "subscribe & save" at checkout with a 10% off discount. You can choose between one or three months for the subscription so you never run out.
Tell us how Youthsport All-In gives back to youth sports.
A part of their proceeds gives back to organizations that help youth sports and local leagues. Specifically, in the Indianapolis area, proceeds are going to the Boys and Girls Club and the YMCA. Local organizations like Westfield Youth Sports and Carmel Dads' Club are benefitting as well.
Why is this so important? To Oblazney, it's very important to help provide funds for scholarships and new equipment. Most sports leagues in the area have a "don't turn away any child" policy and as youth sports continue in popularity, it's very important that these leagues get the funds for equipment to provide opportunities for all young athletes.
Oblazney grew up knowing the benefits of playing sports as a kid – like gaining lifelong friends, overcoming mental and physical obstacles, leadership skills, higher self-esteem, less risky behavior, and better performance in school – to name a few. "Youthsport All-In gives back to organizations that support youth sports so that every kid can experience the benefits that sports have to offer," says Oblazney. "We really just want to spread the love on sports."
If parents are interested in learning more about Youthsport All-In products and where to get started, where can they go?
You can go to their website at youthsportallin.com. Make sure you check out the referral program as well, which offers another 10% off in addition to the 10% you can get with the subscription. They have a blog where you can learn more about their story, seasonal articles, and a page that shows a detailed list, with links, of all their premium ingredients. You can also check them out on their Facebook and Instagram accounts.
---
Check out the full interview here and learn more about Youthsport All-In:
---
About Youthsport All-In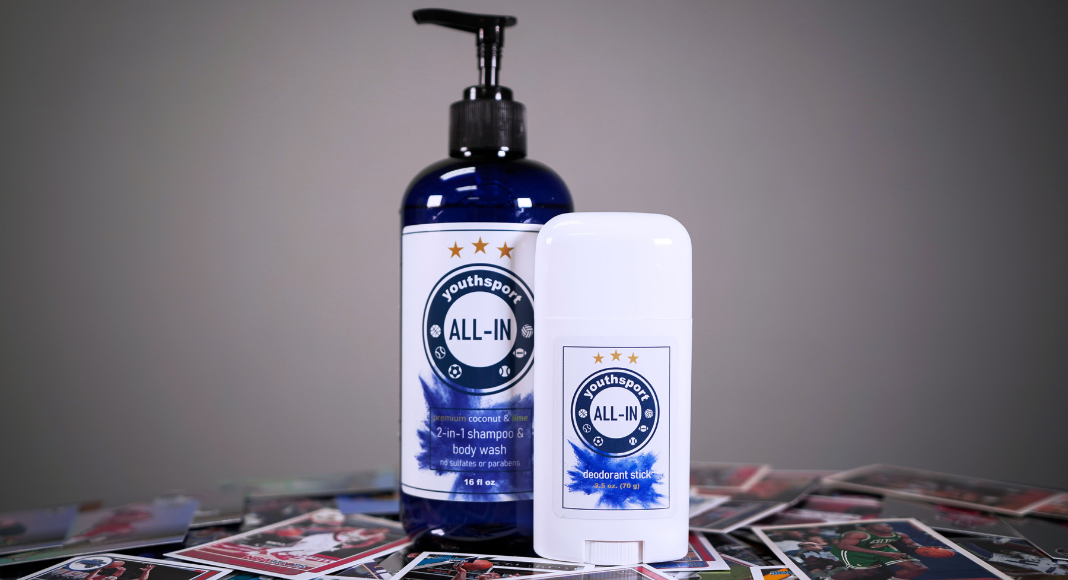 In 2022, Youthsport All-In was founded to bring young athletes clean personal care products that work and support youth sports programs to help kids keep on playing. At Youthsport All-In, a portion of our profits goes to organizations that help make sports more accessible to youth. When you buy, a portion of the profit will:
help pay for the general outright costs of playing sport in a league through a scholarship, p
ay for equipment,
facility improvement,
accessibility to workout equipment, and
pay for summer camp.