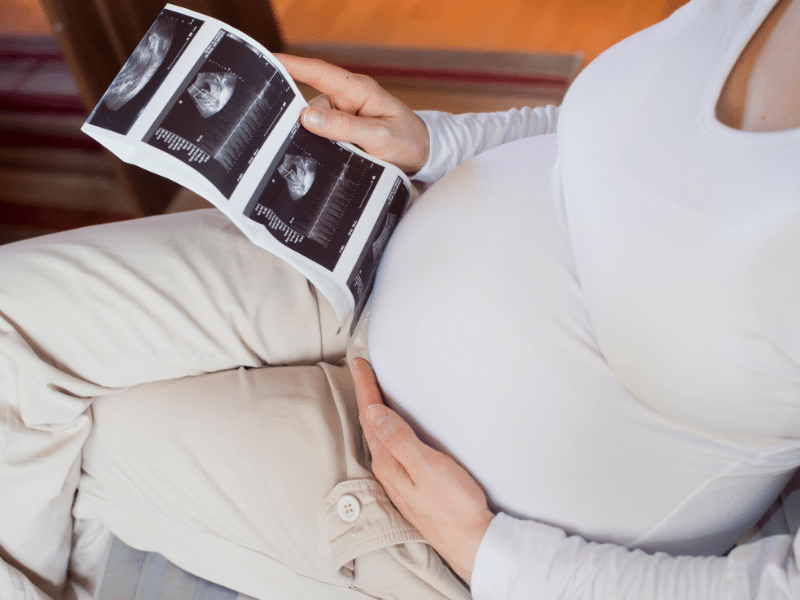 Preparing to have a baby can be a nerve-racking time for every mom-to-be, filled with anticipation, birth plans, and packing the hospital bag. Lately, that anticipation has spiraled into major anxiety with all of the uncertainty surrounding the Coronavirus pandemic hitting our country. We wanted to know how Indiana University Health is handling this COVID-19 outbreak when it comes to labor and delivery, recovery, and their current visitation policy. We spoke with Dr. Jeffrey Meltzer, OB/GYN at IU Health North Hospital to learn more and to help put the mamas' minds at ease.
Explain a little bit about what you know about COVID-19. How does this differ from other illnesses?
Dr. Meltzer shared that we hear the term novel a lot. The coronavirus is a well-known cause of common cold symptoms. But what makes this virus different is we have never seen it before; it is a new (novel) virus and can cause more severe infections including pneumonia. Common symptoms of COVID-19 include cough, fever, tiredness, muscle aches, sore throat, runny nose, vomiting, and diarrhea. Some patients experience loss of smell or taste. At this time, there is no known anti-viral treatment for COVID-19, although clinical studies are ongoing. A vaccine has yet to be tested clinically, although we hope one will be available in the future.
Are pregnant women at higher risk and can you pass COVID-19 to your infant?
According to Dr. Meltzer, pregnant women are in the same high-risk category as the elderly, as well as women who are 6-8 weeks post-partum due to immune system concerns. Dr. Meltzer said that it is important to note there is a difference between passing the virus to your unborn child versus passing it to your baby after you've given birth. He said there is currently no evidence showing that an unborn child is at risk of catching the virus. Babies born to infected moms do not appear to be testing positive but there is no data to suggest the illness is shown in the amniotic fluid. However, Dr. Metzler did say there is a chance you could pass the virus to your new baby after giving birth, much like passing the virus to anyone you come into contact with.
Can mothers still breastfeed if they happen to get the virus?
The virus does not appear to be present in breastmilk, so there is no reason not to breastfeed. However, if the mom is under investigation or is known to have the virus, it can be transmitted easily to her newborn. Dr. Meltzer highly recommends that if tested positive, the mom should take extreme caution while breastfeeding (i.e., pumping and having someone else feed the baby, if possible).
When it comes to labor and delivery, will women be able to have a support person with them during labor or will this be limited?
This is a constantly evolving situation, but as of March 31, 2020, the current policy at IU Health is if you are admitted to the hospital and in labor, ONE support person is allowed with you. Dr. Meltzer stresses that the support person should not change, it should be the same person throughout your time at the hospital. Also, IU Health considers doulas as part of the healthcare team, so as of March 31, a doula can come in as well.
We understand that right now all hands are needed on deck with the virus outbreak. What will the staffing look like when it comes to the labor and delivery room?
Dr. Meltzer explained that as of March 31, 2020, things are generally stable in labor and delivery units. However, if things do go sideways, the staff at IU Health is prepared with support and people willing to do whatever it takes. "Rest assured, we have plans that are in place," Dr. Meltzer said. He reminded us that it is hard to know what the future will bring, but preparation is key. "IU Health has plans and standard processes in place to treat a potential influx of patients. This includes evaluating and ensuring adequate staffing, space, and equipment. Most importantly, we are working closely with the Indiana State Department of Health and other hospitals and health systems to ensure the needs of our communities are met." He added, "Rescheduling elective procedures has also helped us conserve resources and free up team members to deal with emerging public health needs."
Do labor and delivery units get to keep all their emergency equipment or have all hospital supplies been pooled for ERs and ICUs in anticipation? 
Dr. Meltzer stressed that they are nowhere near having to ration equipment and IU Health has plans in place to handle things as best as they can. They are doing everything necessary to take care of both patients and newborns in the best way possible. Currently, labor and delivery units are maintaining their supply of emergency equipment.
Many families have small children at home and will need childcare when mom goes into labor. Because of social distancing, many families are staying apart from grandparents who would typically care for these children. What are your recommendations on what to plan for when it comes to taking care of your family when you are away at the hospital?
Every situation is unique and families have to make more difficult choices that they normally would not have to make. The recommendation from Dr. Meltzer and health experts is to limit exposure as much as possible when utilizing a caretaker for your other children while you are in the hospital. This is the most important thing you can do, especially with all of the uncertainty and the amount of time it takes to show symptoms of the virus. The good news is kids do not get significantly ill if they contract COVID-19, according to Dr. Meltzer. The risk isn't great if left with a healthy caregiver. But, the more people they are exposed to, there is a higher risk of getting you and your newborn ill. The least number of people involved in childcare, the better.
Should women still go to the doctor's office during the outbreak for well check appointments and postpartum check-ups?
IU Health has been reducing patient schedules in order to decrease the amount of in-office traffic, minimizing the risk of spreading the virus. They are canceling all non-essential visits and converting them to virtual/telehealth visits. All patients moving forward are going to be pregnant patients who need essential, in-office appointments. They are pre-screening for COVID symptoms prior to visits.
They urge all pregnant and postpartum patients to talk to their provider and pediatrician if there are any causes for concern, physically and mentally. This is a very stressful time for patients, and Dr. Meltzer says it's just as important for women to take care of themselves emotionally, during pregnancy and postpartum.
"Overall, IU Health providers and staff are committed to making sure patients are informed and they know when to call," said Dr. Meltzer. They are committed to delivering the best care they can in a difficult situation. For all those moms worrying out there, be assured you have some great healthcare workers and facilities that are going to take great care of you.
If you think you have contracted COVID-19, please contact your physician before going to your doctor's office. The best place to be is at home. Always call your provider first with any concerns.
Dr. Meltzer is the medical director for IU Health Physicians Suburban Division and lead physician for IU Health Physicians Women's Health in Carmel. He has been practicing obstetrics and gynecology since 1995 and is dedicated to the management of high-risk pregnancy and minimally invasive gynecological surgery.
Indiana University Health
Named among the "Best Hospitals in America" by U.S. News & World Report for 22 consecutive years, Indiana University Health is dedicated to providing a unified standard of preeminent, patient-centered care. A unique partnership with Indiana University School of Medicine – one of the nation's leading medical schools – gives our highly skilled physicians access to innovative treatments using the latest research and technology. Learn more at iuhealth.org.