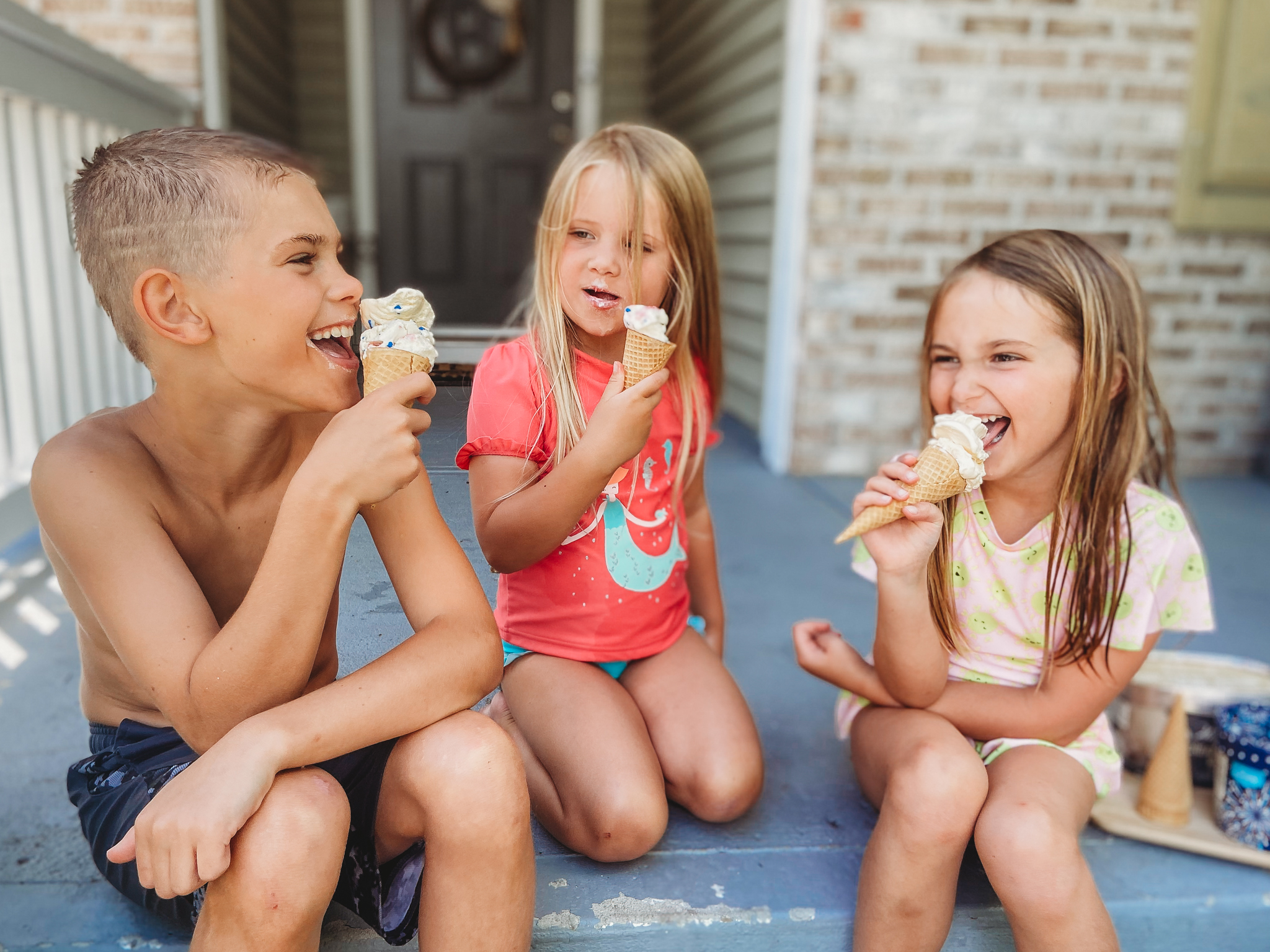 Summer is officially here and I'm pretty sure we can all agree that we are here for it! As a family, we try to spend as much time outdoors as we possibly can. Nothing feels better than a healthy dose of Vitamin D from the sunshine and an afternoon spent burning off the energy that we have been holding on to all winter long. Summertime is all about the memories, and each and every year my goal is to make it the sweetest summer ever for the family. Besides the daily trips to the pool and playgrounds, we also have several go-to activities that we rotate on a daily basis. One of our favorites? Ice cream of course! You can make any of these summer activities sweeter with a scoop or two of Hudsonville Ice Cream.
These summer activities are simple and easy for parents to put together. Trust me, I don't have time to handle much these days! So here are four of our favorite summer activities you can do with your family to make it the sweetest summer yet!
Homemade Bubbles
I got tired of replacing bubble solution after my young children would knock it over and spill it day after day. So we just started making our own and parents let me tell you – it is life changing. You can use your old bubble wands or plastic straws are also fun to create different shaped wands to use. The secret to this mixture? Add sugar! I mix up the solution in a big bowl, set it on the driveway and let the kids go to town. Pro-Tip: Keep the hose handy for the post-fun clean up. The solution can get a little sticky so we will typically wash hands and feet before heading back inside!

Here's How It Works:
Get a large bowl and add 1/2 cup of dish soap into it.
Next, add 1 1/2 cups of water and stir in 1-2 tablespoons of sugar. (I usually start with 1 and then will add another one depending on the bubbles!)
Get your wands ready and start blowing bubbles!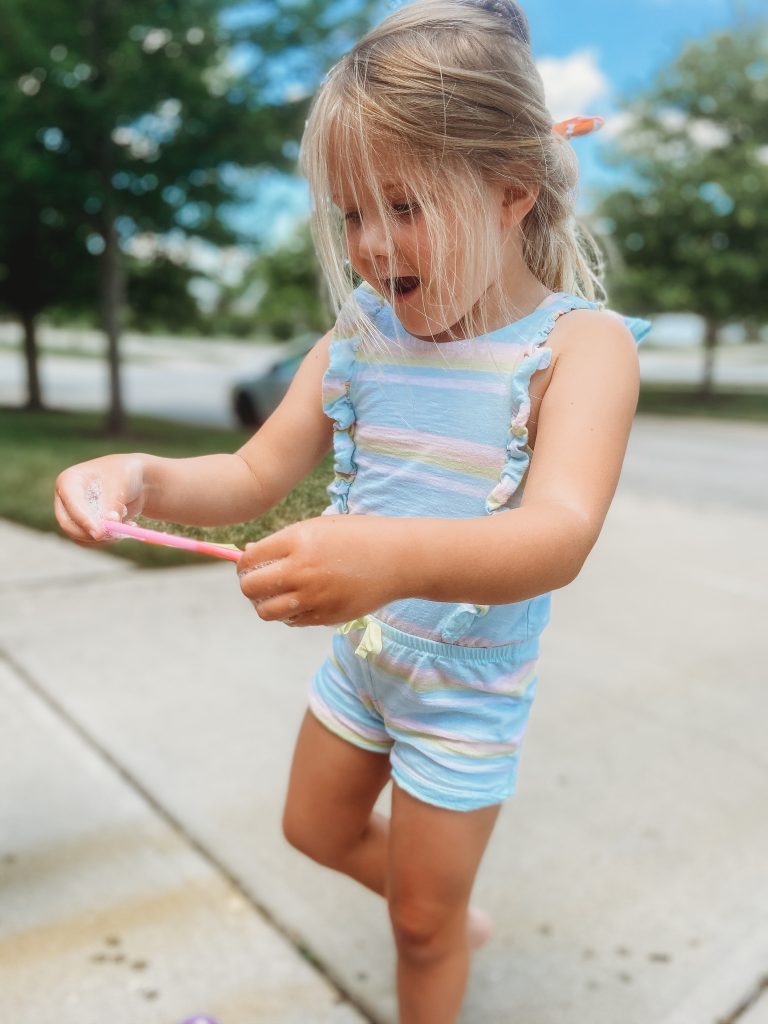 DIY Sidewalk Chalk Paint
Now, let me preface this that I truly am not one that enjoys activities that make a HUGE mess. Yes, this sidewalk chalk paint can be messy but it's so easy and the kids have so much fun with it. You only need three ingredients for this activity – cornstarch, water and food coloring. I will make up the paint and put it in little bowls, give the kids paintbrushes and let them paint away! When picking your food coloring, remember the brighter the colors the better because it will show up more on the cement.
Here's How It Works:
Mix 1/2 cup of water with a 1/2 cup of cornstarch. Stir it well!
Add food coloring and stir.
Pass out the paint brushes and enjoy!

Water Balloon Baseball
You can never go wrong when you bring out the water balloons! Our family will occasionally engage in an ultimate water balloon fight. But the amount of time it takes to fill those things up compared the mere seconds it takes for your kids to go through them all, I try to find different ways to make them last! Water Balloon Baseball is one game our family (and neighbors too!) love to play. And it can be modified to be appropriate for any age level.

Here's How You Play:
The pitcher will throw a balloon to the kid up to bat. If they hit it, they can run the bases. If they miss, the three strikes and you are out rule applies.
For kids that aren't quite able to hit the balloon yet, use a t-ball tee to let them hit off of it.
If the batter hits the ball, they can run the bases and the opposing team can try to get hit them with a balloon. If they get hit they are out.
Set a score rule or play until all the balloons are gone.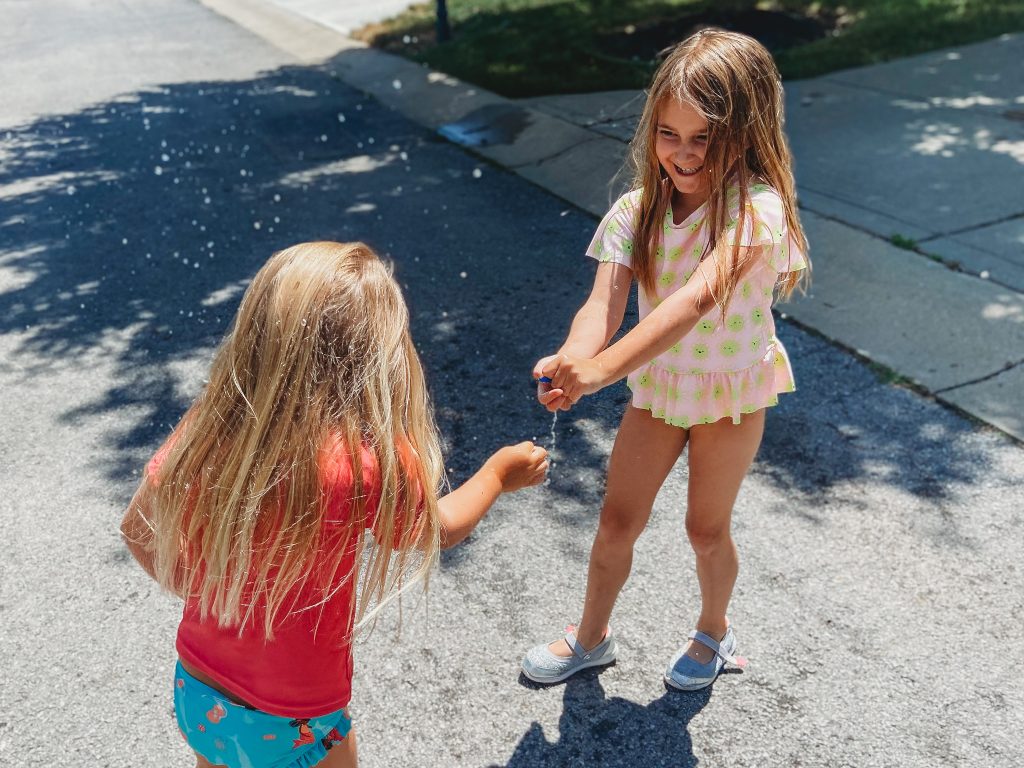 Hudsonville Ice Cream Cones
There truly is no question that summer is our favorite season around here and anything we can do as a family to make memories is the goal. As I mentioned before, it's about making it the sweetest summer ever each time summer rolls around; especially during a season that felt a little more bleak than usual. Along with spending the hot days playing outside, another favorite summertime tradition includes our family porch talks with ice cream cones.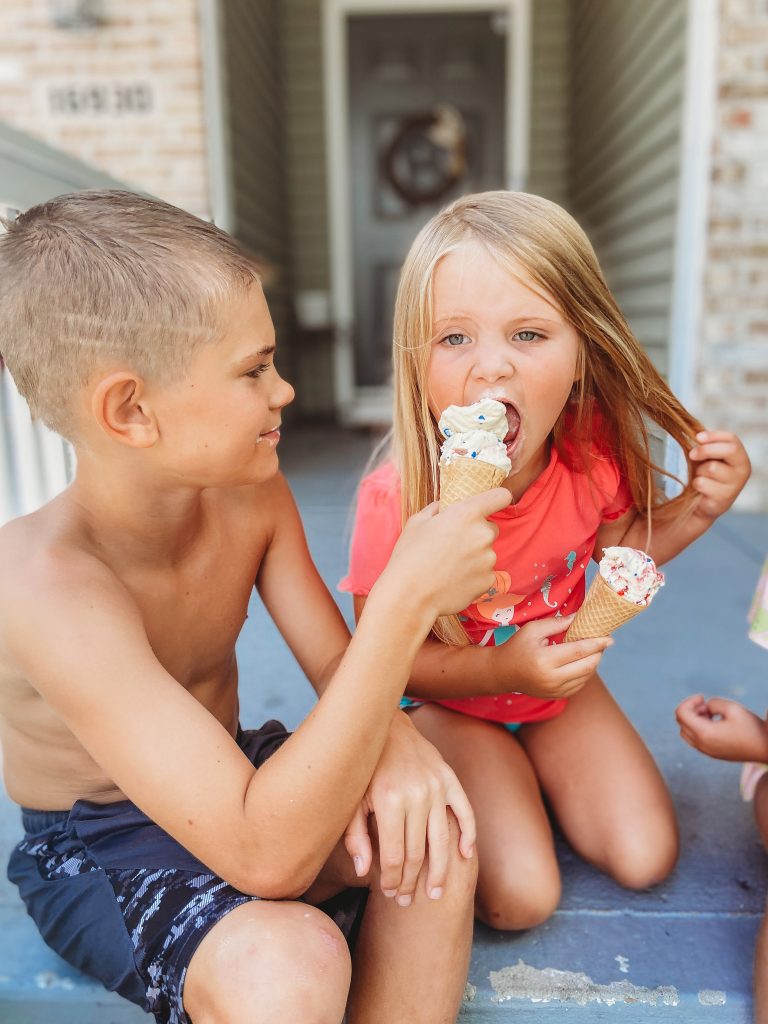 At the end of a day full of playtime and fun, you can always find us sitting on the front porch enjoying a cone filled with our favorite Hudsonville Ice Cream flavors. It's the one part of the day we look forward to and truly enjoy the togetherness as a family. There's something about ice cream and summer that just go hand in hand! Spending the time laughing, telling jokes and just plain together time is so good for the soul – all with a nice, cold ice cream cone in hand too! And it's the Hudsonville Ice Cream that makes these memories even sweeter.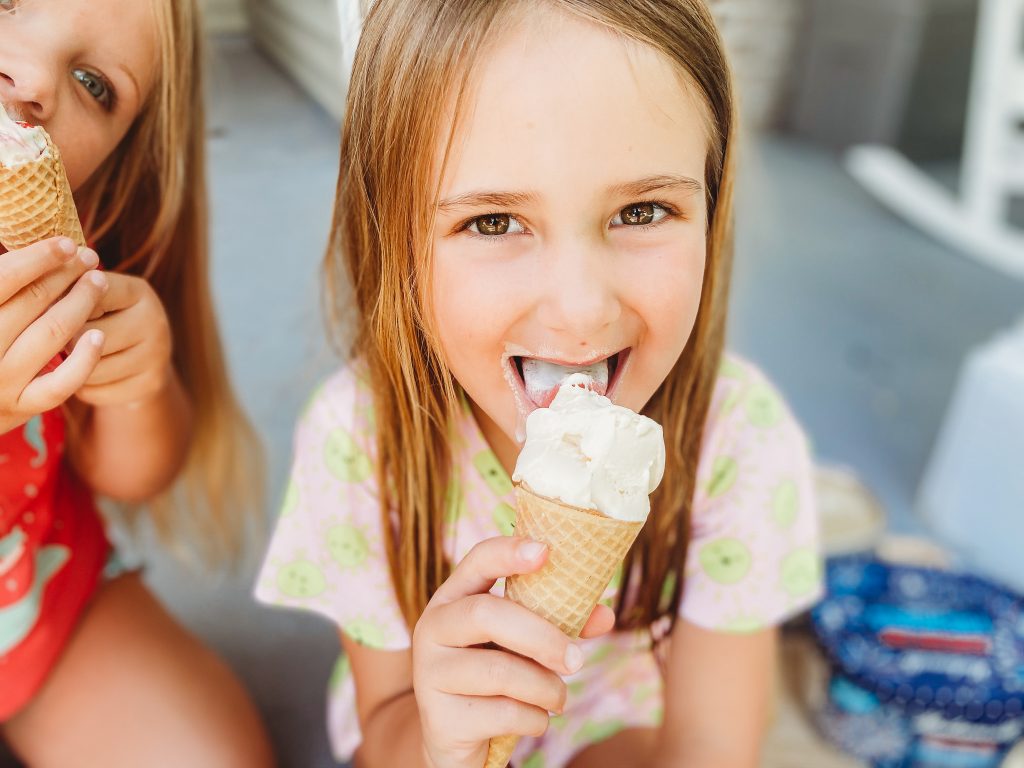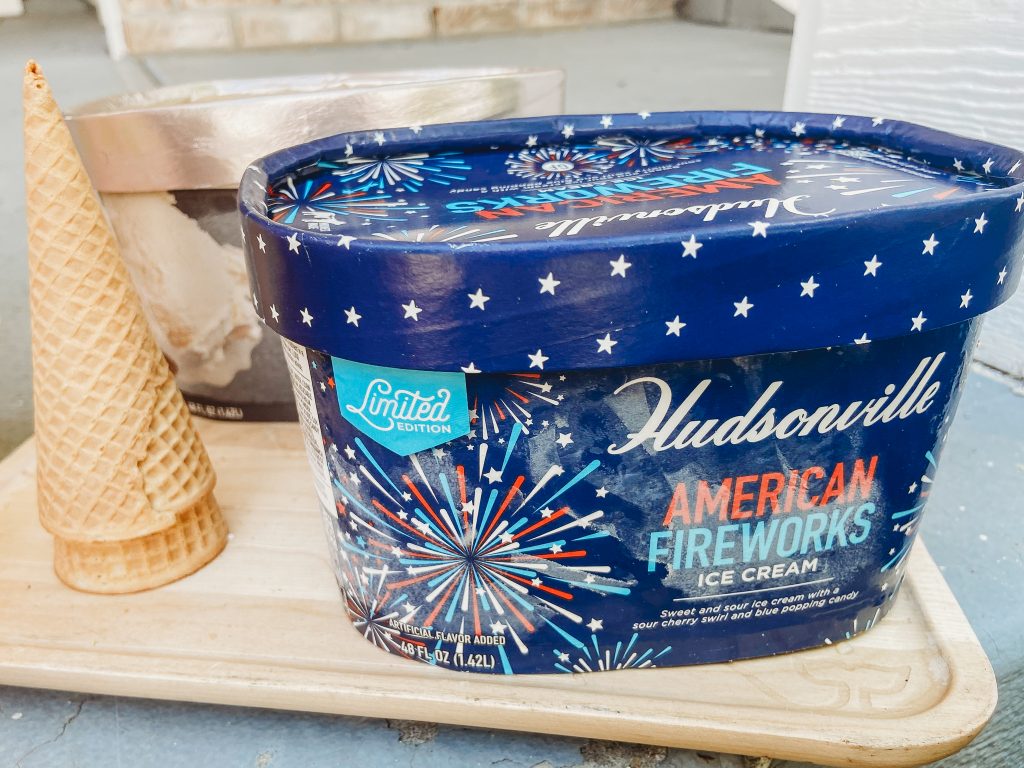 Whether we are scooping out our favorite Creamery Blend Vanilla or jazzing it up withLimited Edition American Fireworks, Hudsonville Ice Cream is always the sweet spot to our summer days. It makes these memories special and the season sweeter, which is something my family will always look back at and remember.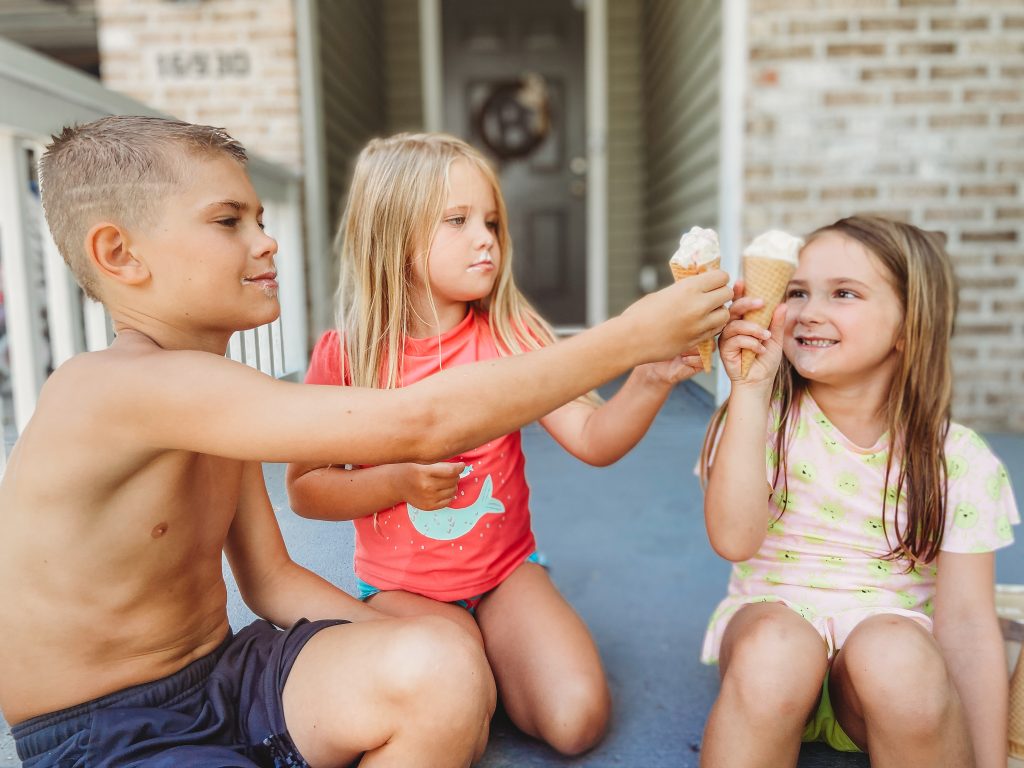 Share with us! What activities do you do with your family to make it the sweetest summer ever?
About Hudsonville Ice Cream
Hudsonville Ice Cream is about more than just ice cream. For them, it's all about making life a little sweeter. It's about the feeling you get, the experience you have, and the people you share a scoop with. Their Midwest creamery has been perfecting the art of ice cream making for more than 90 years. While they enjoy creating creamy, delicious and exciting new flavors, many of their ice creams use a base recipe that was created back in 1926! With more than 50 flavors to choose from, including the world's best French Vanilla and Dairy Free options, Hudsonville Ice Cream has options for everyone to enjoy.
Get your coupon for $2 off any Hudsonville Ice Cream flavor of your choice! Click here to grab it!
Find Hudsonville at a store near you using their Scoop Locator tool!