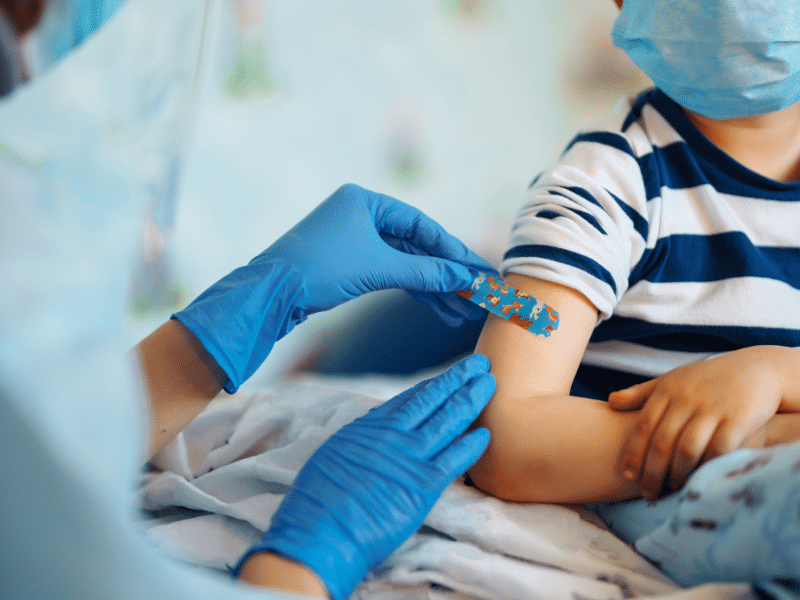 Now more than ever, parents are taking a mama and papa bear approach to parenting. The protection of our children has become more strict since COVID became a source of constant worry. To some parents, taking our children to the doctor's office for a well-check or to get vaccinated can be anxiety-inducing. And now with fear of possible coronavirus exposure,  there has been an increase in families choosing not to take their child or canceling appointments altogether. It's a difficult balance for parents because we only want the best for our children; the choice between immediate safety versus longterm safety is fatiguing. We spoke with Dr. Amanda Gripe, pediatrician at IU Health West Hospital, on the importance of continuing vaccinations during the crisis.
Has there been a drop in immunizations since COVID hit Indianapolis? If so, have there been any outbreaks of other diseases this year?
Dr. Gripe confirmed that yes, in the US and the world as a whole, there have been drastic reductions in childhood vaccines since the pandemic started. "The Centers for Disease Control and Prevention has looked at stats reported by states, including Indiana, and there has been a remarkable decrease," said Dr. Gripe. "The decrease is often due to factors including the mandatory shelter in place orders, county and state restrictions, and the natural tendency during a pandemic to focus on disease rather than preventative care."
As of July, there are no known disease outbreaks besides the coronavirus in the US. However, Dr. Gripe says that the way vaccine rates have dropped since March increases the potential risk of losing the benefit of herd immunity against vaccine-preventable diseases. Infectious disease experts say even under the best scenarios, there are still pockets of vaccine-preventable disease outbreaks. The very trend of decreasing vaccines and the current state of things will make outbreaks very likely in the future.
How important is it to continue vaccines during the crisis? Can vaccines be spaced out?
Dr. Gripe highly suggests continuing with vaccinations during the crisis saying, "Vaccines should be considered an essential health service. Vaccines are one of the best public health benefits to offer patients, so it is recommended to give them the highest priority." 
It is not recommended to space out vaccinations. According to Dr. Gripe, the recommended vaccination schedule based on age is reviewed and adjusted as necessary every year. "It may seem arbitrary to parents, but it is deliberately put together. Doctors study when the immune system is going to provide the best response to a vaccine and certain vaccines can trigger the ideal response at specific ages." She also said that doctors consider the age a child encounters a specific germ. The vaccine schedule will allow the maximum amount of benefits for children, so parents need to be diligent about sticking to the vaccine schedules.
Note: Alternate vaccine schedules are out there but are not widely endorsed by trusted health authorities. The following health authorities should be trusted when making important decisions when it comes to your child's (or unborn child's) healthcare:
Should parents continue scheduling well-check appointments for their children or are these okay to hold off on for the time being?
As the situation allows, parents should continue to schedule well-check appointments. There are other factors besides vaccines that help ensure the growth and development of children. 
With that said, parents need to prepare for some changes in the well-check process itself. Dr. Gripe explains that the scheduling might look different, depending on the practice. Some doctor's offices separate their well-check offices from their sick offices, intentionally separating those patients. Other practices have changed their physical location. Or maybe an office is separating out sessions for well and sick children, deep cleaning in between. Parents should also expect different check-in and waiting processes. Some offices implement physical distancing in waiting rooms, and children of certain ages will be expected to wear masks. Also, some practices ask that you wait in your car and call before entering the doctor's office. 
"A lot of people might be leery about going to medical offices, but never before have healthcare workers been so focused on preventing the spread of germs," says Dr. Gripe. "Even though there is a big, bad scary germ in the world right now, a lot of offices are very deliberate in their prevention practices."
Are certain vaccines more important than others right now?
All vaccines are equally crucial based on seasonality, explains Dr. Gripe. Right now, during the summer months, the influenza vaccine is not being offered to patients. It will become available in September or October. Something to note, as we approach the fall and winter months, there will be a lot of focus placed on influenza vaccines this year. This is due to flu symptoms being very similar to COVID symptoms. This year more than ever, you will see doctors and health officials recommending the flu vaccine. Dr. Gripe wants to ensure those that don't have a great deal of confidence in the flu vaccine that a little body ache or temperature elevation after receiving the flu vaccine means your body is responding appropriately. 
Is there an age that is most at risk of missing vaccinations?
The trusted health organization groups (mentioned and linked above) have decided the highest priority age group is two years and under, and most at risk if vaccinations are missed.
However, this doesn't mean other age groups are unimportant. As schools begin to reopen for in-person classes, parents will need to think ahead on vaccines. There will still be requirements. Planning ahead will help alleviate a crowded doctor's office or the risk of missing appointments or vaccines. Also, adolescents that are required to have a physical exam will need to plan ahead as well.
What should parents do if vaccines have been missed?
"The best strategy is to call the doctor's office and get to know the new process," says Dr. Gripe. "The doctor can guide you through the well-visits to help you and your child get back on track."
Right now, the pandemic is robbing us of focusing on other health priorities. We have to do everything we can to avoid a second wave or even a secondary health crisis that can arise after a pandemic.
Dr. Gripe assures everyone that it is okay to be confused or frustrated about the information that has come out since COVID hit the US. Dr. Gripe says that information presented on a Monday might be different than the information given on Friday. The change in information is not coming from uneducated professionals, it is a representation of how quickly we are acquiring new information. It's all a scientific process, and scientists are working tirelessly to get out all the information possible in a timely manner. Be patient as information changes.
Also, it is recommended not to get your information via social media. This is a topic that everyone has an opinion on. There are reputable websites to visit, listed above, to get your information. Another resourceful website for parents and caregivers, recommended by Dr. Gripe, is healthychildren.org. It is a parent information site, in plain language, maintained by the AAP. 
And parents, you're doing the best you can. Have a little grace for yourself.

About Dr. Amanda Gripe
Dr. Amanda Gripe is an Assistant Professor of Clinical Pediatrics with the Section of Pediatric Hospital Medicine and is Board Certified in General Pediatrics and Pediatric Hospital Medicine. She is a graduate of Indiana University School of Medicine and completed a residency in Pediatrics at Riley Hospital for Children. Dr. Gripe also completed a clinical ethics fellowship with the IU Health Fairbanks Center for Medical Ethics. She serves as Pediatric Section Chief and co-chair of the Ethics Committee at IU Health West Hospital.

Indiana University Health
Named among the "Best Hospitals in America" by U.S. News & World Report for 22 consecutive years, Indiana University Health is dedicated to providing a unified standard of preeminent, patient-centered care. A unique partnership with Indiana University School of Medicine – one of the nation's leading medical schools – gives our highly skilled physicians access to innovative treatments using the latest research and technology. Learn more at iuhealth.org.