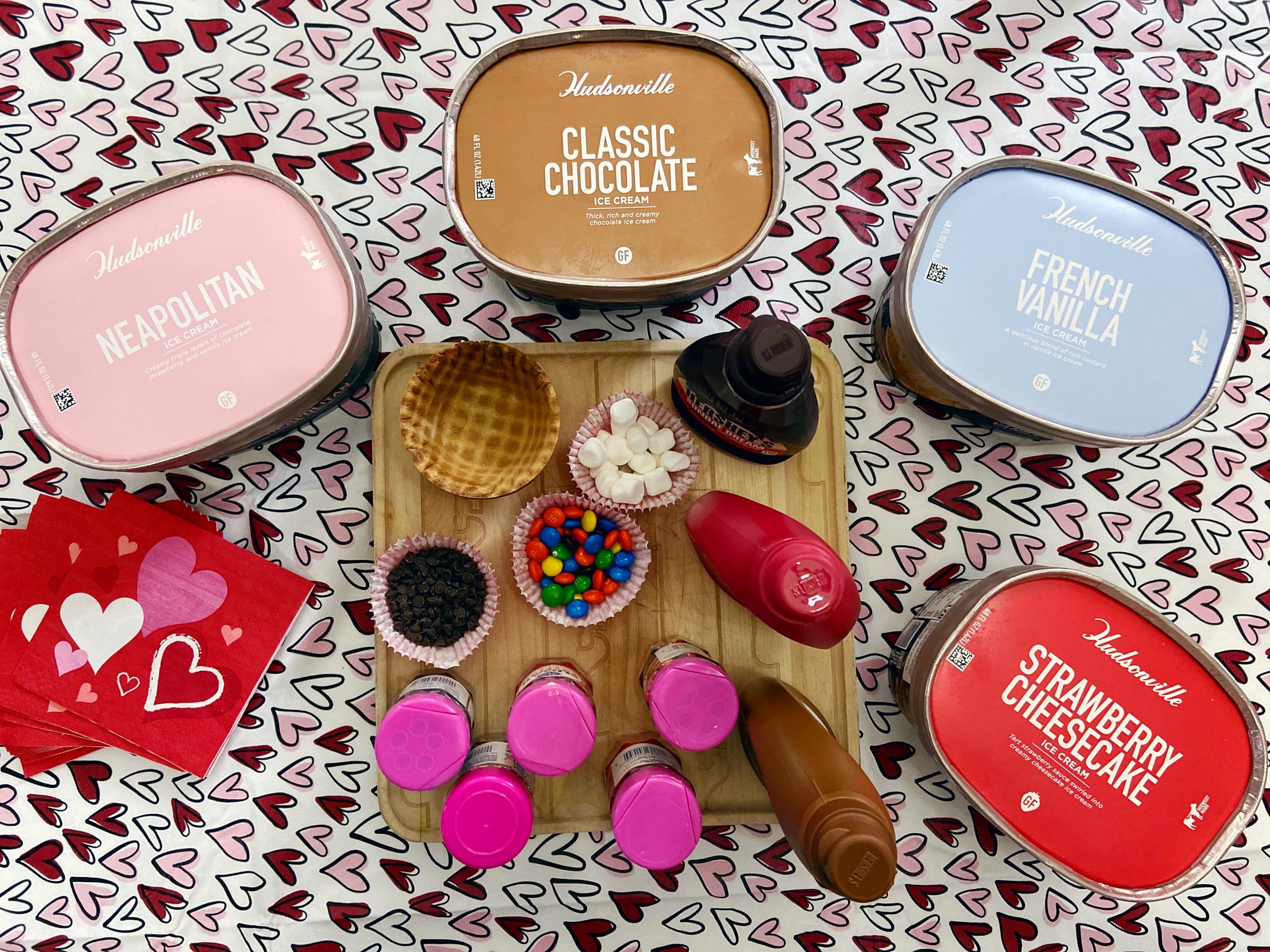 Valentine's Day has never been a holiday that our family celebrates in a big way. But after the last year, my heart feels like we are at a time that needs to make the little things feel big and special for my kids. Usually I do something small for each child because their class parties are typically pretty busy. So this year I decided to create a fun Valentine's Day themed ice cream sundae bar that we could do together!
I'll be the first to admit that the idea of a sticky mess sends my anxiety into overdrive. However, with a little extra planning I was able to pull the whole ice cream sundae bar together with minimal mess and of course, lots of fun! The first step is deciding which ice cream flavors you want to include. For our family, Hudsonville Ice Cream was a no brainer because this ice cream was made for making these moments sweeter. Plus the creamy ice cream has a variety of flavors which helped me keep with the Valentine's Day theme. I decided on Chocolate, French Vanilla, Strawberry Cheesecake and Neapolitan which was perfect since these flavors are staples in our household! What is Valentine's Day without chocolate, vanilla and strawberry treats?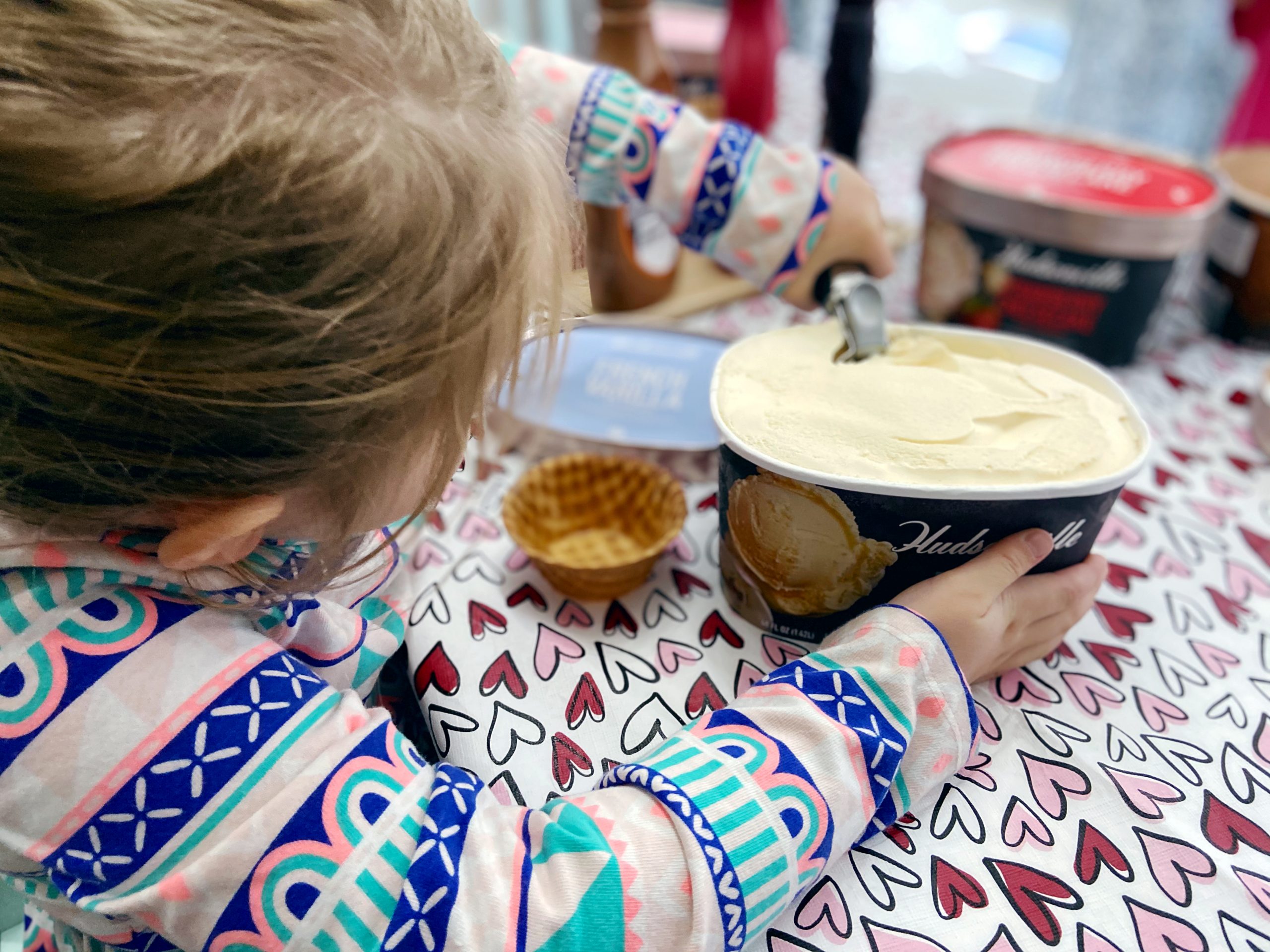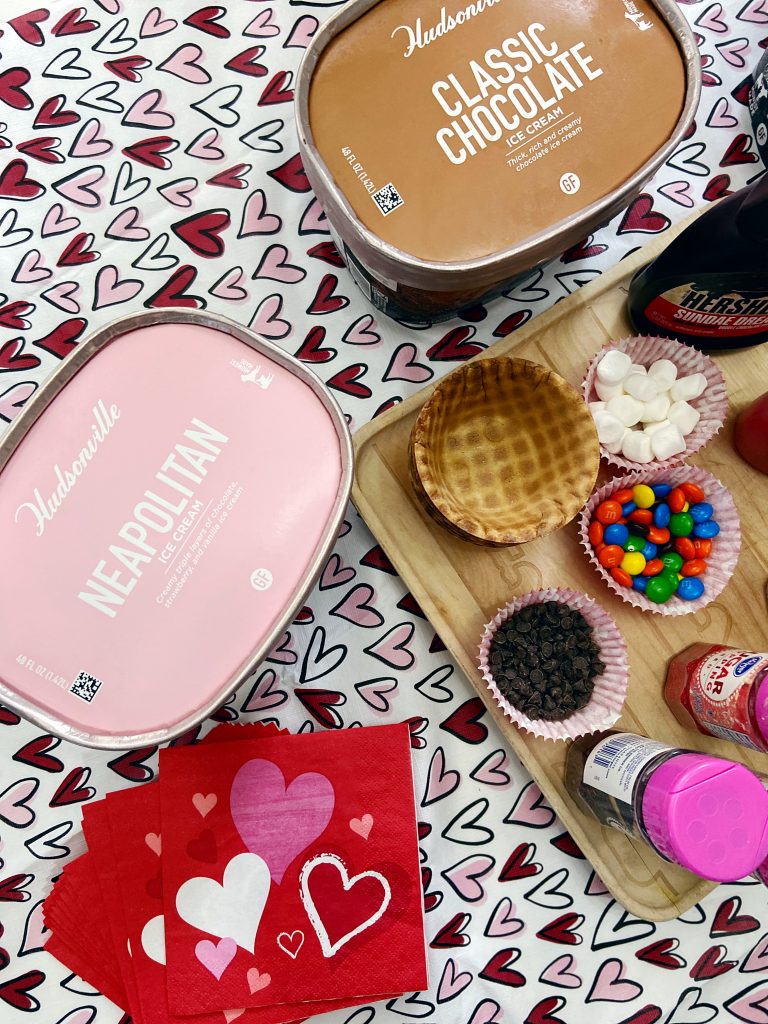 Next, decide which toppings your family will enjoy in the sundae bar. We already had a variety of sprinkles from our holiday cookie decorating, so I was able use a lot of things that were in my pantry. I also wanted to help contain the mess. I decided to pour the bagged toppings into heart- cupcake tins. This was perfect for little hands and even easier to just throw away after we were all done making our sundaes. And don't forget the sweet syrups too! I made sure to grab a variety of strawberry, caramel and chocolate syrups along with our favorite – whipped cream topping! Most of these have a flip top which help contain the mess and keep those hands clean. Well, for the most part!
Other Topping Ideas:
Red or Pink Sprinkles
Chocolate Sprinkles
Valentine or Heart Themed Sprinkles – check the holiday aisles for these!
Chocolate chips or candies
Hot Fudge – keep in mind that this topping is a bit messier than syrup!
Mini Marshmallows
Waffle Cone Cups – you can use these instead of bowls
Cherries for on top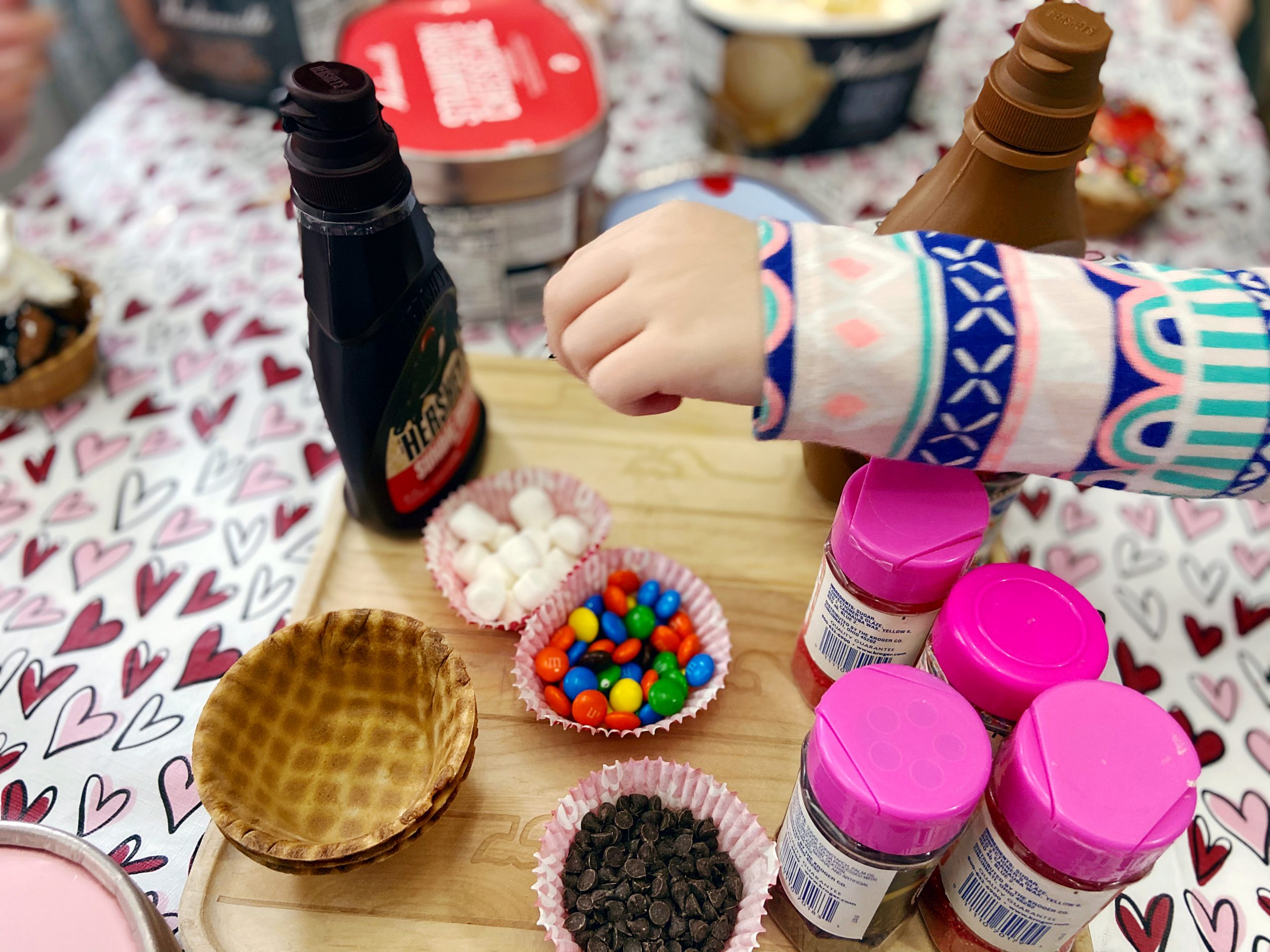 I set up our Valentine's Day ice cream sundae bar on a festive plastic table cloth in the kitchen. (Again, think easy clean up here!) My kids were so excited for the special treat and had such a fun time putting their sundaes together. It was an easy activity and with just a little bit of planning, the sundae bar was an absolute hit! My daughter kept saying to me, "Mom, this is the best day ever!" And that to me made the entire activity worth it.


Share with us! Do you have any special activities your family does to celebrate Valentine's Day?
About Hudsonville Ice Cream
Hudsonville Ice Cream is about more than just ice cream. For them, it's all about making life a little sweeter. It's about the feeling you get, the experience you have, and the people you share a scoop with. Their Midwest creamery has been perfecting the art of ice cream making for more than 90 years. While they enjoy creating creamy, delicious and exciting new flavors, many of their ice creams use a base recipe that was created back in 1926! With more than 50 flavors to choose from, including the world's best French Vanilla and Dairy Free options, Hudsonville Ice Cream has options for everyone to enjoy.
Find Hudsonville at a store near you using their Scoop Locator tool!