We are huge Indianapolis Colts fans. It's not really a secret, we named our firstborn Andrew. (Technically not after number 12, but we get asked a lot if that was the case.) So, when little Andrew was born we weren't sure how he would fit into our love for the horseshoe. Now at 3 years old he has been to a handful of games and we have learned a lot about the in's and out's of navigating a NFL game with a child. In year's past this was an expensive and somewhat complicated afternoon, but thankfully, this year the Indianapolis Colts took a huge step in creating a more family-friendly NFL experience. For a full run down, check out Indianapolis Mom's Blog's Colts Family Guide, but here are my tips on how to take your kids to a Colts game this season!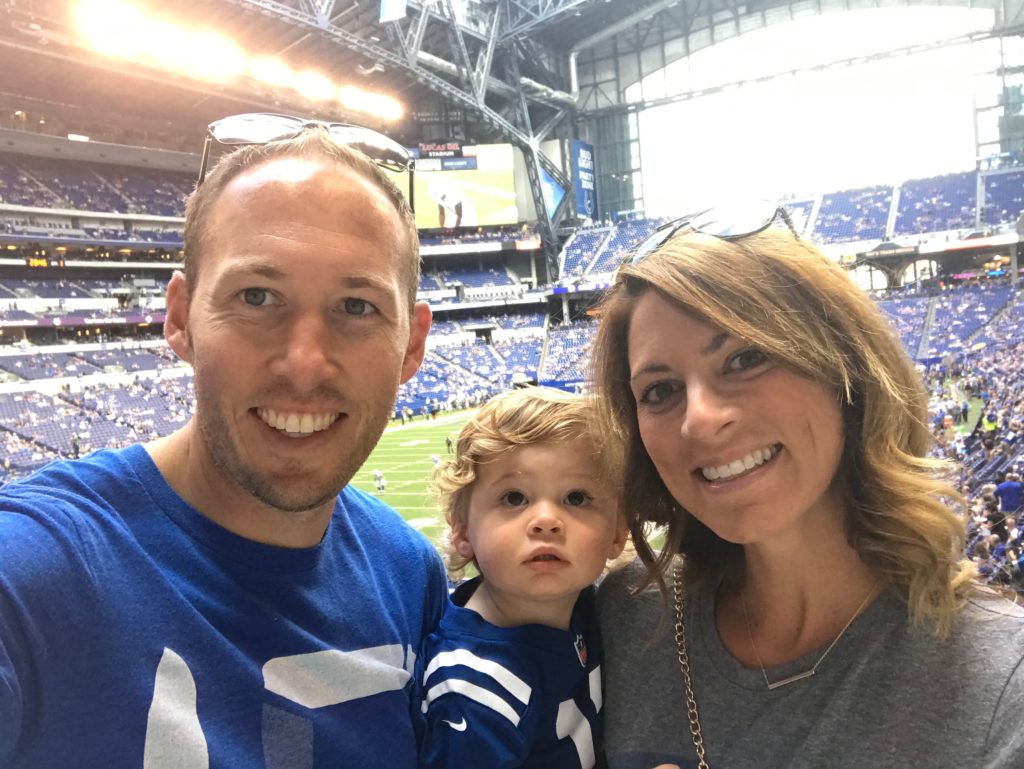 Family fun for a great price
It can be tough to think about taking your kids to a game simply based on the money, but now children under 24 months are free! If you really want to look at some value options, pre-season games are amazing. Low prices, less crowded, and the perfect time to explore with your kids! You can also Celebrate Family Day with the Colts on August 17th with special discounted ticket pricing to bring out the whole family. The ticket package includes 4 tickets for $60, and you can add on additional tickets for $15 each. This game is perfect for the little ones too since it starts at 4 pm on a Saturday!

Kids gotta eat
If you are worried about food, never fear! While my son would much rather dive into a bucket of buttered popcorn, there are a ton of other options. Colts Kid's Meals are available at select concession stands throughout the stadium. The meals include a hot dog, apple slices, string cheese, and apple juice – all for just $5. Kid's Meals can be purchased at Concession Stands near outside sections 148, 331, 513 and 540, as well as the East & West Club Street Grill.
For my nursing moms, there are three Mamava stations installed throughout the Colts stadium to provide a private location to breastfeed or pump at games. The suites are self-contained, mobile pods with comfortable seating, a fold-down table, interior lighting, an electrical outlet, a USB port, and a door that can be locked for privacy. The three pods are located at:
Street Level, southwest corner near Section 132. 
Street level, northeast corner outside of Sections 108-110.
Terrace Level, southeast corner outside of Sections 518/619.
In addition to the pods, the Mother's Room is another private lactation location and is located on the Loge Level next to the stadium administrative offices near Sections 307/407.
What do I do with all my stuff?
I have long worried about diaper bags with the NFL's bag policy. However, we found carrying the approved clear bag was enough for diapers, puffs, wipes and a book, you name it. You are also allowed a bag for every person, so that should be plenty of storage. If you have any questions, refer back to the NFL's informative guide. Along the same lines, strollers are permitted in Lucas Oil Stadium for Colts games but understand you may not want to bring your large running stroller since there aren't many places for storage.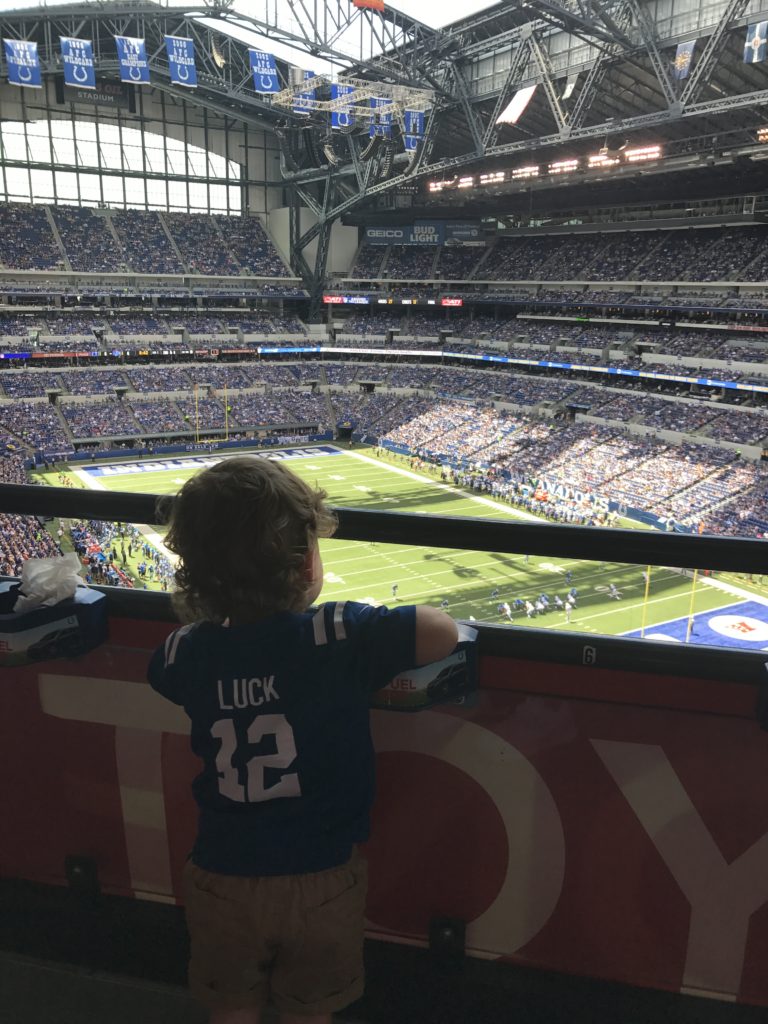 Make a day of it
If you are looking to go downtown early, families can join fellow Colts fans outside of Lucas Oil Stadium's North Gate for American Family Insurance Touchdown Town for pre-game activities.
The action opens three hours prior to kick off each home game and is located north of Lucas Oil Stadium along South Street. In addition to the standard tailgating experience, kids of all ages can check out the Play 60 Zone and try their hand at the 40-yard dash. Local food trucks, live music, and Colts Cheerleaders are often on hand to make it an unforgettable experience.
Making memories
For children attending their first Colts game, "My First Colts Game" pins will be available at any Guest Services kiosk in the stadium. These are perfect for commemorating their first trip "the Luc." The Colts also offer special birthday pins to fans celebrating a birthday at a home game.
And if you are a repeat attendee, be sure to have your kids grab a free special team-branded arm sleeve at each game for children age 15 and under. These will be available at any Guest Services kiosk in the stadium.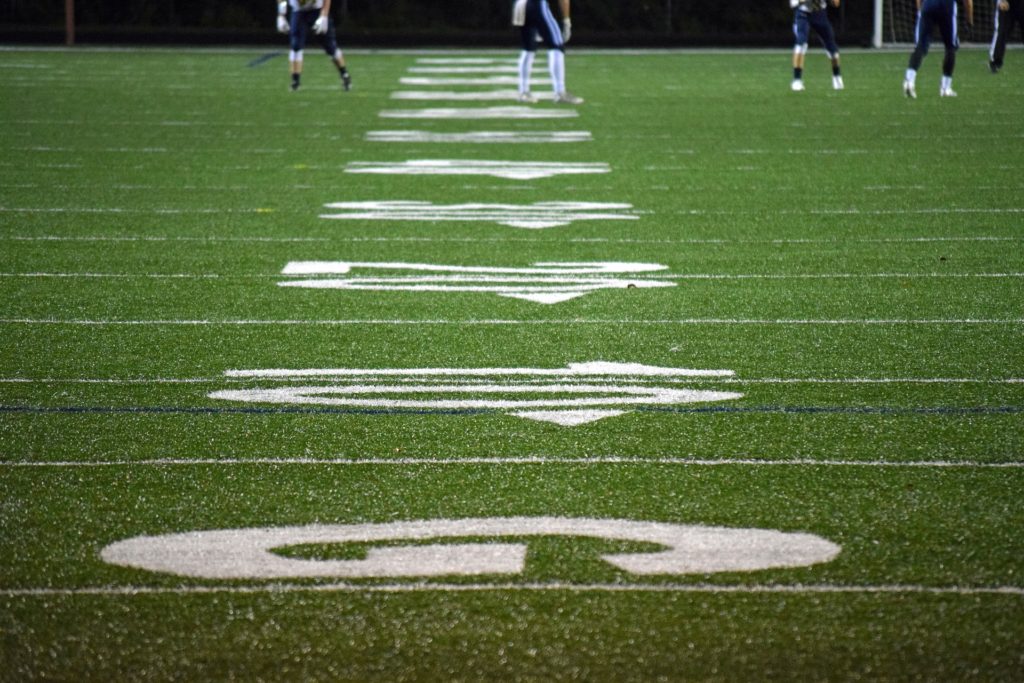 Keeping your children safe
Every parent worries a little when taking younger kids to a large sporting event. Between the crowds and moving people, it can feel daunting. However, the Colts have ways to help put your mind at ease. During game days and other events at Lucas Oil Stadium, guests may request a wristband for themselves and their child, which includes the guest's name, seat location and a preferred phone number to be contacted if the child is lost. Colts fans may pick up wristbands from Guest Services kiosks located at:
Street Level, southeast corner near Section 121
Street Level, southwest corner near Section 135
Club/Log Level, southwest corner adjacent to Section 330
Terrace Level, northwest corner by elevator lobby across from Section 519
Terrace Level, southeast corner by elevator lobby across from Section 545
Bottom line, there is so much to love about our Indianapolis Colts. I believe it's going to be a great season for the blue and white, so I hope you will join us in rooting on them onto victory. Go Horse!