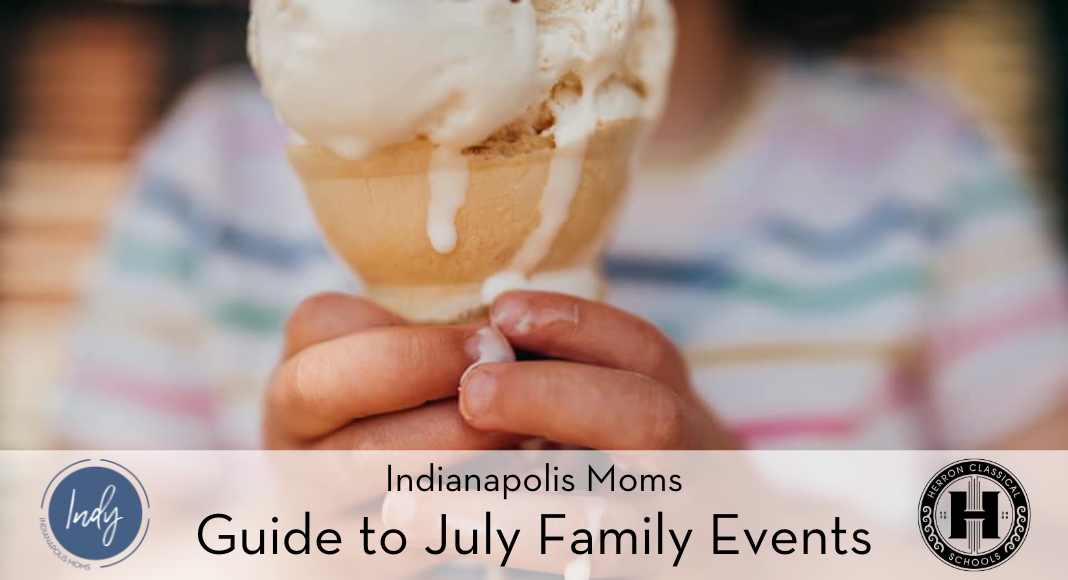 This month, we are so excited for everything going on in Indianapolis and surrounding areas. You and your family are going to have so much fun – there are outdoor concerts, ways to be creative together and enjoy art, fun fireworks, and the ever popular Indiana State Fair! Check out our guide to July family events and let us know your favorite ways to spend the summer together.
---
Meet Our Sponsor: Herron Classical Schools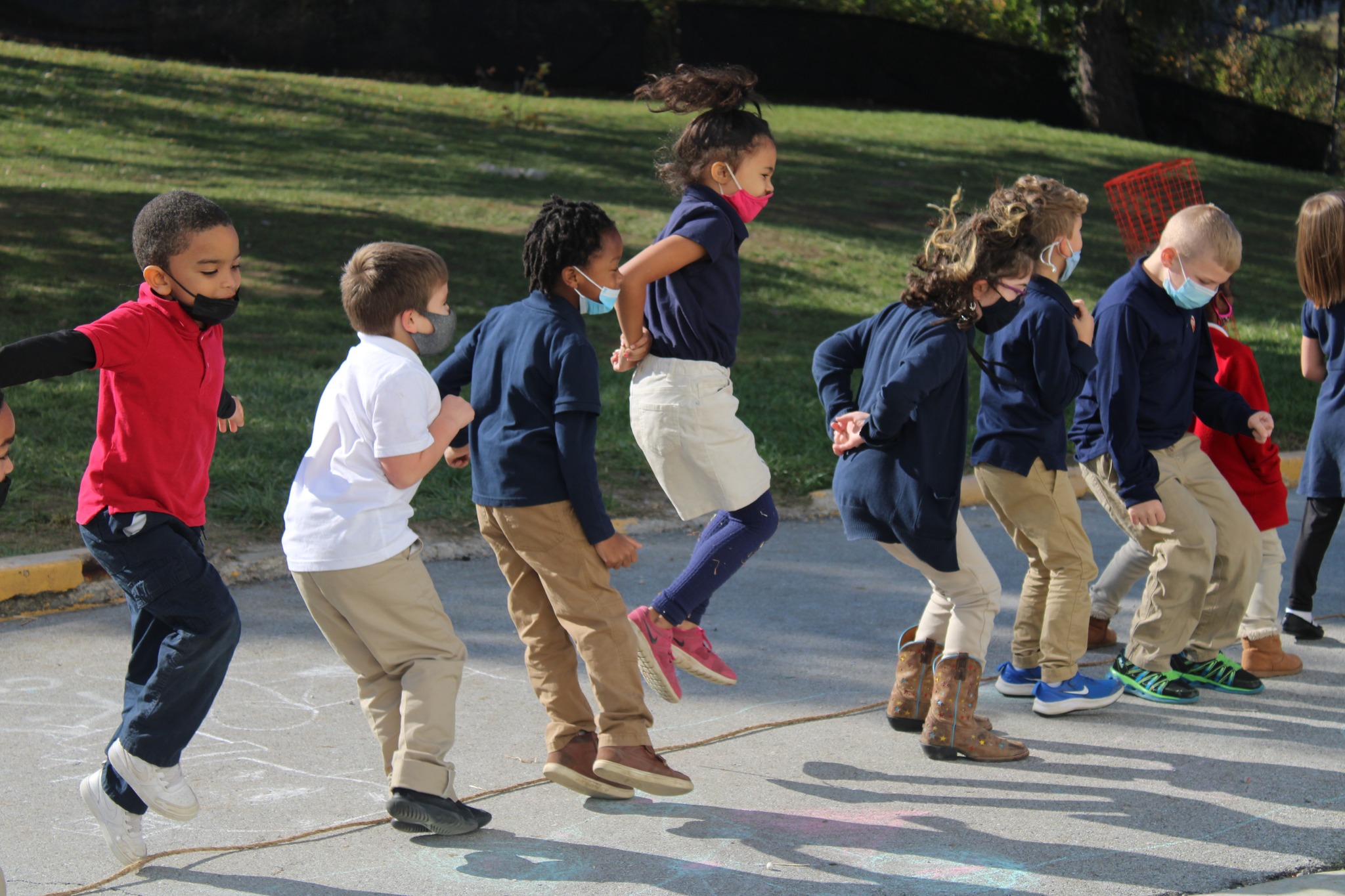 Herron Classical Schools is a network of three tuition-free public charter schools, Herron High School, Herron-Riverside High School, and Herron Preparatory Academy. Within each of our schools, we envision a racially and socio-economically diverse student body.  Herron Classical Schools believes that a classical, liberal arts education prepares students to become well-rounded, engaged citizens of the future.
For more information, visit their website.
---
Ongoing fun activities you and your family can enjoy this month:
Events Around Our City
---
July 1st
Family Flow Yoga at the Colts Playscape
Kicking off our list of July events in Indianapolis – Family Flow Yoga at the Colts Playscape! Presented by the Indianapolis Cultural Trail and Hot Room Yoga, families are invited to enjoy kid-friendly yoga every Saturday from 10:00 -11:00 am at the Walnut Street Basin near the Colts Playspace on the Downtown Canal.
---
July 2nd
Indiana Fever versus Chicago Sky
Our popular Indiana Fever will play the Chicago Sky in the Commissioner's Cup at Gainbridge Fieldhouse at 4:00 pm on July 2nd. Cheer on our home team as a family!
---
July 3rd
Food Truck Mondays at White River State Park
Head to the White River State Park every Monday in July for Food Truck Mondays! Every Monday, from 11:00 am-2:00 pm, there will be two new food trucks featured – one sweet, one savory.
---
July 4th
Fun and Fireworks: Indianapolis Guide to the 4th of July
There is a lot going on during the July 4th holiday, in fact, too much to include in our list of July events in Indianapolis. We have rounded up all of the local events you and your family can enjoy. Check out the Indianapolis Guide to 4th of July for an event near you!
---
July 5th
Family Sing-Along Fun at the Spades Park Branch of the Indianapolis Public Library
Head to the Spades Park Branch of the Indianapolis Public Library and boogie! From 11:00-11:30 am, "dance and sing along to popular children's songs with Miss Sheila while she plays on the ukulele." Registration is required. To see the full list of Indianapolis Public Library events, click here.
---
July 6th
Animals and All That Jazz at the Indianapolis Zoo
The popular Thursday night concert series continues at the Indianapolis Zoo in July. Animals & All That Jazz will have live music from 5:30-8:30 pm under the Bicentennial Pavilion. Enjoy yummy food, grab a drink at the bar, and check out the animals on exhibit until 7:00 pm. There are a limited number of tables available on a first-come, first-served basis, so bring your own chairs!
---
July 6th
DC League of Super Pets at the Shops at Perry Crossing
The Shops at Perry Crossing is hosting a summer movie series, and the movie featured on July 6th is the DC League of Super Pets. Check out the event website here for the full summer lineup.
---
July 6th
First Free Thursday at Newfields
Newfields offers special FREE admission on the first Thursday of every month. Head over from 11am-5pm to explore the grounds and enjoy all that the Indianapolis Museum of Art has to offer. Keep an eye out for additional free admission days throughout the summer.
---
July 6th
First Thursday Night at the Children's Museum
On First Thursday Nights, you can pay $6 per person to visit either the museum with their amazing Minecraft exhibit or the Riley Children's Health Sports Legends Experience. And your ticket also includes access to Ask the Experts Night. This is only between the hours of 4 and 8 pm, the perfect after-hours time for families! Get your First Thursday tickets here.
---
July 7th-29th
Symphony on the Prairie
July is jam-packed with amazing tribute music at Symphony on the Prairie! Here is the full line-up this month:
July 7th & 8th – Raiders of the Lost Ark: Live in Concert
July 14th & 15th – Arrival from Sweden: The Music of ABBA
July 21st & 22nd – Broadway Under the Stars
July 28th & 29th – Face 2 Face: A Tribute to Billy Joel & Elton John
---
July 8th
INCourage 5K and Kids Color Run in Pendleton
The 4th annual INCourage 5K and Kids Color Run will take place on July 8th in Pendleton's historic Falls Park. After the 5K, there will be a Free kids color run for ages 10 and below with children activities throughout the day. Check out the event page for all the information you need.
---
July 8th
Cereal Cinema Presents: Rookie of the Year
Rookie of the Year, a beloved movie from 1993, will be Cereal Cinema's movie during July 8th. At Newfields, Cereal Cinema "combines two of the best things about Saturday mornings: cereal and a great movie." Tickets include include cereal, and you can get them here!
---
July 9th
Sensory-Friendly Day at the Eiteljorg
The Eiteljorg invites you and your family to Sensory-Family Day on July 9th from 10:00 am-12:00 pm. Explore the museum with a museum guide and sensory bag. Pre-registration is required. Contact Elizabeth Bostelman at [email protected] to register.
---
July 9th
Last day of Marion County Fair
July 9th is the last day to enjoy the Marion County Fair, located at the Marion County Fairgrounds and beginning on June 30th. You can get your tickets, event lineup, and more at the event website.
---
July 12th
Kids Ceramics at Get Dirty Ceramics
Kids from three to 17 years old can make a fun project made out of clay during Kids Ceramics class at Get Dirty Ceramics on July 12th. Class begins at 6:00 pm! And if you can't make this class, don't worry. Get Dirty Ceramics has a full calendar of classes with different structured projects for various age and skill levels.
---
July 16th
Summer Garden Family Day at Painting with a Twist
Painting with a Twist is offering a fun family day at their Carmel location on July 16th, from 11:00 am – 12:30 pm. Check out the link for the summer garden painting you and your kiddos will get to paint together! Learn more and get your tickets for this fun event designed for kids here.
---
July 18th
Affordable Family Skate at Skateland
Skateland in Indianapolis offers multiple inexpensive ways to come skate with them, including Affordable Family Skate nights! It is just $12 for kids ages 2-17.
---
July 19th
Kids Art Series at Pecar Nature Park
Register now for the Kids Art Series at Pecar Nature Park! There are three sessions per day, and each age group will have a class geared towards their age and development levels in art education. Check out the Facebook link for session information.
---
July 20th
Little Green Thumbs at Garfield Park Conservatory
Registration is required for the Little Green Thumbs at Garfield Park Conservatory on July 20th from 10:00-11:00 am. "Bring your little gardener to get their hands dirty in the Children's Garden. Participants will have the opportunity to plant, care for, and harvest crops in the Garden."
---
July 22nd
Family Discovery Day at Indiana State Museum
From 10:00 am-5:00 pm, head to the Indiana State Museum to experience their Family Discovery Day. The theme for the July 22nd event is Space!
---
July 22nd
Kids Night Out at Benjamin Harris YMCA
Enjoy a night out without the kids while they enjoy fun activities at the Benjamin Harris YMCA during Kids Night Out. Registration for this specific Kids Night Out event ends on July 20th.
---
July 25th & 27th
Movies at Midtown Presents: Inside Out
On Tuesday, July 25th and Thursday, July 27th, head to Midtown Plaza in downtown Carmel for Movies at Midtown! Showings are at noon and 6:00 p.m. on Tuesday and 6:00 p.m. on Thursday.
---
July 25th-30th
Indianapolis Indians versus Louisville Bats
Our beloved Indianapolis Indians are playing the Louisville Bats from July 25th to 30th. And July 28th is Fireworks Friday!
---
July 27th-30th
Mean Girls at the Tarkington
Cady Heron may have grown up on an African savanna, but nothing prepared her for the wild and vicious ways of her strange new home: suburban Illinois. Get your tickets for the High School version of Mean Girls, adapted from the 2004 hit movie, at the Tarkington here. Please note the Sunday, July 30th performance at 2:00 pm is a sensory-friendly performance.
---
July 28th
Indiana State Fair Begins
Starting July 28th, you can have "fun with your favorite fair traditions mixed in with immersive basketball exhibits, courts, players, and more" at the Indiana State Fair. You can enjoy all things state fair until August 20th, and you can get your tickets and plan your visit here. Please note that the fair is closed on Mondays and Tuesdays.
---
July 29th
Back to School Bash at Brookside Park
Can you believe it's almost back to school time? The Brookside Park is hosting their Back to School Bash on July 29th from 11:00 am-2:00 pm. From the event website, "Barbers from around Indy donate their time and talents to provide school aged kids (all ages up to 17 yrs old) one free hair cut to kick their 2023 School Year off in style!"
---
Share with us! Which July event in Indianapolis are you excited about?
Looking to get your event featured on our monthly round-up? Submit all community events here to our Community Calendar!