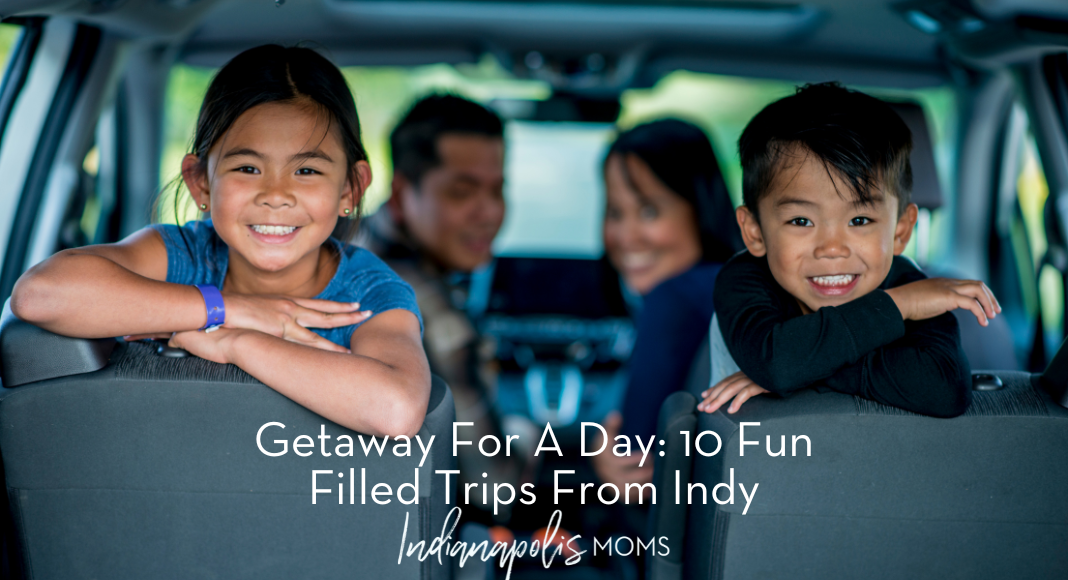 Looking for a quick trip with the family? We have you covered! Instead of doing an Indianapolis day trip, why not pack up the family and check out some sights outside the city? Use this guide to help you plan a fulfilled getaway day trip from Indianapolis!
---
Williamsport Falls: Williamsport, IN
Our first stop on our day trips from Indianapolis was Williamsport Falls in Williamsport, IN. This small town is located 90 miles northwest of Indianapolis and is home to the tallest free-falling waterfall in Indiana. As you enter into Williamsport, the falls are located just off the main street. There is a small parking lot at the top of the trail leading down to the fall, but we were able to find on-street parking with ease. The waterfall was beautiful. The kids loved splashing around in the shallow pool at the base of the fall. In warmer weather, the falls have been known to dry, but they were beautiful on this late spring day. After snapping a few pictures and playing in the waterfall for a bit, we headed down the creek to explore. My kids loved rock hunting and searching for crawfish. The creek bed was quite rocky, and I would recommend water shoes. There are no picnic areas or bathrooms located at Williamsport Falls. Be sure to bring the bug spray as well! 
---
Pine Lake Waterpark: Berne, IN
Jump in the car and dive into the charming Swiss town of Berne, Indiana. Pine Lake Water park is a one of a kind, outdoor water park on a lake! Lather on the sunscreen and sink your toes into the warm sand while the kids make a splash on the more than eight attractions. The park boasts a splash pad, kiddie slides, three big water slides, beach volleyball, water logs, a 30-foot jumping platform, a cable ride, and much more. No matter what age your kids are, they are sure to find something adventurous at Pine Lake Waterpark.
---
Brown County: Nashville, IN
Another fun stop on our day trips from Indianapolis – take a short drive to Nashville, Indiana, and enjoy all that Brown County has to offer. Saddle up for fun at the Saddle Barn, located in the Brown County State Park. Little ones can enjoy a pony ride while children seven and older can go on a trail ride adventure! Take a hike on one of the 12 trails located within the park. Whether you want an easy walk on a paved path or a rugged hike by the lake and on the hills, there's something for everyone. Recreational activities include zip lines, fishing, biking, tennis, playgrounds, canoeing, and more. Downtown Nashville offers lots of specialty shops, gem mining, and amazing restaurants. If you decide that you can't possibly pack all this fun into one day, check out the Abe Martin Lodge which offers rooms, cabins, and an amazing aquatic center for the kids! If you're ready for adventure, you'll find it in Brown County.
---
Squire Boone Caverns: Mauckport, IN
Travel back to the 1700s on a trip to Squire Boone Caverns in Mauckport, Indiana. Family members who are seven years old and at least 65 pounds can go on a high flying tour through forests and ravines at Zipline Adventures. Don't worry, there's lots of fun for smaller children at Squire Boone Village. They can mine for gold and gemstones, visit the candy shop, make a candle, and explore the nature trail. After a day of fun in the sun, cool off on an underground tour of the Squire Boone Cavern. It might be hot and muggy outside, but don't forget to bring your sweater. The cavern is a cool 54 degrees all year round with rushing streams and waterfalls. Once you've worked up an appetite, stop by Boone's Kitchen and chow down on some comfort food and an array of sweet treats! Squire Boone Caverns offers family-friendly fun for all ages.
---
Fall Creek Gorge Nature Preserve: Williamsport, IN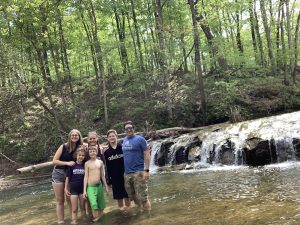 The Fall Creek Gorge Nature Preserve is located less than five miles from Williamsport Falls. This nature preserve is operated by the Nature Conservancy. The trail leading from the small gravel parking lot to the creek was muddy but easy for all of the kids to navigate. One of the most impressive aspects of the Fall Creek Gorge is the "potholes" or large depressions in the creek bed caused by eddying waters. After exploring around the creek bed, we decided to take the ridge trail over to the waterfall located at the preserve. This trail was a bit more difficult as it was very close to the ridge line. In several spots, the path was not more than one person wide, and hiking it with my littler kids made me nervous. But the waterfall at the end was worth it! Again, we spent some time rock hunting, looking for critters and fossils, and snapping some pictures. This preserve has no public facilities, including bathrooms. 
---
Portland Arch Nature Preserve: Covington, IN
Less than 10 miles from the Falls Creek Gorge is Portland Arch Nature Preserve. The preserve has two sections of trail – north and south. We explored the north trails as that is where the arch is located. The Portland Arch is one of the few naturally occurring stone arches in Indiana. It was simply stunning and so different from much of the landscape in Central Indiana. The path was easily navigated, but not stroller friendly as several sections contained stairs. If you visit the preserve, download the trail station guide found here.
---
East Race Waterway: South Bend, IN
Does white water rafting through a city sound like fun to you? The East Race Waterway guarantees adults and children at least 54″ tall a wet and wild ride. This five million dollar, man-made waterway has served over 270,000 people since it opened in 1984. Prepare to get soaked as you raft or kayak down class-2 rapids that will have your adrenaline pumping. Don't feel like getting wet? Not to worry, the East Race Waterway offers family fun for all ages. With five miles of paved walkways, multiple playgrounds, picnic facilities, and fishing, there's something for everyone.
---
Fort Wayne Children's Zoo: Fort Wayne, IN
Lions and tigers and bears, oh my! A world of adventure waits for you at the Fort Wayne Children's Zoo. Enjoy animals ranging from the petting zoo to the Indonesian rainforest and from the Australian outback to the plains of Africa. New this year is the Red Panda Ridge. Climb aboard the train, take a ride on the carousel and saddle up on pony! If that isn't fun enough, take a log ride down the river or take a high flying adventure over the African safari! Visit one of the four cafes for lunch or grab a tasty treat at any of the snack spots along the way. There are many VIP experiences as well as many more interactive attractions. Pack up the kids for a wild adventure they are sure to be talking about all summer long!
---
Bellaboo's Play and Discovery Center: Lake Station, IN
Summer in Indiana can be wet and stormy, but that doesn't mean you have to be stuck at home. Bellaboo's is an indoor play center that is based on cognitive play and social development. Children ages nine and under can enjoy 23,000 square feet of hands-on activities. Infants and toddlers have an area where they are free to explore with other little ones who are just their size. Kids can explore multiple occupations in the Pretend Village as well as try their hand at cooking in the do-it-yourself cooking room. They can release some energy in the soft play area and on the jungle gym. Take a break in the cafe which boasts a full menu with lots of healthy options. There's a train room, a water room, a reading room, a block play area, and a large outdoor sand playground. Enjoy a day of stress-free play with your little ones at Bellaboo's!
---
BB Riverboats: Newport, KY
Last but certainly not least on our list of day trips from Indianapolis – sail away on high seas adventure on a BB Riverboats kids cruise. Ahoy Mateys, put on your patch and hoist up the mainsail when you board the Pirates of the Ohio cruise. An afternoon of treasure hunting and pirate games will create memories to last a lifetime. Your little princess will get the royal treatment on the Princess Cruise. The fairy godmother will escort you for an afternoon of dancing and royal engagements. Meet your favorite princesses, walk with Prince Charming, and enjoy some savory snacks. There are many more cruise themes that are sure to delight, including sightseeing tours, ice cream socials, and a superhero cruise. Head to Newport Kentucky to see what the Ohio River has to offer!
---
Share with us!
What is your favorite day trip from Indianapolis to take with your family?