School is out for summer and you need ideas on things to do. As always, Indianapolis Moms has got you covered! We have created a Summer Bucket List for your family. Check out the list below and download the graphic to keep with you all summer long. And I don't know who needs to hear this but make sure you screw the top on the sunscreen lid tight so it doesn't spill all over the list while you're checking it off! I've learned my lesson from last summer.
---
Indianapolis Children's Museum: The Children's Museum is a great way to occupy all ages and sneak some education in over the summer. And their Sports Legends Experience area is a must-visit. Check out their page on the best photo spots for you and your family to capture the memories!
YMCA Family Specialty Activities: Take advantage of all the family events that the YMCA nearest you has to offer. They also have a great youth sports program.
Summer Reading Program: My goal is to sign up for our library's summer reading program for both of my kids. I hope it keeps us motivated to read during our quiet time at home each day! Check out your library's summer reading program on their website.
Splash Pads: Make it a fun goal to experience a new splash pad every week of summer! You can make your own separate splash pad bucket list and cross them off before your kids head back to school.
Creek Stomping: A staple of summertime – good ol' creek stompin'. We've got another great round-up for you to peruse while you pack your essentials to enjoy the outdoors.
Summer Day at Home: Take a day to just do all the summer things in your own home and backyard! Water balloon fight. Capture fireflies. Lemonade sale. Outdoor play. Eat all the ice cream. Give your kids a 1980s summer.
Indianapolis Zoo: The zoo is a great way to change up the routine. Throughout the summer there are always different family events to enjoy. And now the new zoo entrance is open!
Brightly Art Studio: The Brightly Art Studio has art and craft activities for kids of all ages – toddlers to teens! They also have family events if caregivers want to get their hands dirty, too.
Backyard Camping: I can't wait to have a sleepover under the stars…in the comfort and safety of my backyard, of course.
Climb Soldiers & Sailors Monument: For the older kids and teenagers – take your young adults to see the city from the top of Monument Circle.
Horseback Riding: Check out a few local options that would work best for your family, depending on your child's age. A few suggestions are Prancing Ponies and Natural Valley Ranch.
Walk/Run a 5K: Indianapolis has some of the coolest 5K's ranging from a "love is love" run to wine tasting, to non-profit fundraising. Pick your poison.
Catch a Movie: Ideally, I would like for my husband and me to catch at least four movies in a movie theater this summer. I would like to visit a drive-in movie theater as well, like Tibbs Drive-In Theatre. There are quite a few kids' movies coming out this summer, too!
Wine Tasting: No, we don't live in wine country, but there are still some great opportunities for us to indulge in a little vino.
Farmers' Market: Your local farmers' market is a great summer activity for you and your family! Check out the local produce while enjoying live music. It's a great way to support local businesses.
Ladies' Night: As busy moms, we all deserve some time to ourselves and to reconnect with friends, right? My goal is to have at minimum three nights that are solely for the women and moms in my circle. Take a break and have one or more nights out without your kiddos!
Trampoline Parks: Check out a trampoline park when you need to get out of the sun. Some fun ones to check out are DEFY Indianapolis, Urban Air Adventure Park, and Adrenaline Family Adventure Park.
Berry Picking: Take a day to go berry picking with the family. As a mom to two young kids, I can assure you they are really going to enjoy it. We have a guide that rounds up all the local farms during u-pick season!
Family Hiking: Apply that sunscreen, grab your water bottles, and take a hike. We have listed our top six favorite hiking spots for young kids here.
Summer Concerts: You deserve to lounge with a picnic basket at an outdoor summer concert this year. You can go to a family-friendly summer concert in a park or leave the kids with a sitter and head to a concert venue for a much-needed day or night away.
Click on the below image to download your Summer Bucket List!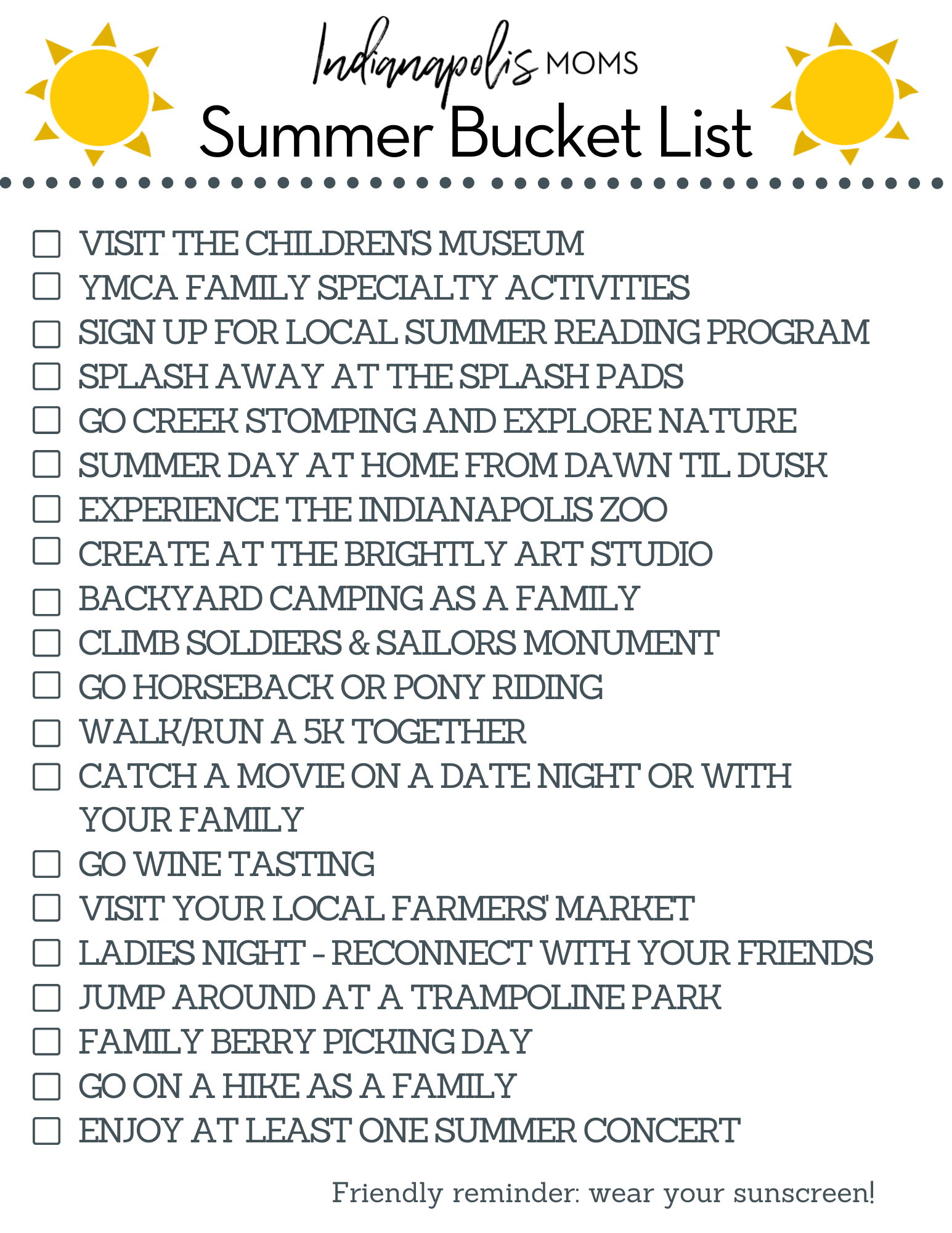 ---
Share with us! What's on your Indianapolis summer family bucket list?