It's summertime in Indianapolis – do you know what that means? Concerts! We've got you covered with a round-up of summer concert venues in Indianapolis, indoors and out. There are so many venues to keep you entertained, whether you are with your family, having a date night, or whether you want to let loose with your friends. We've also included summer concerts that are absolutely free. We will include the highlights below and make sure you check out the links for each venue. So come See Circle City with us and enjoy our round-up of Indianapolis local summer concerts!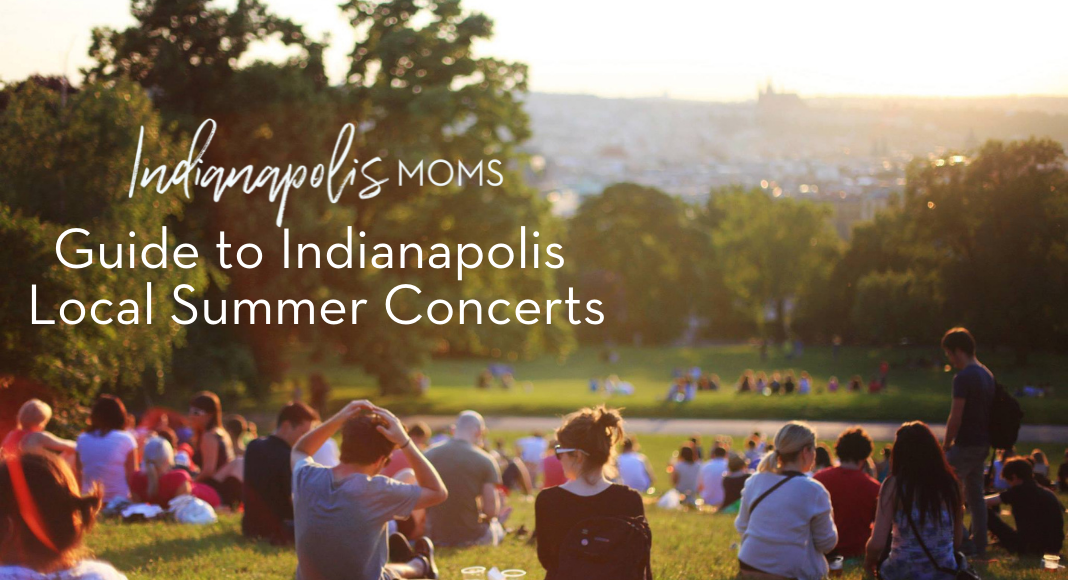 ---
Outdoor Concerts
Indy Parks
Locations: Garfield Park, Eagle Creek Park, MLK Jr. Park, Broad Ripple Park, Watkins Park, and Riverside Park
Events Link: 2023 Summer Concert & Movie Series
Highlights: The first on our list of Indianapolis local summer concerts is Indy Parks. Indy Parks will be hosting multiple summer concerts, and you can check out the link above to see who will be playing at each location. You will get to enjoy jazz, symphony, and rock & roll. Grab your picnic blankets and enjoy some summertime tunes with your family!
Holliday Park
Location: 6363 Spring Mill Rd, Indianapolis
Events Link: Rock the Ruins 2023
Highlights: Holliday Park will host their summer Rock the Ruins concert series again in this year and the lineup looks amazing! It kicks off with Ben Folds and the summer ends with The Teskey Brothers. And any of you 90s kids will love to see Blues Traveller!
Ruoff Music Center
Location: 12880 E 146th St, Noblesville
Events Link: Ruoff Music Center 2023 Shows
Highlights: Ruoff Music Center is the place to be when it comes to summertime concerts. If you don't want to spring for their seats underneath the awning of their amphitheater, grab some lawn tickets! You can spread out on their massive lawn and enjoy the show. Some upcoming shows include Post Malone, Shania Twain, Foreigner, and of course, Dave Matthews Band.
TCU Amphitheater at White River State Park
Location: 801 W Washington St, Indianapolis
Events Link: TCU Amphitheater Summer Lineup
Highlights: The TCU Amphitheater at White River State Park is fairly new to the area, so if you weren't able to experience a show last year, what are you waiting for?! Their diverse lineup includes Death Cab for Cutie, Charlie Puth, Yungblood, and Rick Springfield.
Nickel Plate Amphitheater
Location: 6 Municipal Dr, Fishers
Events Link: Nickel Plate Calendar & Tickets
Highlights: Remodeled in 2018, the Nickel Plate Amphitheater is bringing a fun lineup to summer 2023. Stay tuned to their website, linked above, for more information on their summer lineup, including My Yellow Rickshaw.
Grand Junction Plaza
Location: 225 S Union St, Westfield
Events Link: Jams at the Junction & Kids Concert Series
Highlights: Jams at the Junction, held on select Fridays during the summer, will have a fun lineup of summer concerts for you and your family to enjoy. Concerts will take place on the Great Lawn and they will have a free parking trolley available. Head to their website to see the full schedule lineup and dates. Also, Grand Junction is offering a Kids Concert Series on select Tuesdays! The series will feature Mr. Daniel, a popular local performer with songs geared toward children.
Greenwood Amphitheater
Location: 300 S Washington St, Greenwood
Events Link: Greenwood Summer Concert Series
Highlights: Another fun local summer concert series to add to your family's calendar is at the Greenwood Amphitheater in Craig Park. Concerts are held most Saturdays throughout the summer and you can find information on the dates and musical acts on their website. Grab your outdoor chairs, and your snacks, and enjoy!
Blackhawk Winery
Location: 28153 W Ditch Rd, Sheridan
Events Link: Blackhawk Winery Summer Concerts
Highlights: Blackhawk Winery, located in Sheridan, will host both Free Friday Concerts and Saturday Music on the Patio during the summer and the full lineup can be found on their Music & Events page.
Symphony on the Prairie
Location: 13400 Allisonville Rd, Fishers
Events Link: Symphony on the Prairie Tickets & Events
Highlights: The Indianapolis Symphony Orchestra is back for another musically-packed summer season with Symphony on the Prairie in Fishers. The Music of ABBA, The Music of Harry Potter, and A Tribute to Billie Joel & Elton John are just a few concerts I'm keeping my eye on to enjoy!
Whitestown Municipal Complex
Location: 6210 Veterans Dr, Whitestown
Events Link: Whitestown Concert Series
Highlights: Another free and family-friendly concert series to enjoy is at the Whitestown Municipal Complex. On Friday nights at 7:00 pm, pack up your outdoor concert gear and enjoy a beautiful summer night filled with music.
Indiana History Center
Location: 450 West Ohio Street, Indianapolis
Events Link: Concerts on the Canal
Highlights: You're probably thinking, "How is this a concert venue?" but hear me out. Concerts on the Canal are hosted by the Eugene and Marilyn Glick Indiana History Center and take place on the Kruse Family Stardust Terrace on Thursday nights during the summer concert season. Check out the website for more information, including how to reserve a table on the terrace!
Carmel Gazebo
Location: 3 Civic Square, Carmel
Events Link: Carmel Gazebo Concert Schedule
Highlights: North of Indianapolis in Carmel, the Carmel Gazebo is hosting a full lineup of musical acts for their Summer Family Concert Series. The concerts are free to the public and you can find more information including the concert lineup and their FAQ page at the link above.
The Rathskeller
Location: 401 E Michigan St, Indianapolis
Events Link: Rathskeller Entertainment & Events
Highlights: Get yourself a babysitter and head to the Rathskeller for a night in their famous Biergarten! They have a full lineup of summer concerts you can enjoy while out with your significant other or with your friends.
Noblesville Commons
Location: 175 Logan St, Noblesville
Events Link: Concerts at the Commons
Highlights: The Federal Hill Commons in Noblesville is hosting a summer of tribute bands and I am here for it! The Concert at the Commons will take place on Saturdays during the summer, and the city is also offering free trolley rides during the eight scheduled concerts, making a continuous loop around the Commons.
Noblesville Dillon Park
Location: 6351 Midland Lane, Noblesville
Events Link: Dillon Park Summer Concerts
Highlights: Another fun concert series in Noblesville is the one in Dillon Park! These concerts will take place at on Thursday nights during June and July. Head to the event page for times and the full schedule.
Daniel's Vineyard
Location: 9061 N 700 W, McCordsville
Events Link: Daniel's Vineyard Summer Concert Series
Highlights: The Michael Jackson Experience, Toy Factory, and Huckleberry Fink are just a few of the bands you can expect to see at the Daniel's Vineyard summer concert series this year. If you plan on making it a regular night out, you can get your season lawn tickets here!
Hi-Fi Annex
Location: 1043 Virginia Ave UNIT 4, Indianapolis
Events Link: Hi-Fi Annex Outdoor Concert Series
Highlights: The Hi-Fi Annex is located behind the Murphy Art Center in Fountain Square and their list of upcoming shows for the summer are listed on their website. This another great location for a fun night out with friends or out on a date!
Cool Creek
Location: 2000 E. 151st Street, Carmel
Events Link: Cool Creek Concert Series
Highlights: Cool Creek, or "The Park on the way to Target" as my kids call it, is offering a fun summer concert series on its beautiful grounds. Not only will there be live music on Friday nights, but there are also fun kids activities, food, and drink vendors. Don't forget your lawn chair and blankets!
---
Indoor Concerts
The Vogue
Location: 6259 N College Ave, Indianapolis
Events Link: The Vogue Calendar
Highlights: The Vogue is perfect for a night out with friends or your significant other. They've got concerts and dance parties planned throughout the summer. Check out their calendar, linked above, for more info!
Old National Centre
Location: 502 N New Jersey St, Indianapolis
Events Link: Old National Centre Calendar
Highlights: This summer's lineup at Old National Centre, formerly known as the Murat Center, is packed with musical acts and comedians for you to experience on a fun night out sans kids, and there's one performer you can bring the kids to see – Bluey! And don't forget about their clear bag policy for security purposes!
Clowes Memorial Hall
Location: 4602 Sunset Ave, Indianapolis
Events Link: Butler Arts & Events Center
Highlights: Clowes Memorial Hall is a very popular place to enjoy concerts and other entertainment, and this summer, they are hosting some great concerts for a date night. Check out the event page for more information and get your tickets today!
The Center for the Performing Arts
Location: 1 Carter Green, Carmel
Events Link: Events at the Center for the Performing Arts
Highlights: The Center for the Performing Arts has multiple venues with concert events going on all summer to enjoy. You can see a show at The Palladium, The Tarkington, or the Studio Theater. Peruse their website to plan your summer nights!
Feinstein's at Hotel Carmichael
Location:1 Carmichael Square, Carmel
Events Link: Feinstein's
Highlights: An intimate venue, Feinstein's is somewhere I've wanted to go for a fancy date night. Their entertainment lineup is listed on their website – check it out to see when you would like to enjoy the Feinstein experience.
Share with us! What are your summer plans for local Indianapolis concerts?