It's summertime in Indianapolis – do you know what that means? Concerts! We've got you covered with a round-up of summer concert venues in Indianapolis, indoors and out. There are so many venues to keep you entertained, whether you are with your family, having a date night, or whether you want to let loose with your friends. We've also included summer concerts that are absolutely free. We will include the highlights below and make sure you check out the links for each venue. So come See Circle City with us and enjoy our round-up of Indianapolis local summer concerts!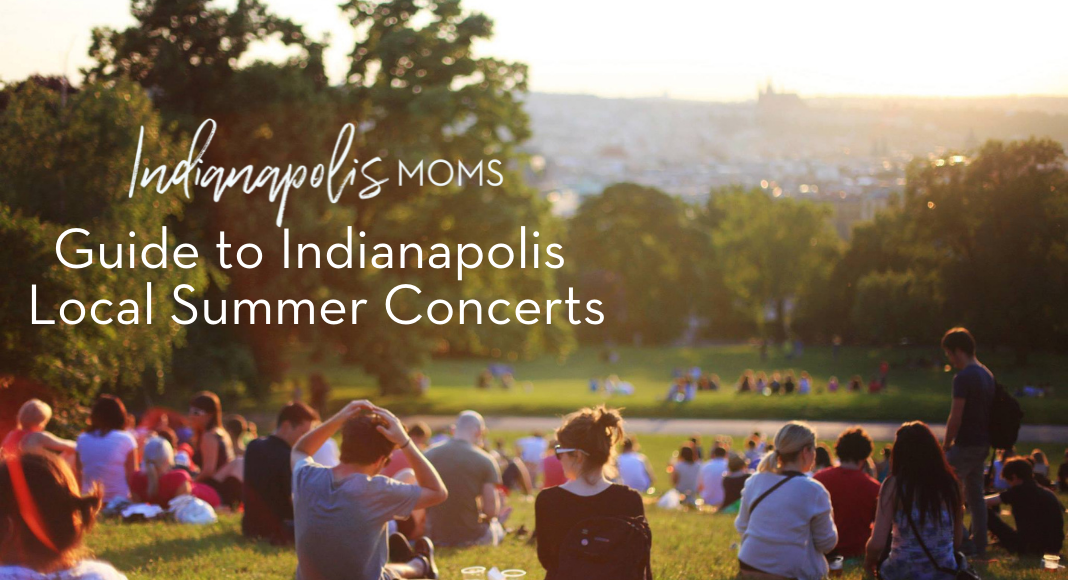 ---
Outdoor Concerts
Indy Parks
Locations: Garfield Park, Eagle Creek Park, MLK Jr. Park, Broad Ripple Park, Holliday Park, and Riverside Park
Events Link: 2022 Summer Concert & Movie Series
Highlights: The first on our list of Indianapolis local summer concerts is Indy Parks. Indy Parks will be hosting multiple summer concerts, and you can check out the link above to see who will be playing at each location. You will get to enjoy jazz, symphony, and rock & roll. Grab your picnic blankets and enjoy some summertime tunes with your family!
Ruoff Music Center
Location: 12880 E 146th St, Noblesville
Events Link: Ruoff Music Center 2022 Shows
Highlights: Ruoff Music Center is the place to be when it comes to summertime concerts. If you don't want to spring for their seats underneath the awning of their amphitheater, grab some lawn tickets! You can spread out on their massive lawn and enjoy the show. Some upcoming shows include The Lumineers, The Chicks, Josh Groban, and of course, Dave Matthews Band.
TCU Ampitheater at White River State Park
Location: 801 W Washington St, Indianapolis
Events Link: TCU Ampitheater Summer Lineup
Highlights: The TCU Ampitheater at White River State Park is fairly new to the area, so if you weren't able to experience a show last year, what are you waiting for?! Their diverse lineup includes Cheer Live!, Sheryl Crow, LANY, and Maren Morris.
Nickel Plate Amphitheater
Location: 6 Municipal Dr, Fishers
Events Link: Nickel Plate Calendar & Tickets
Highlights: Remodeled in 2018, the Nickel Plate Amphitheater is bringing a fun lineup to summer 2022. Stay tuned to their website, linked above, for more information on their summer lineup, including White River Wind Symphony.
Greenwood Amphitheater
Location: 300 S Washington St, Greenwood
Events Link: Greenwood Summer Concert Series
Highlights: Another fun local summer concert series to add to your family's calendar is at the Greenwood Amphitheater in Craig Park. Concerts are held most Saturdays throughout the summer and you can find information on the dates and musical acts on their website. Grab your outdoor chairs, and your snacks, and enjoy!
Symphony on the Prairie
Location: 13400 Allisonville Rd, Fishers
Events Link: Symphony on the Prairie Tickets & Events
Highlights: The Indianapolis Symphony Orchestra is back for another musically-packed summer season with Symphony on the Prairie in Fishers. The Music of ABBA, The Phil Collins Experience, and A Tribute to Stevie Wonder are just a few concerts I'm keeping my eye on to enjoy!
Whitestown Municipal Complex
Location: 6210 Veterans Dr, Whitestown
Events Link: Whitestown Concert Series
Highlights: Another free and family-friendly concert series to enjoy is at the Whitestown Municipal Complex. On Friday nights at 7:00 pm, pack up your outdoor concert gear and enjoy a beautiful summer night filled with music.
Indiana History Center
Location: 450 West Ohio Street, Indianapolis
Events Link: Concerts on the Canal
Highlights: You're probably thinking, "How is this a concert venue?" but hear me out. Concerts on the Canal are hosted by the Eugene and Marilyn Glick Indiana History Center and take place on the Kruse Family Stardust Terrace on Thursday nights during the summer concert season. Check out the website for more information, including how to reserve a table on the terrace!
Carmel Gazebo
Location: 3 Civic Square, Carmel
Events Link: Carmel Gazebo Concert Schedule
Highlights: North of Indianapolis in Carmel, the Carmel Gazebo is hosting a full lineup of musical acts for their Summer Family Concert Series. The concerts are free to the public and you can find more information including the concert lineup and their FAQ page at the link above.
The Rathskeller
Location: 401 E Michigan St, Indianapolis
Events Link: Rathskeller Entertainment & Events
Highlights: Get yourself a babysitter and head to the Rathskeller for a night in their famous Biergarten! They have a full lineup of summer concerts you can enjoy while out with your significant other or with your friends.
Noblesville Commons
Location: 175 Logan St, Noblesville
Events Link: Concert at the Commons
Highlights: The Federal Hill Commons in Noblesville is hosting a summer of tribute bands and I am here for it! The Concert at the Commons will take place on Saturdays during the summer, and the city is also offering free trolley rides during the eight scheduled concerts, making a continuous loop around the Commons.
Daniel's Vineyard
Location: 9061 N 700 W, McCordsville
Events Link: Daniel's Vineyard Summer Concert Series
Highlights: Endless Summer, The Flying Toasters, and Sounds of Summer are just a few of the bands you can expect to see at the Daniel's Vineyard summer concert series this year. If you plan on making it a regular night out, you can get your season lawn tickets here!
---
Indoor Concerts
The Vogue
Location: 6259 N College Ave, Indianapolis
Events Link: The Vogue Calendar
Highlights: The Vogue is perfect for a night out with friends or your significant other. They've got concerts and dance parties planned throughout the summer, starting with shows like Debbie Gibson and ending with the Post Festival. Check out their calendar, linked above, for more info!
Old National Centre
Location: 502 N New Jersey St, Indianapolis
Events Link: Old National Centre Calendar
Highlights: This summer's lineup at Old National Centre, formerly known as the Murat Center, is packed with musical acts and comedians for you to experience on a fun night out sans kids. You can enjoy music from Andy Grammar, Charli XCX, and the one and only Hanson. And don't forget about their clear bag policy for security purposes!
Clowes Memorial Hall
Location: 4602 Sunset Ave, Indianapolis
Events Link: Butler Arts & Events Center
Highlights: Clowes Memorial Hall is a very popular place to enjoy concerts and other entertainment, and this summer, they are hosting the Masked Singer national tour as well as a fun family event – Daniel Tiger Live. Check out the event page for more information and get your tickets today!
Share with us! What are your summer plans for local Indianapolis concerts?