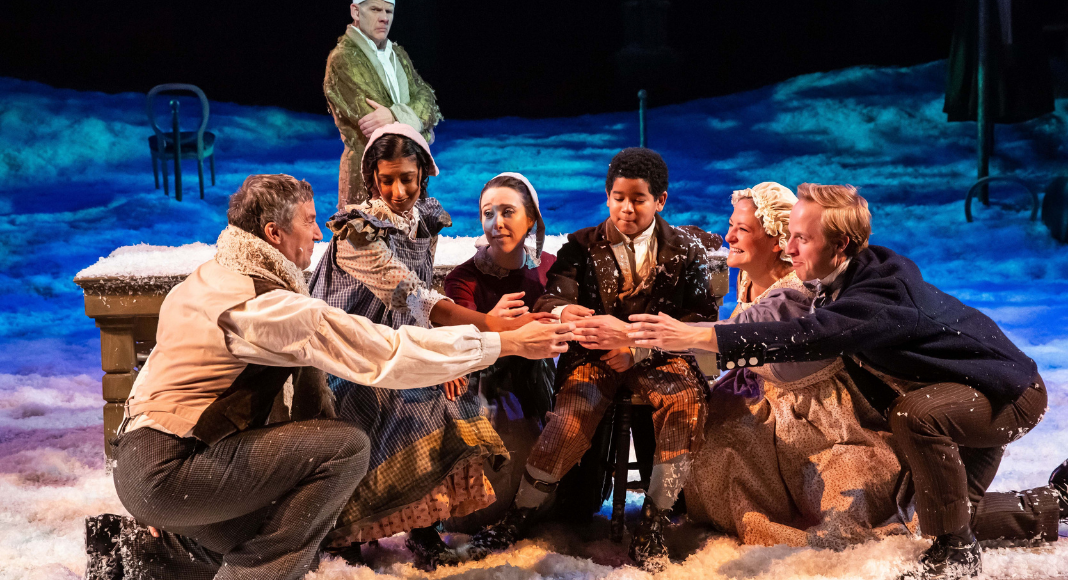 When enjoying the holiday season with your loved ones, what is better than being able to see a holiday show at our multiple Indianapolis venues? The talent here is so impressive! Whether you are looking to create new memories with the family or come back to traditions you once did together, here are six family friendly holiday performances in Indianapolis that you don't want to miss.
1. A Christmas Carol – Beef & Boards Music Theater, Indianapolis
A Christmas Carol treats guests to a holiday classic performance. This musical adaptation lets you experience the transformation of the miserly Scrooge into someone who understands the true meaning of kindness and love, accomplished with the help of three spirits from the past, present, and future. A Christmas Carol runs from December 1st until December 22nd. Make sure to visit the website to see selected dates. Also please note that not all shows may be suitable for all ages.
2. The Nutcracker and Nutcracker Sweets – Indianapolis Ballet, Murat Theatre + Newfields
An Indianapolis holiday season tradition continues with the Tchaikovsky masterpiece. The Nutcracker, will be performed by the Indianapolis Ballet at Murat Theatre on December 15th through the 17th. The Nutcracker Sweets is a shorter version (1 hour in length) and will be performed at The Toby at Newfields December 21st through the 23rd and the 27th through the 30th. Indianapolis Ballet is thrilled to bring our audiences joy, laughter, and love through magical storytelling and dancing.
3. Elf The Musical – Civic Theatre, Carmel
Elf The Musical is back and we all know that the best way to spread Christmas cheer is singing loud for all to hear! From December 1st through the 24th, head to the Civic Theatre in Carmel to enjoy this beloved story about Buddy the Elf once again. Buddy, a young orphan, mistakenly crawls into Santa's bag of gifts and is transported to the North Pole. The would-be elf is raised, unaware that he is actually a human, until his enormous size and poor toy-making abilities cause him to face the truth. With Santa's permission, Buddy embarks on a journey to New York City to find his birth father, his true identity, and the true meaning of Christmas.
4. White Christmas – Beef & Boards Music Theater, Indianapolis
Another holiday classic is coming to Beef & Boards from November 24th through December 31st. Irving Berlin's White Christmas is centered around veterans Bob Wallace and Phil Davis, a successful song-and-dance act. With romance in mind, the two follow a duo of beautiful singing sisters en route to their Christmas show at a Vermont lodge. Children under age 3 not admitted to this show. Not all shows may be suitable for all ages.
5. A Christmas Carol, Indiana Repertory Theatre, Indianapolis
A holiday tradition returns! A Christmas Carol, playing from November 18th through December 24th, shines a light on kindness and love as the IRT brings it back to the stage this season. Please note that children under the age of 4 are not permitted into the theatre, which is IRT's policy. This year, you can reserve seats in rows A-F and get a delicious chocolate treat! See the website for more details and to get your tickets.
6. AES Yuletide Celebration, Hilbert Circle Theatre, Indianapolis
The Indianapolis Symphony Orchestra is back with the return of AES Indiana Yuletide Celebration to the stage this season! This year, Yuletide welcomes Broadway star Ben Crawford as the host for the season, lighting up the stage with his amazing vocal talent. In addition to Ben and the orchestra, the singing trio MOIPEI returns along with the local dance troupe Expressenz. Nick Hodge will be showcasing his superb talents on the Cyr wheel, and holiday favorites will be part of the show, including the beloved Toy Shop and the return of everyone's favorite Dollies. The show runs from December 1st through the 23rd.
Share with us! What are some of your favorite family friendly holiday performances in Indianapolis?