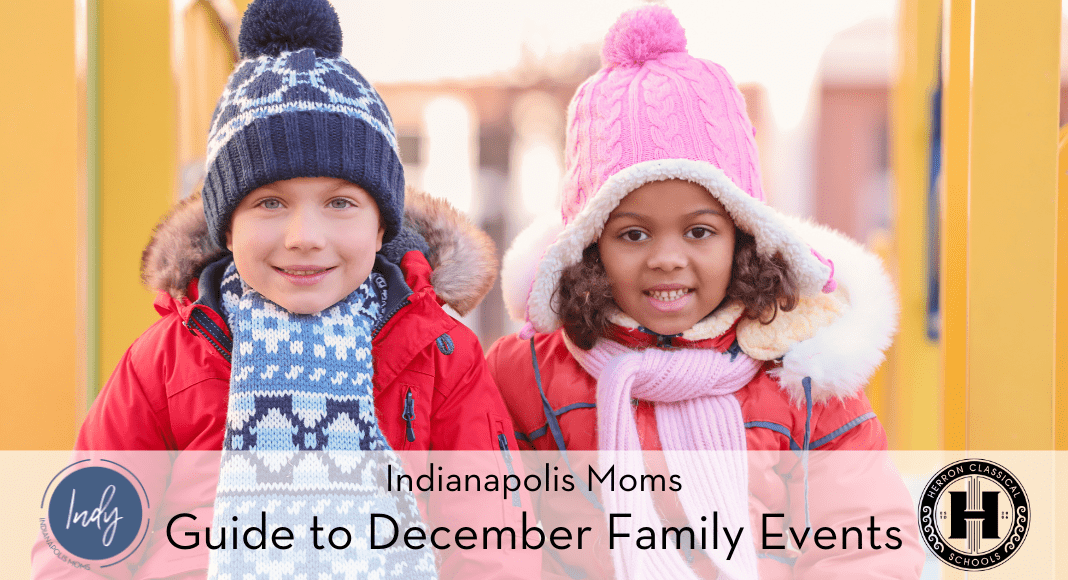 The holiday season has arrived! We blinked and DECEMBER is here! Here is our round up of December family events and activities in Indianapolis and the surrounding areas!
---
Meet Our Sponsor: Herron Classical Schools

We are thrilled to work with Herron Classical Schools on our Guide to December Family Events! Herron Classical Schools is a network of three tuition-free public charter schools, Herron High School, Herron-Riverside High School, and Herron Preparatory Academy. Within each of our schools, we envision a racially and socio-economically diverse student body. Herron Classical School believes that a classical, liberal arts education prepares students to become well-rounded, engaged citizens of the future.
For more information, visit their website.
---
Ongoing fun activities you and your family can enjoy this month:
Events Around Our City:
---
December (all month long)
Kids Night Out at YMCA
Event Website: Family Specialty Activities
About: Up first on our list of December family events is Kids Night out at your local YMCA! Parents, this event is perfect to allow yourself a night out on the town and the kids will be having fun too. Program activities include swimming, gym play, arts and crafts, and kid friendly movies. Dinner and snacks provided. Prices and details vary with each YMCA. Call your local YMCA for more details and date information.
---
December 1st
First Thursday Night at the Children's Museum
We love highlighting free activities, and it's especially important this time of year with all the holiday shopping we have been doing! On First Thursday Nights, you can pay $6 per person to visit either the museum with their amazing Dinosphere exhibit or the Riley Children's Health Sports Legends Experience. And your ticket also includes access to Ask the Experts Night. This is only between the hours of 4:00 and 8:00 pm, the perfect after-hours time for families! Get your First Thursday tickets here.
---
December 1st
First Free Thursdays at Newfields
Newfields offers special FREE admission on the first Thursday of every month. Head over from 11am-5pm to explore the grounds and enjoy all that the Indianapolis Museum of Art has to offer. Keep an eye out for additional free admission days throughout the year.
---
December 1st-4th
Jurassic World Live Tour at Gainbridge Fieldhouse
ROAR! Jurassic World Live Tour, an action-packed, live arena show is coming to Indianapolis. From the event website: "Your trip to Isla Nublar takes a terrifying, unexpected turn when Indominus rex escapes and causes chaos in the park! Join forces with a team of scientists to unravel a corrupt plan and save Jeanie, a Troodon dinosaur, from a terrible fate. Along the way, experience some of Jurassic World's most iconic dinosaurs including Blue the Raptor, Stegosaurus, Triceratops and the mighty Tyrannosaurus rex!" Check the website for tickets, show information, and more.
---
December 2nd, 3rd, 5th & 6th
Indy Library Store Book Sale
Load up your tote bags, moms and dads! It's time to buy some books. Held at the Library Services Center at 2450 N. Meridian Street in Indianapolis, the Library Book Sale benefits the Library Foundation, and according to their website, over $7.5 million has been raised since its beginning in 1982! The sale is held on multiple days during December, so don't miss out.
---
December 3rd
Rockin' with Santa at Daniel's Vineyard
You and your family get to have fun dancing at Rockin' with Santa at Daniel's Vineyard on December 3rd from 12:00-2:00 pm. During the dance party, you can visit local vendors and see a live performance from Annie's Jam. Enjoy all the holiday activities during Rock' with Santa this year.
---
December 3rd
Fortville Winterfest
Fortville Winterfest is here! Kick off the 2022 Holiday Season with us in Fortville on December 3rd. A community and business sponsored event featuring food, drinks, and entertainment including the main street parade, main stage caroling, snowflake princesses, ice ninjas, winter characters, carriage rides, and of course, a Santa appearance! Fortville welcomes paraders, contestants, performers, vendors, activity hosts, and sponsors to discover Fortville. Visitors of all ages welcome.
---
December 3rd
Christmas on the Farm at Traders Point Creamery
The 14th annual Christmas on the Farm returns to Traders Point Creamery this holiday season! Tickets are just $23 a person, and kiddos 2 and under are free. At the event, guests will be able to experience winter hayrides, holiday lights, crafts, holiday music, and visits from Santa. And if you want to write him a letter, stop by the North Pole and put it in their mailbox. Snacks and drinks can be enjoyed in the Jingle Bell Cafe, as well.
---
December 3rd-4th
Cirque Dreams Holidaze
Get your tickets to experience Cirque Dreams Holidaze, running December 3rd and 4th at the Murat Theatre. Cirque Dreams Holidaze lights up the stage in this popular and dazzling family holiday spectacular. This annual tradition wraps a whimsical, Broadway-style musical infused with contemporary circus artistry into the ultimate holiday gift for the entire family!
---
December 4th
Broad Ripple Lights Up Holiday Festival and Parade
The Wonderland Village in Broad Ripple will have a special visitor on December 4th – Santa! The Broad Ripple Lights Up Holiday Festival will include holiday-themed activities for children, musical entertainment, and a special Christmas tree lighting at 5:30pm. Local Broad Ripple boutiques and restaurants will be offer specials and various giveaways throughout the day. Get in the spirit and join in on the fun!
---
December 4th
Sensory Friendly Play at Urban Air
Urban Air Adventure Park in Noblesville hosts weekly activities, including Sensory Friendly Play, an event specifically designed for children with Autism and special needs to enjoy time at the park without loud music or flashing lights. Parents are free!
---
December 6th
Pentatonix: A Christmas Spectacular!
They just released their sixth holiday album in late October, and now you can experience their beautiful a cappella songs live! Pentatonix will be at Gainbridge Fieldhouse on December 6th with the show set to begin at 7:00 pm. And you get a bonus by watching Girl Named Tom, Indiana natives who won the 21st season of The Voice, as the opening act.
---
December 8th
Supper with Santa and Friends at the Indiana State Museum
On December 8th from 5:30-8:00 pm, you can have Supper with Santa and Friends at the Indiana State Museum. From the event website, "Visit with Santa, play in Santa's Front Yard and enjoy a ride on the Snowfall Express to see and hear the sights and sounds of a winter wonderland." And important note – The first 100 families to register receive a free keepsake photo with Santa! Register at the website by December 4th.
---
December 9th
Celebrations: A Winter Festival at the Children's Museum
A fun event for children from kindergarten to second grade is Celebrations: A Winter Festival at the Children's Museum. From 10:00 am-12:00 pm on December 9th, you can celebrate different winter holidays, learn about various winter traditions from cultures around the world. Call 317-334-4000 to register.
---
December 9th
Indy Fuel versus Ft. Wayne Komets
Get out of the house and head to the Indiana Farmers Coliseum to experience the Indy Fuel taking on the Ft. Wayne Komets. If you can't make it on December 9th, they have a cool feature called Mystery Ticket Sale. For just $20, you could end up with the best seat in the house! Check out the mystery ticket dates here.
---
December 10th
Holidays Around the World at Garfields Art Center
The title of this event really says it all. Holidays Around the World, held at the Garfield Park Arts Center, is on December 10th from 10:00 am-1:00 pm and this holiday-themed event features arts and crafts, live music, performances, and more. Celebrate holidays from around the globe by creating crafts that "explore these worldwide holidays and view a variety of performances in this melting pot of a holiday event." Don't forget to register on the website!
---
December 10th-11th
Straight No Chaser 25th Anniversary
Another fun a cappella outing alert! Straight No Chaser, who started at Indiana University in 1996, is on tour to celebrate their 25th Anniversary. You can get tickets to the Straight No Chaser tour stop at the Murat Theatre on December 10th and 11th.
---
December 11th
The Ghosts of Christmas Eve with the Trans Siberian Orchestra
I can just hear the rock band Christmas music playing as I type this. Check out The Ghosts of Christmas Eve tickets to see the Trans Siberian Orchestra live this December 11th. There are two times to see the show on December 11th – 3:00 pm and 7:30 pm, so plan ahead.
---
December 14th
Festival of Carols at Clowes Memorial Hall
Come enjoy Indy's family holiday tradition for kids from one to 92 – the Festival of Carols. At Clowes Memorial Hall on December 14th from 7:30-9:30 pm, the Festival of Carols features baritone Michael Preacely as well as the Indianapolis Chamber Orchestra, the Rodnie Bryant Singers, Spotlight Choirs from Franklin Community High School and New Castle High School, plus a special visit from Santa Claus.
---
December 17th
Indy Film Festival's Cereal Cinema
Another fun December family event to experience is Cereal Cinema with the Indy Film Festival. From the event website, "Cereal Cinema combines two of the best things about Saturday mornings: cereal and a great movie! Tickets include cereal. Coffee (for tired parents) is available for purchase at Coat Check Coffee." December 17th's movie is The Muppet Christmas Carol!
---
December 17th
Indy Winter Farmers Market
Every Saturday this winter is the Indy Winter Farmers Market, located at The Amp Marketplace. Founded by Growing Places Indy, the Market opened in 2008 and has "provided a venue for Indiana's sustainably-minded family farms and food producers to sell products throughout the fall and winter, improving the community's year-round access to fresh, local food." Visit their website to see their FAQs and how to donate.
---
December 18th
Indiana Pacers versus New York Knicks
Our hometown Indiana Pacers are playing the New York Knicks on December 18th, so come cheer them on! It's a great chance to get out of the house before winter really kicks in. And what better way than to check out a game at Gainbridge Fieldhouse.
---
December 18th
Santa Hustle Indy at White River State Park
From 7:30 am-12:00 pm on December 18th, head to the White River State Park to partake in the Santa Hustle, Indy Half Marathon, 5K, and Kids Dash. Check out their website to register and get a look at the fun, festive, and cozy swag!
---
December 26th
Indianapolis Colts versus Los Angeles Chargers
The day after Christmas, the Indianapolis Colts are hosting the Los Angeles Chargers for a late game, so bring your older kiddos to join in on the action. Go Colts!
---
December 31st
Countdown to Noon at the Children's Museum
Capping off the December family events is the Countdown to Noon at the Children's Museum. Activities, live music, and countdowns to noon and 1:00 pm will be in the Sunburst Atrium of the museum. Welcome in 2023 while also getting letting your kiddo get a good night's sleep! And don't forget the free festive favors while supplies last.
---
Share with us! How many December family events in Indianapolis do you have in your calendar this holiday season?
Looking to get your event featured on our monthly round up? Submit all community events here to our Community Calendar!