Sunday, September 9th is Grandparents Day. Everyone deserves a holiday and this September we dedicate one day to grandparents. They really deserve multiple days to be honored. Shoot, give them a month. Because if your grandparents are anything like my son's and my own, they deserve to be celebrated the whole darn year.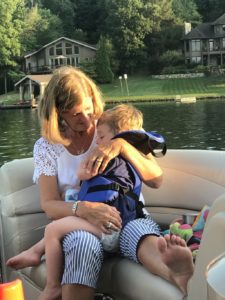 I'm lucky. I grew up with four fantastic grandparents. Each and every Grandparents Day at school, I would rotate and bring one grandmother and one grandfather from each set. As with most kids, I had special names for them all. I have a Mimi and a Buppa, but I also have a Grams and a Grandpa as well. I was always so proud to have them there and like most kids, showing off my awesome grandparents was the best! The bond between grandchild and grandparent is so unique. I always knew I appreciated them; being with them, having them cheer me on at my sporting events or choir concert. But it took having a child of my own to see how special that grandparent/grandchild bond really is.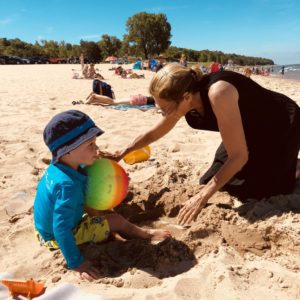 When my son Andrew was born two years ago not only was he the first grandchild, but he was the first great-grandchild on my side as well. Spoiled doesn't cover it! Not to mention the fact that he was named after his grandfather and great-grandfather. My husband and I were head over heels in love with our little Andrew John, but you couldn't stop his grandparents and great-grandparents from beaming with pride.
As Andrew gets older the bond with his own grandparents grows stronger. I continually watch in awe to see the special relationship he has with each of them. His Gigi and G-pa and his Bama and Papa are all part of his life in some way. Near or far, it doesn't matter. They are there for him and for my husband and me too. Each relationship is so unique and different from the other, but he loves them all so much. And every time I need a helping hand, they are each there for my husband and me in different ways too. Whether it is a FaceTime session, babysitting, operating a shuttle service or just supporting Andrew at soccer or swim class, Andrew's grandparents mean a lot to him, but I also appreciate them more than I ever have before.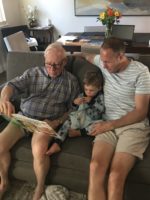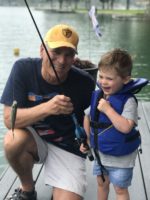 I grew up knowing how great my own grandparents were/are, but it wasn't until I had a child of my own that I saw it for myself. Not only are they a special person in your child's life but grandparents are often times the key to your success as a parent too. An unknown author was quoted as saying, "Grandparents are a delightful blend of laughter, caring deeds, wonderful stories, and love." And I couldn't agree more.
So this September 9th remember to tell all the grandparents in your life just how much you appreciate them. Whether you have a Gigi, Grams, Bama or Mimi or even a G-pa, Papa, Buppa or Grandpa… be sure to give them a little love. Trust me, they deserve it.