Fall has always been my favorite season: The crisp air, glorious sunshine, clear sky, crunchy leaves, pumpkin beer…I could go on and on. Even though it signals the passing of summer, something about fall always makes everything feel brand new. Perhaps it's the association of beginning so many new school years during this season, but fall has always felt like a fresh start to me. Come late September, I'm bursting with optimism and unbridled joy, and you can probably find me stocking up on 50 different kinds of pumpkin-flavored goodies at Trader Joe's or walking for hours while listening to podcasts and audiobooks.
Though fall marks the slow march to frigid temps, that doesn't even bother me too much. I've even come to enjoy winter in recent years. My work running group provides great accountability to get out there and enjoy cold winter mornings, and there is simply nothing more peaceful than running on the Monon to gently falling snow.
Alas, having a child has changed my perspective on the cooler months of the year. I've never considered myself a summer person, for all the reasons stated above (and the fact that I'm a fair-skinned heavy sweater), but now that my life includes one of those tiny, insane beings known as toddlers, I've changed my tune.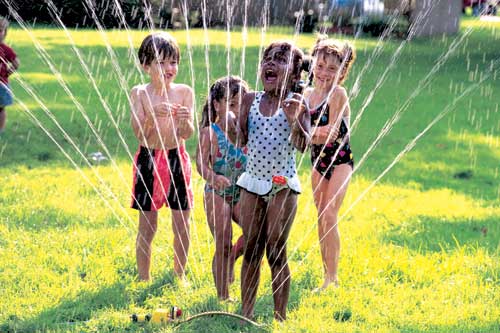 An abbreviated list of all the things I miss about summer these days:
Hanging out at the playground with a child who would be tantruming if kept indoors
Staying at said playground until 7 p.m. or later
Going on leisurely family walks after dinner because there's still plenty of light left
Walking up the Monon for brunch at Good Morning Mama's or Taste
Grabbing an ice cream at Tiny House Treats
Running errands without the hassle of coats, hats, mittens, socks, and boots, which my child refuses to keep on anyway.
Spending weekends exploring literally any outdoor area that we want to explore
Endless entertainment options like pools, water parks, zoos, etc.
The ease of putting a tuckered-out child to bed after a long day of playing outside
Summer, I didn't realize how good I had it. I took you for granted. I complained about overly warm days and anxiously awaited those changing leaves. I was a fool, blasting those sweltering playground afternoons without thinking about the alternative: Trying to contain a wildebeest inside my home. I promise I won't make this mistake again, and I'm ready to fully enjoy you come next summer. As a offering for our budding friendship, think you could throw in an early spring for me?