May is Military Appreciation Month, a special month for both those in and out of the military. Of course we pause on Memorial Day to remember the sacrifice and service of those who gave all, but this month also holds several other military anniversaries and events, including Military Spouse Appreciation Day and Armed Forces day.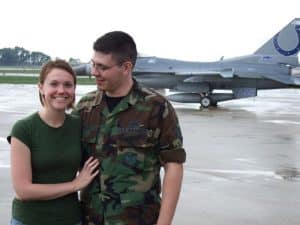 We've been a military family for over twenty years now, and in honor of Military Appreciation Month, I want to thank and celebrate all of the colleagues, family members, and friends that have supported us throughout the years, especially during deployments. They truly make this service possible. 
Thank you…
To my dad, who drove an hour each way to mow our grass each week. 
To the friend who came each Thursday to visit with the kids until they fell asleep and then stayed with me until I fell asleep.
To the friends who invited us to share their family and faith traditions each month and included us in every holiday celebration.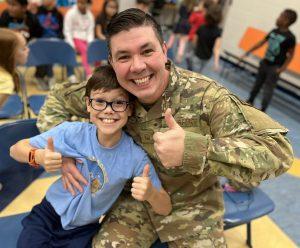 To the teachers who talked about their personal experiences in the military and invited our boys to do the same.
To my husband's colleagues, who visited each week, shared food and stories about my husband with our kids.
To the neighbors who were understanding and stopped to help me load or guide little ones back onto the sidewalk during the daily process of getting everyone to and from school. 
To the parents who helped me with drop off and pick up.
To the counselors who "gave an hour" to offer mental health support to our and other military families where they would otherwise not be covered.
To the friends who continued to invite me over, knowing I would stay past my welcome to satiate my need for adult conversation.
To our "handy" friends who came by and helped me fix odds and ends and all the things that broke during deployments. 
To my sister who came, in the middle of the night, to care for my boys when I was too sick to care for them myself.
To the friends who listened to my darkest concerns and fears without judgment.
To the friends and colleagues who encouraged me to start my own business and who supported me and connected me to opportunities to do just that.
To those who dropped treats on the porch but never needed to come in.
Military service tests us in ways that we can't precisely anticipate- it puts a strain on all aspects of family life. Through it all, though, I'm incredibly thankful for the support we received from our community. Not only did they rally around us to fill the void left by my husband's absences, but also provided love and support that kept us going through some of our most difficult times. We couldn't make it without that support, and no military family can. 
Every little thing you do absolutely counts. Make the invite. Stop by. Share a laugh. 
Thank you, friends. We will never forget it.