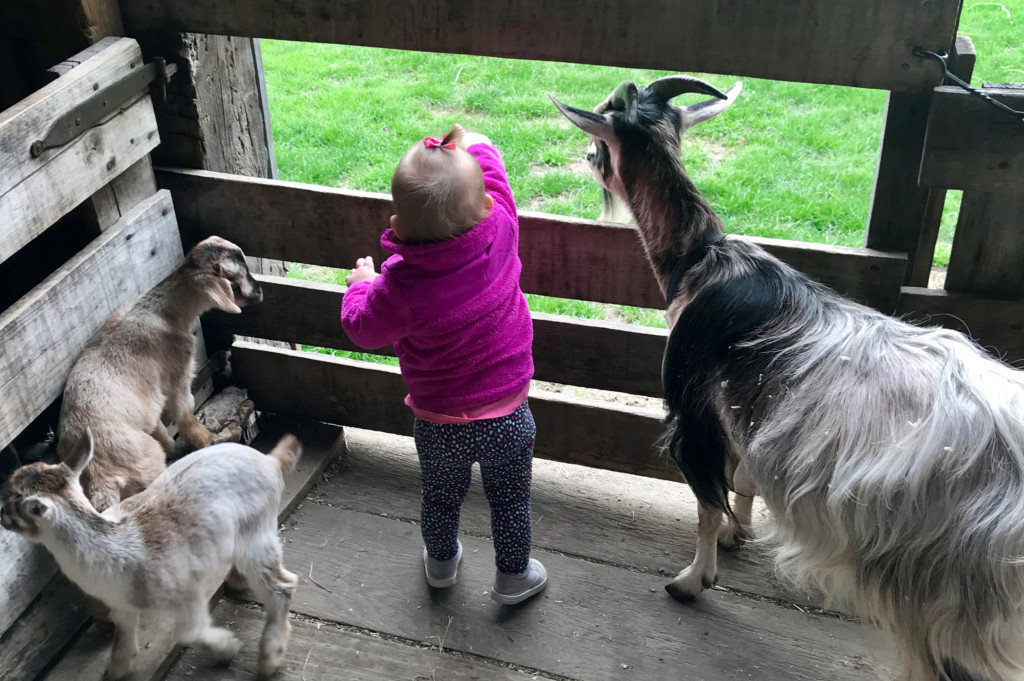 There is a lot of fun (and meltdowns) to be had this summer in and around the Indy-area. However, finding something appropriate for your toddler who isn't quite big enough to take on the fun alone, but who thinks they are, can be overwhelming. In a search for things to do with our 18-month-old, I've put together my Summer Bucket List for Toddlers.
GET OUTDOORS
Conner Prairie: This is the only location that I've been to before, so I've offered more information. Step back in time, when things were simple and your baby didn't demand the use of your cell phone. After visiting for our first time last year, we decided to become members this year and are sure to be found here many times throughout the summer. There's much more to Conner Prairie than a look at life in the 1800s. Some fun for toddlers includes:
Animal Encounters Barn: Get all of your animal sights, smells and feels in at the Animal Encounters Barn where even the youngest of children are welcome to pet a goat or sheep, take a peek at the newest additions to the prairie, and experience the different textures of fur, feathers, and horns.
River Crossing Play Area: Let your little babe splash around in the big boat water table, small splash pad and play area. Swim diapers are even provided!
Discovery Station & Craft Corner: Take a break from the sun indoors where there are a number of fun areas for your little one to explore, including a designated area for non-crawlers and story time for all!
Splash Pads: Holy splash pad city. Indy knows that summers can get sticky hot in a hurry and have given us so many options for kids to cool off and burn through some energy. While I have my eyes on The Waterpark at West Commons Playground & Splashpad and The Waterpark at the Monon Community Center, our IMB team has put together a full Splash Pad Guide for wherever you are.
Prices and locations vary.
State Parks: Eagle Creek and Fort Harrison State Park flank the Indy area and are making it on my list of parks to visit. For their numerous trail options, play areas and scenery for picnic eating, I'm itching to get out with my little girl.
Prices and locations vary.
COOL OFF INSIDE
Little Village Playroom: I mean, how cute is the name alone?! Their website describes their playroom as a "place of productivity and a place of play". Which means, while your little one is taking in the fun and participating in some of the lead activities, you can be sending out a few emails, catching up with a friend, or simply sitting without someone touching or needing you. Get hungry? You can bring your own food and drinks or purchase them on site. Plus…free mom fuel (coffee & wifi).
Location: 9850 N Michigan Rd, Carmel
Price: Daily Drop-in Rates: $15/9+ month child, $10/0-9 months or Free with a paid sibling, $10/9+ month sibling, $5/additional siblings (all day rate means you can step out for a nap and come back!). Monthly and other pricing options can be found here.
Habitat Hall at Holliday Park: Scrolling through my Facebook feed, I stumbled upon some pictures of our neighbors and their kiddos at Holliday Park's Habitat Hall and it looks amazing. Digging a little online, I discovered that their exhibits include "the White River Water Table, Music of the Wetlands Exhibit, and an elevated Hardwood Forest viewing area allowing visitors to experience the forest canopy," (hollidaypark.org) as well as live animal enclosures, costumes, and games. Count us in! Plus, when you've experienced all you can indoors, you can always step outside to one of Indy's best parks.
Location: 6363 Spring Mill Rd, Indianapolis
Price: FREE
Kid City at Greenwood Community Center: Now, as a north-side resident, my trips "down south" are few and far between. But, I think I can make an exception here because Kid City looks like a lot of fun waiting to be had. A part of the renovation of the Greenwood Community Center, Kid City boasts STEAM activities and a special toddler climbing area perfect for your little human. I also read on some reviews that it includes a kitchenette for storing and preparing lunch and snacks. Adding to my summer bucket list now!
Location: 100 Surina Way, Greenwood
Price: $5 daily pass (accompanying adults are FREE). FREE for children under 12 months of age. $35 ten-visit punch cards also available
SUMMER EVENTS
Spark! Fishers: As a Fishers resident, I feel like it would be wrong for me to not have this on my summer bucket list. Having attended the Fishers Farmers Market and other events in Nickel Plate District, I know that the venue is well kept and easy for tooling around with a stroller. Like many of the other fairs, festivals and summer events happening around the Indy area, a parade, live entertainment, food vendors and fireworks are included in this celebration.
When: June 28th and 29th
Location: Nickel Plate District, Fishers
Price: FREE
CarmelFest: Food, music and kids games. Sounds like something my 18-month-old would be into. Additionally, CarmelFest includes a parade and fireworks which she has not been able to experience yet, but I bet she would really enjoy. This just might be how we choose to celebrate Independence Day!
When: July 3rd and 4th
Location: Civic Square, Carmel
Price: FREE, attraction tickets vary
Fairs: A crowded fair may not be an ideal place for little people, but hear me out. How much did you love going to the fair as a child? Perhaps your baby is too young to remember, but you will. The sights of animals, lights, and rides – the smell of sugar and fried anything – the sounds of ringing prize winners and buzz of excitement – it's a sensory haven. Yes, it can be a little messy – but what isn't? Indianapolis plays host to the Indiana State Fair, as well as the Marion County Fair and several smaller fairs in the general area. If the state fair feels too overwhelming, take a stab at a smaller local fair to get your fix.
Prices and locations vary.
EXPLORE MORE OF INDIANA:
Holiday World: Growing up in Southern Indiana, you better bet Holiday World was on my summer bucket list. Now as an adult with a kid of my own, I cannot wait to share it with my little girl. What I love about Holiday World is that it has a handful of rides, slides and play areas geared toward little kids; their water park is awesome; and… free drinks, sunscreen, and parking, duh. Perhaps this bucket list item is a bit more involved and could benefit from the helping hands of a willing grandparent or friend, but worth it!
Location: 452 E Christmas Blvd, Santa Claus
Price: $35-$40
Mr. Muffin's Trains: I stumbled across Mr. Muffin's Trains recently and it got me thinking about the times that my daughter has been around play trains. She surprisingly really enjoys them and will actually sit still to play (what?!). Since it's 2019 and girls can be into trains too, I want to take a quick trip up to Atlanta, IN to check out one of the largest collections and operating layouts in the country at Mr. Muffin's and see what it has in store for us.
Location: 177 W Main Street, Atlanta
Price: FREE
WonderLab Science Museum: Okay, so perhaps I want to go to WonderLab because it's in my old IU stomping grounds and I can also take the opportunity to stuff my face with Mother Bear's Pizza and sink the biz fries…sue me. BUT, I also want to go because I used to take the little boys I nannied here and they loved it. Their Discover Garden is geared towards children 6 and under, featuring a "Kaleidoscope Cave, live animal habitats, the Magnet Wall, the Flat Rock Stage, the Little Light Table, tree house climbing structures and access to Water Works." – wonderlab.org
Location: 308 W 4th St, Bloomington
Price: $9 (age 1 and older)
---
I hope you find at least a couple of places to add to your own Summer Bucket List. I've purposely left off some of the obvious spots, such as The Children's Museum and Indianapolis Zoo. But, if there's a hidden gem I'm missing, let a girl know! Add any of your own experienced recommendations in the comments!