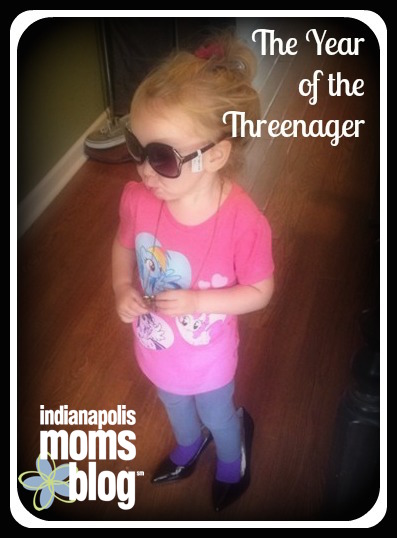 Pre-children, when my husband and I were still in our getting a solid 10+ hours of sleep phase, we wanted four kids, minimum. Preferably five. We even had names picked out. Less than two and a half years into our marriage, we found out I was pregnant. We were ECSTATIC. On cloud nine. So in love. I had an easy pregnancy and childbirth experience, as far as carrying/birthing another human goes, so in our haze of fresh baby smell, we were still on our path to a basketball team.
Kate was a super easy baby. Nursed well. Mostly slept well. Ate whatever we put in front of her. No temper tantrums or terrible twos. Never really cried. So around 2.5, we were all like, "We should totally try to get pregnant when she's 3/3.5. That will be PERFECT."
And then our perfect little angel baby that never cried and slept well and ate all the good, healthy things turned into a raging she-beast diva threenager that only wanted a diet of fruit snacks and yogurt. But only Yoplait yogurt. And now our existence is the bane of hers. In the span of about one week, tops, she flipped a switch. Did a 180. We never know what's going to set her off.
When she's sweet, oh she's sweet. Sugar sweet. The most loving little thing you've ever seen and we completely adore her. She's probably the only person in the world that we would give our lives for. But when she's mad? TAKE COVER. Just shut up and don't make eye contact. Play opossum. Get some camo. Pray to a higher being that the floor opens up and swallows you. Because nothing can make you feel more inadequate as a human being than a threenager.
Two weeks ago, my husband was sitting next to her on the couch, just minding his own business. Playing Trivia Crack on his phone while she enjoyed a book and some Yoplait. When out of nowhere, Kate's head spins around like she's possessed by a beautiful blonde demon and she screams, "GET OUT OF MY FACE, DAD!!" It's so bad lately, that my husband spent a weekend redoing a closet to get a break, and I took my turn by spending 90 minutes in a hot yoga class. Home renovations and 90 minutes of yoga in a tiny, 105 degree, 94% humidity room are better options than being screamed at by our threenager. We have officially hit a new low.
I can only assume this is early punishment from my parents for my teenage years. I can nearly feel the glee radiating through the phone lines when I call my mom and tell her that, for the fifth night in a row, Kate was up until the wee hours of the night screaming at us because we put her water in the blue cup with the red lid and she actually wanted it in the blue cup with the red lid (that is not a typo, folks). AND I'M TIRED, MOM. Come visit me. I need someone sane in my life.
There is no winning with a three-year-old. None. Because, while they can be straight up cruel, they are the only people in the entire world that can look adorable as they tell you how much you suck. And then they turn around two minutes later to say, "Mama. You tell Harry that you don't wanna work no more cause I miss you." Jeez, kid, tear my heart out why dontcha. Just when I think I should probably go take an entire month's worth of birth control, she makes my uterus flutter with thoughts of more babies.
Just recently, we were actually thinking we should have another because she was so good while we were out of town, and we are nailing this parent thing. I think we even high-fived. And then 30 seconds later, she walks out of the bathroom. Naked. With a juice box. And angry sobbing because she had a booger and she wiped it away with a tissue. What was the problem, you ask? Her booger was gone. SHE WAS CRYING BECAUSE SHE WIPED HER SNOT AWAY AND NOW IT WAS GONE.
I hear that three is the teenage year of toddlers and that they mellow out a little at four. If this is wrong, no one tell me. I'd rather live in this semi-hopeful state that we'll someday get to sleep 8+ hours again without a toddler farting like an old man in between us and randomly screaming, "GET OUT OF MY FACE."
And I guess if four isn't any better, then at the very least we should be numb to this by the time she's an actual teenager.