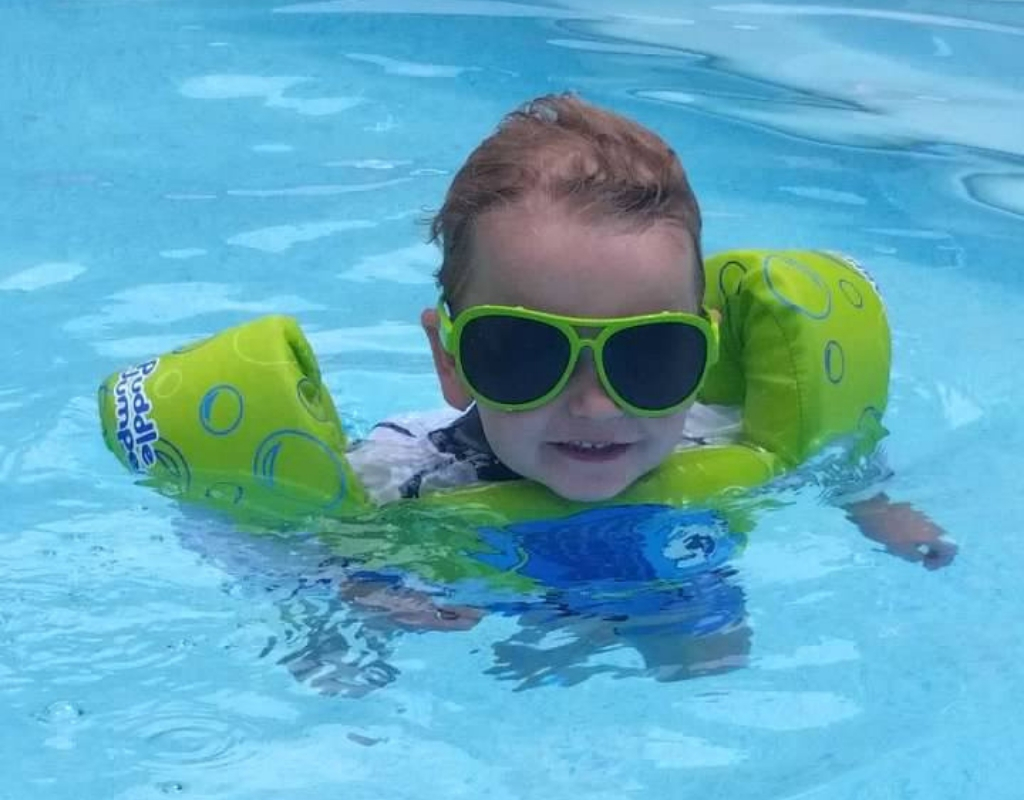 On a hot summer day, there's nothing better than a refreshing dip in a pool. I went almost daily as a kid and as an adult, I've enjoyed many relaxing days. But when we bought our current home that included a pool, I was 7 months pregnant with our first child, and we knew that pool ownership was going to mean a big responsibility. We immediately laid some ground rules for keeping all of our friends, family, and neighbors safe. Over the last 6 years in this home, we've continued to learn about pool ownership safety and remained consistent.
While our pool is the source of nearly daily fun during the warmer months, it's important to keep in mind that the National Safety Council reports that more than 3,700 people drowned in the United States last year. Drowning was the leading cause of preventable death for 1 to 4-year olds. While those statistics can sound scary, we believe that arming your family with knowledge and committing to a few simple rules can help you have a fun (and safe!) time around the pool all summer.
Swim lessons.
It's never too early or late to learn how to swim. A few places to consider include Goldfish Swim School, Aqua-Tots, Monon Community Center, and various YMCA locations. Infant Swim Rescue is a swim program for kids as early as 6 months old where they are taught to roll over and float should they ever fall into the water.
Know CPR.
Getting certified in CPR is easy. And while it's something that you hope you'll never have to use, The American Red Cross is just one organization who offers CPR classes in our area almost daily.
Know your neighborhood.
We, of course, have a pool in our backyard and honestly, our pool is the least of my worries on a daily basis. We have a fence, a locked automatic pool cover, and a number of other safety measures in place. But when we moved in, we used Google Maps to look at what neighbors had pools and where retention ponds are located. I believe that being aware of nearby water risks can help me have better safety conversations with my kids.
Have a list of rules.
Educate the whole family on what conduct is acceptable. A few basic rules to get you started:
Don't run on the pool deck.
Don't swim without an adult present.
Don't push anyone into the pool.
Don't hold anyone under water.
Don't dive into shallow water.
Don't touch pool drains.
Talk about the rules before you get to the pool.
Once you get to the pool, your kids are going to be excited. Talking about pool safety rules over breakfast or the walk/car ride over to the pool can help make sure you have their attention.
Make wearing a life jacket the norm.
As soon as we are around the pool, the puddle jumpers go on. For young kids, I don't think they need to be in the pool to be wearing one. When we make it expectation for anytime we are around the pool, it tends to be less of a fight.
Show kids their limits.
Many pools are like ours where there is a shallow end where kids as young as 2 or 3 can touch their feet on the ground. That doesn't mean that kids don't wear floatation devices in this area, but I've found that showing kids where they can and cannot reach gives them a sense of control and confidence in the water.
Designate an adult watcher.
We have friends and family over a lot. It can give you a false sense of security that with so many adults around, someone must be watching. However, what often happens in drowning incidents is that everyone assumes someone else is watching. Having at least one adult at all times as a designated watcher can help keep everyone safe.
Always have 2 or more adults.
For us, we decided early on that when kids are around, there must be at least 2 adults present. I had my daughter in the middle of summer so it was tempting to open up the pool during the day while I was on maternity leave and my husband was at work. But, we'd rather err on the side of safety and have stuck with this rule.
Check your surroundings.
Every pool is a bit different. Each time you visit a pool, especially if it's the first time, I'd encourage you to scan the area and look for any hazards. A few things to look out for:
Which areas surrounding the pool may be slippery or pose a falling hazard.
Any chemicals that are not locked up.
Any open drains or anything that looks unsafe in the pool.
Consider limiting pool toys.
We've had almost exclusively fun times in the pool, but I still remember the day where we had an oversized raft in the pool and my son – although he was wearing a puddle jumper – got trapped underneath. I was right there and it was only for a few seconds, but it was an immediate reminder of how fast things happen. And, rafts can really obstruct your view. When we have larger parties, we simply don't get the large rafts out. There's no shortage of rings, rockets, cars, beach balls, pool noodles, etc. that are still loads of fun but safer for when entertaining large groups.
We are definitely ready for a fun and safe summer at the pool! If you are looking for additional resources, Poolsafety.gov offers a one-minute safety pledge along with brochures, posters, videos and more to help keep you safe. Happy swimming!