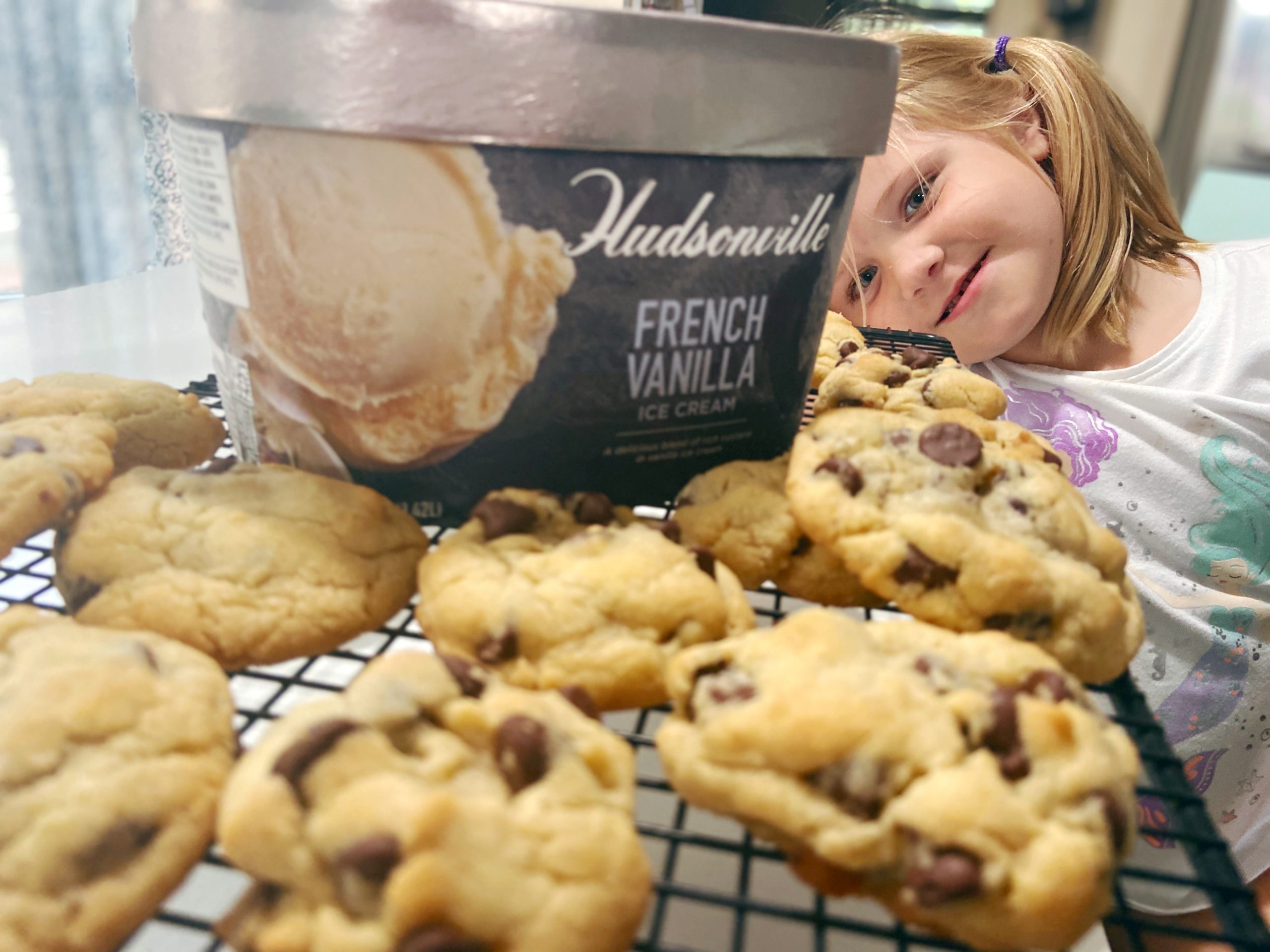 Balance seems to be the buzzword lately. Between work and school and schedules and home – everything seems to be quite the balancing act. But when I had three kids, my husband and I always talked about how we would ensure to find one-on-one time with each one of them. And to be honest, finding that time within this balancing act has been difficult. But I realized it doesn't have to be an elaborate trip or fancy evening out. Our alone time could be simple and meaningful. So when I had a rare afternoon alone with my youngest daughter, I asked her what she wanted to do with mommy that day. Her reply? "Let's bake chocolate chip cookies!" And I thought that was the perfect plan.
We spent the first part of the afternoon shopping for the supplies. I let her pick the things off the shelves and decide what kind of cookies we would make. As we passed the frozen aisle, she decided we had to add ice cream to our cookies – which of course I wasn't going to disagree with her! Homemade chocolate chip cookie ice cream sandwiches are one of our favorite family recipes, especially with Hudsonville Ice Cream's French Vanilla. We gathered our ingredients and set off for our afternoon of baking together.
While I may not be much of a baker, our family's chocolate chip cookie recipe is one that I have to make at least once a year. It's a simple recipe that brings back so many memories. It warms my heart to know that my daughters will create their own memories with this recipe and eventually pass it on down their family chain as they grow older too. Family recipes are my favorite because of the unique sentimental value that each one holds.

Chocolate Chip Cookie Ice Cream Sandwiches
Ingredients:
2 1/4 cups of flour
2 cups of chocolate chips
1 cup of butter (we use butter flavored Crisco sticks for a more creamy texture!)
3/4 cup of sugar
3/4 cup of brown sugar
2 eggs
1 tsp vanilla
1 tsp baking soda
1 tsp salt
Your favorite Hudsonville Ice Cream flavors
Directions:
Preheat the oven to 375.
Begin by mixing butter (or Crisco), sugar, brown sugar and vanilla into a bowl until blended.
Next, in a separate bowl, mix together flour, baking soda and salt.
Beat eggs into creamy sugar mixture. Then add in the flour mixture.
Finally add the chocolate chips.
Scoop cookies onto baking sheet and bake for 10-12 minutes.
Once cookies have cooled, scoop your favorite Hudsonville Ice Cream flavor on top of one and press with another to create a sandwich. Vanilla Bean, Chocolate or even Mint Chocolate Chip Hudsonville Ice Cream flavors are some of our top picks!
*Pro-Tip: Wrap individual cookie sandwiches in parchment paper and then with foil to throw into the freezer for a tasty treat for later!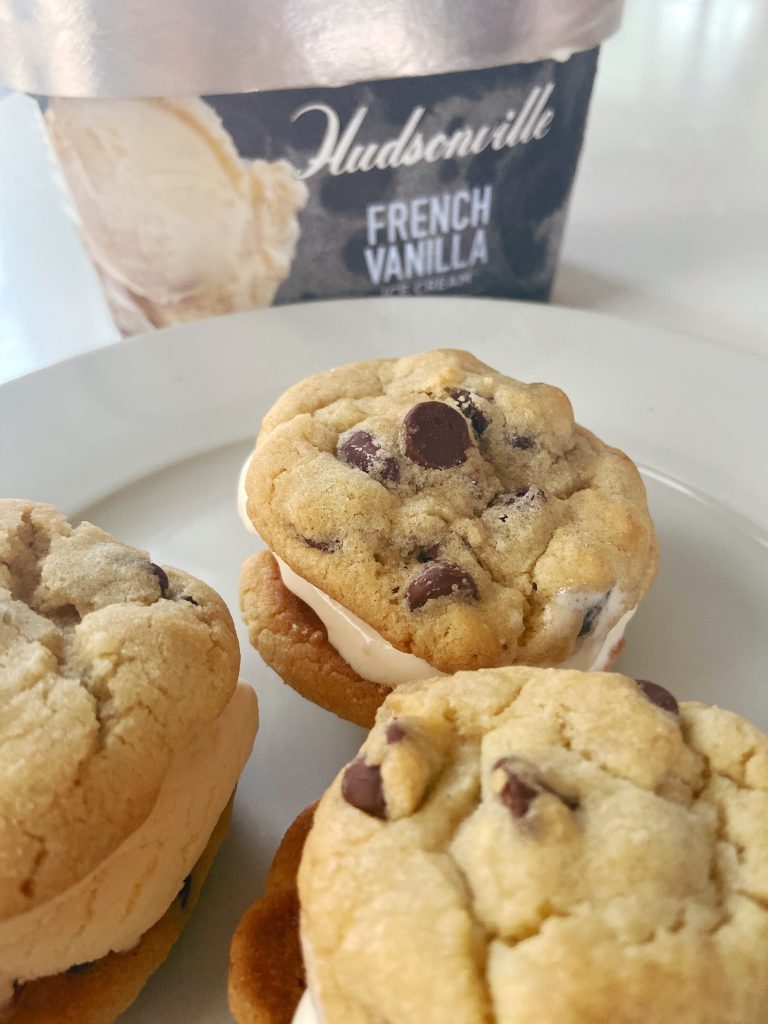 I prepped the ingredients and my daughter happily poured them into the bowl so we could mix them together. I loved how her little hand would hold out the measuring spoon so I could pour the vanilla into it and mix into the bowl and the look she would give me to see if I noticed the handful of chocolate chips she popped into her mouth before stirring them in. Then, as we let the cookies cool, I let her dip her spoon into the carton of Hudsonville Ice Cream. She'd giggle every time she put a spoonful of the creamy, sweet treat to her lips. We spent the afternoon, just the two of us, in the kitchen together making our special treats. And as soon as we picked up her brother and sister from school, the first thing she told them was that they had a special surprise waiting for them when they got home.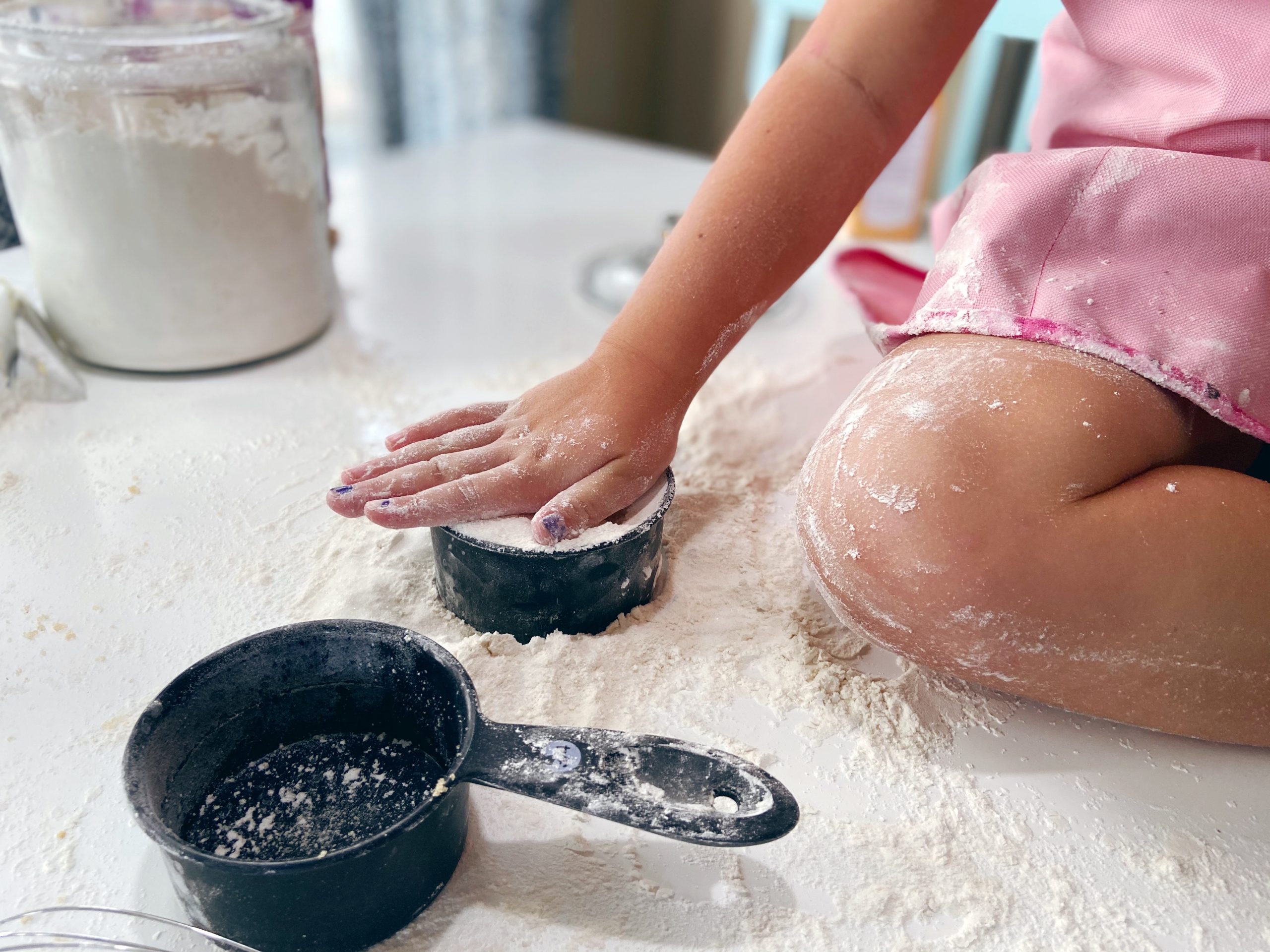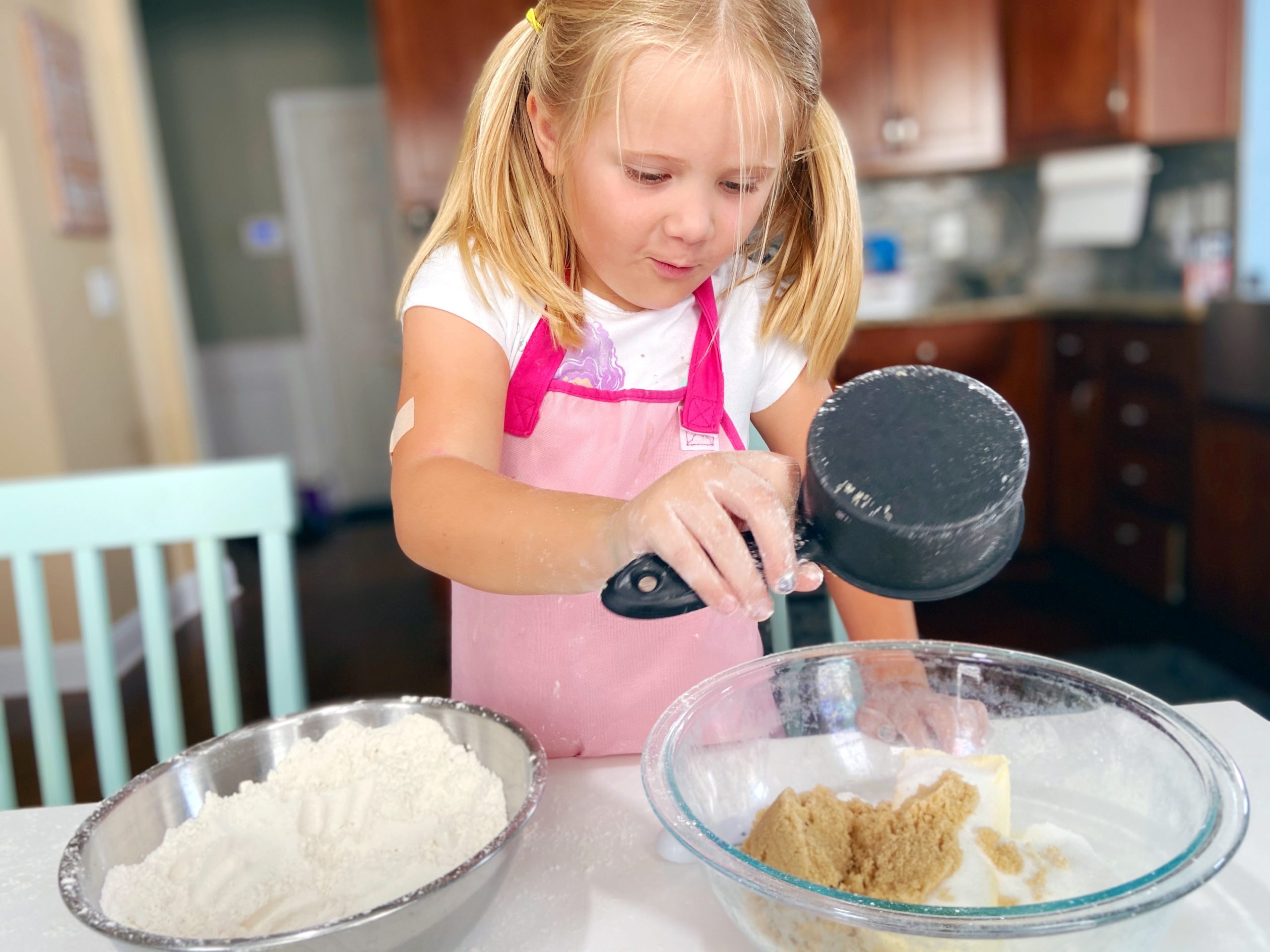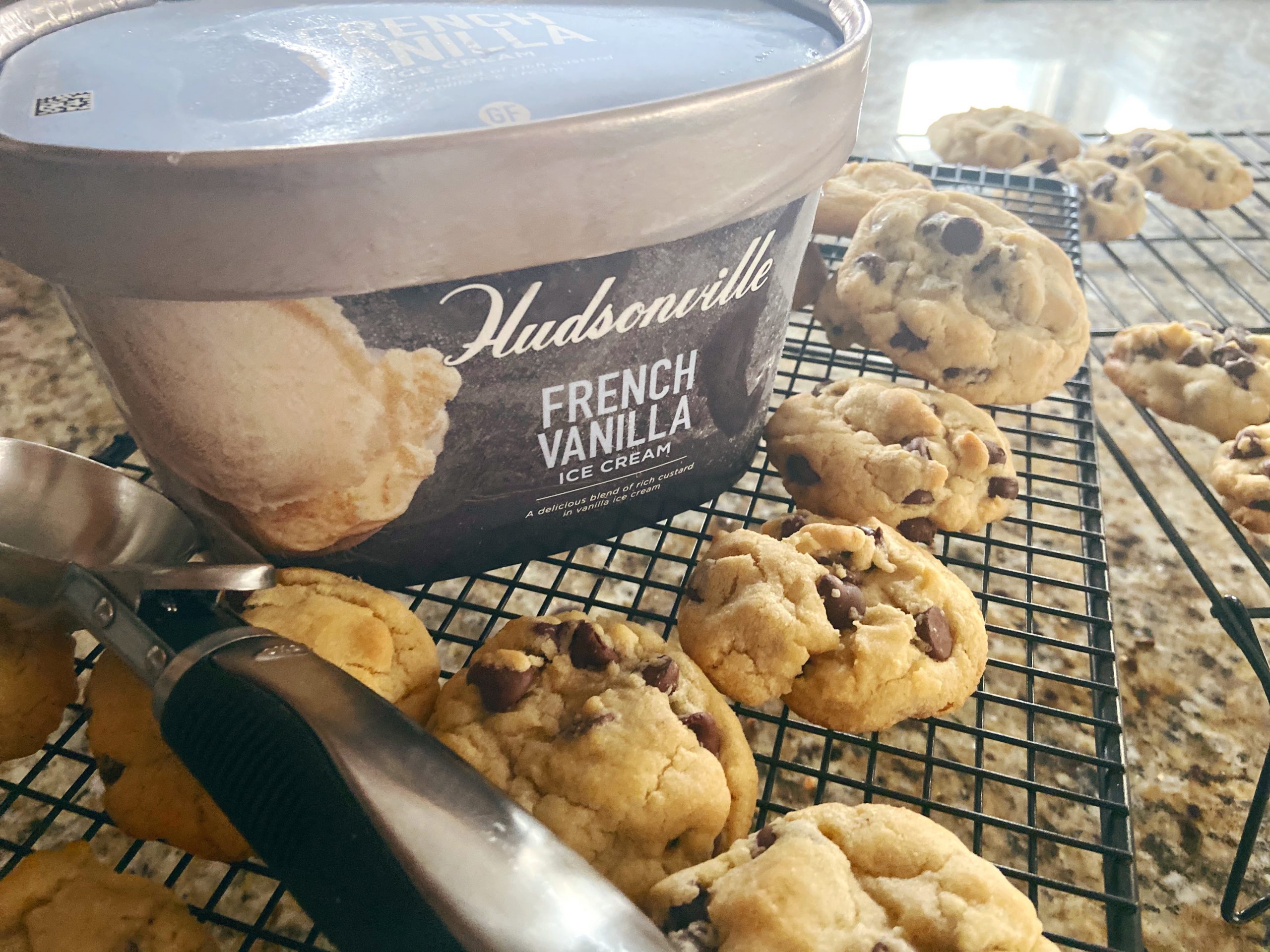 Balance. I still feel like this is a major buzzword right now but it's about finding how it works for you. For us, balance is finding time to create small moments with big memories. And this afternoon was just the icing on the cake. Or should I say the ice cream in the cookies?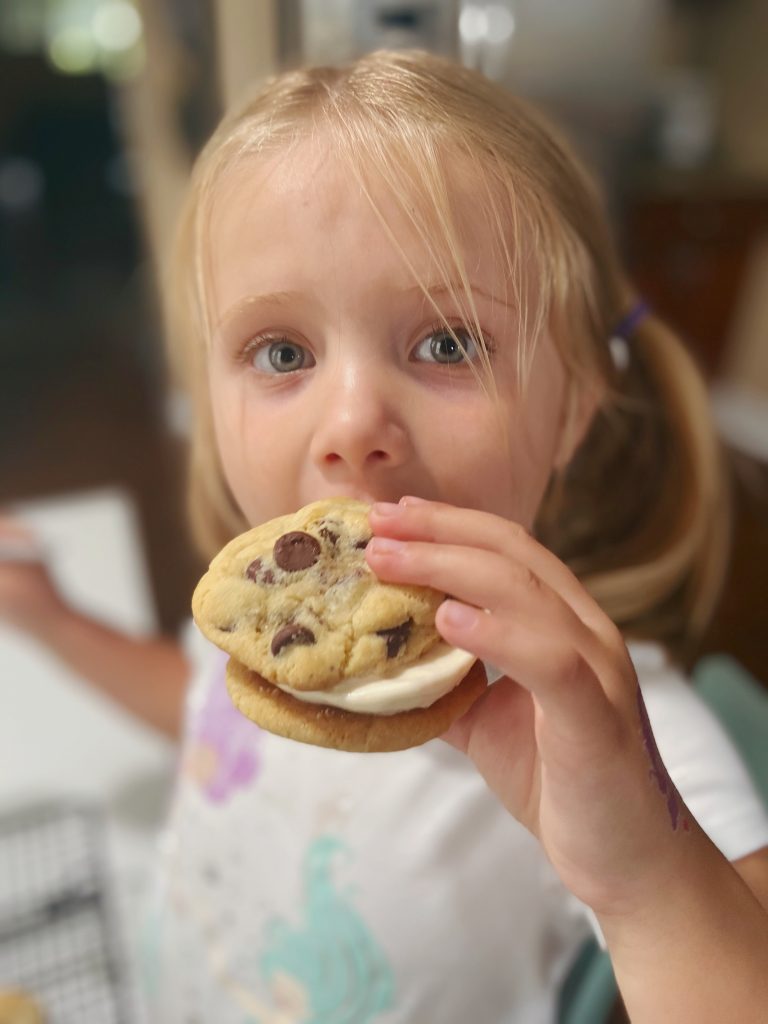 About Hudsonville Ice Cream
Hudsonville Ice Cream is about more than just ice cream. For them, it's all about making life a little sweeter. It's about the feeling you get, the experience you have, and the people you share a scoop with. Their Midwest creamery has been perfecting the art of ice cream making for more than 90 years. While they enjoy creating creamy, delicious and exciting new flavors, many of their ice creams use a base recipe that was created back in 1926! With more than 50 flavors to choose from, including the world's best French Vanilla and Dairy Free options, Hudsonville Ice Cream has options for everyone to enjoy.
Print this coupon to get TWO Hudsonville Ice Cream flavors for the price of ONE! Click here to grab it!
Find Hudsonville at a store near you using their Scoop Locator tool!