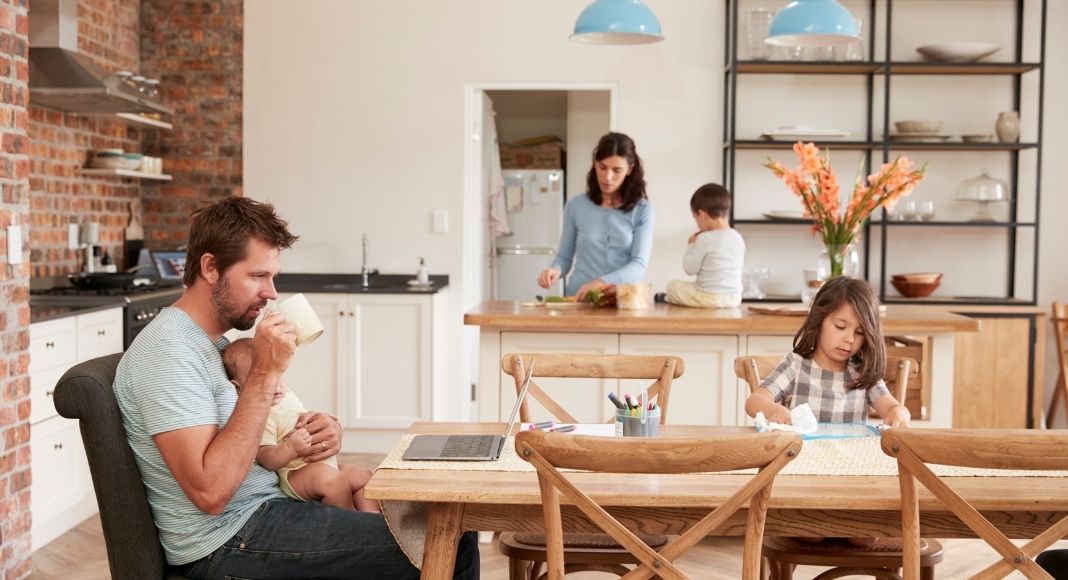 I will be the first to admit that I have never been able to sit still. As a young kid, I would wake up on Saturday mornings and immediately ask my parents, "So what are we going to do today?" I have always been one to enjoy being busy, and for the most part, avoided being a homebody at all costs.
Before I was married, I would run errands even if I didn't have anything I actually needed to get. I would drive around the backcountry roads just to enjoy music on the radio, and I often would go stir crazy if I was at home for too long. When I met my now-husband, he was almost the polar opposite. He enjoyed just lounging around home, hanging out on the couch, and watching movies when he wasn't working or coaching. He quickly learned that was not my style, and believe it or not; he adapted to my "on the go" lifestyle rather quickly. Pretty soon, he was asking what errands we needed to run and where all we needed to go on the weekends.
Shortly after we started dating, we decided to adopt a dog from a local rescue. We became interested in the whole dog rescue world through that process, and shortly thereafter, we adopted two more rescue pups. Once we had three dogs to keep us busy, we still weren't content, so we opted to start volunteering with a local rescue organization. We spent our weekends at the shelter, evaluating dogs and working on getting them adopted. Then, we decided we wanted to foster dogs, and so then, we had a revolving door of dogs who spent time at our house before finding their forever homes. The cool thing about this newfound hobby was that it was something we could do together and kept us busy in our free time. We were passionate about helping the dogs, and it gave us a sense of fulfillment to see these horrific situations turn into happy endings.
In 2017, we discovered we were pregnant, and as things go, we found ourselves absorbed with everything related to baby. We were able to get our final foster pup adopted that spring and then decided to take a break from the foster game to focus on our upcoming arrival. A short 10 months later, after our second kiddo arrived, we were knee-deep in diapers and bottles with zero free time on our hands. But during the 2019 school year, one of my students found herself in a bad situation with her family, and they were looking for a temporary foster family for her to stay with, which got my wheels spinning yet again. I went home, told my husband about it, and started the process to become a licensed foster home. Even though it was a long process and we didn't end up helping my student, I thought having a valid license would help if I were ever faced with a similar situation. We then started discussing the notion of having a foster child in our house once we were officially licensed.
Now, let me paint this picture for you: at the time, we had two babies under 2 years old, 3 dogs, both worked full time, and my husband was building up his side job as a wedding DJ. You might be wondering, "what the heck are you thinking? Are you crazy, woman?" and the answer is yes, quite possibly. For whatever reason, our family seems to thrive on chaos and maybe even find comfort in the hustle-bustle of a busy lifestyle. When we are in the midst of all of it, it can be a bit overwhelming, so you'd think we might try to simplify and cut out some of the non-essentials. Instead, we rearrange and then find the next adventure that we choose to take on. In the fall of 2020, we discussed the idea of starting to foster dogs again now that the kids were older and more dog savvy, so we jumped back in head first, as if we had never taken a break. Our lives are filled with constant chaos, and somehow, we seem to thrive in that.
We laugh and joke that we are a very special kind of crazy and that we tend to get bored when we don't have enough to keep us busy. Others might think we've lost our minds entirely and wonder how we can even consider adding one more thing to our plates. We recently decided to pause our foster care license for now because life was starting to get a little hectic, even for us. As our kids get older and other facets of our lives get more complicated, I am sure we will find yet another "thing" to add to our ever-growing plates. For now, we will take things one day at a time and enjoy dancing around in the middle of our self-created chaos.