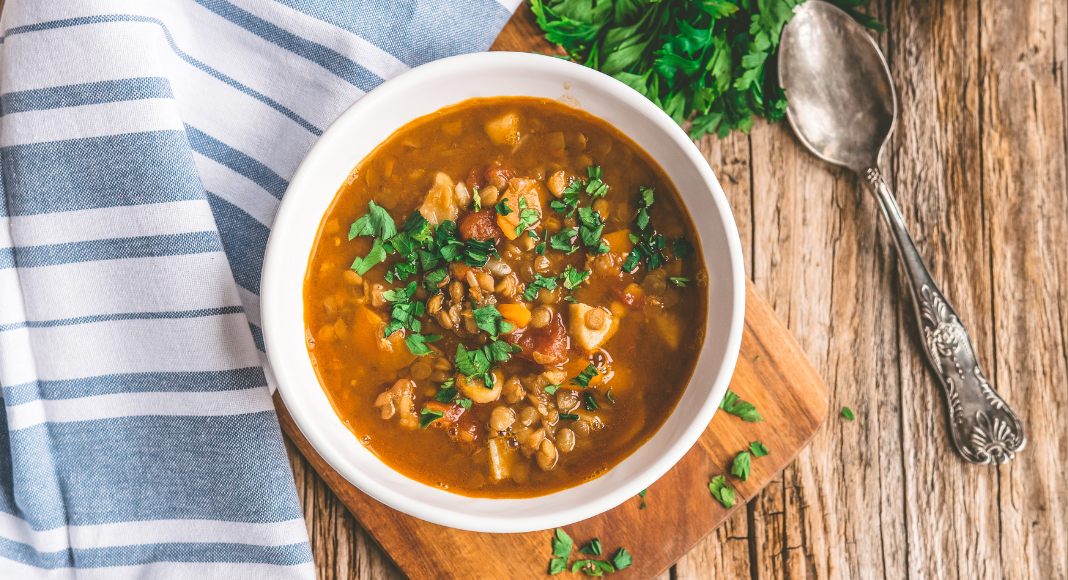 It's officially "stoup" season. Thicker than soup, thinner than stew, these hearty meals are perfect for the transition to fall. As the weather cools down, there's nothing more comforting. These vegetarian-based fall stoup recipes are sure to hit the spot. And the best part? They are all one-pot meals. Fewer dishes and more fun. They're all easy to make and can be adapted to whatever you have on hand. Add chicken or sausage for the meat lovers in your house. Garnish selectively to make any of them vegan. This fall try out a recipe and improvise and make them your own.
CHICKPEA PROVENCAL
Ingredients
1 onion
1 large fennel bulb
3/4 lb carrot
4 cloves garlic
1 lemon
4 tbsp. extra virgin olive oil
2 tbsp. coarse sea salt, plus more to taste
1/2 tsp. fresh ground black pepper
1/2 tsp. garlic powder
1 c vegetable stock
2 cans chickpeas
1 lb baby spinach
Thyme for garnish
Optional: sausage with fennel
Instructions
Peel and thinly slice the onion, fennel bulb, and carrot. Peel and chop the garlic. Juice the lemon. Heat half of the olive oil in a Dutch oven over medium-high heat. Add onion, garlic, and sea salt to the pan. Sauté for 5 minutes or until tender. Add remaining oil, fennel bulb, carrots, black pepper, and garlic powder to the pan. Sauté for 10 minutes or until vegetables are golden. Stir in the stock, half of the thyme, and the chickpeas. Cook until heated through. Stir in the spinach and continue cooking until it is just wilted. Remove from the heat. Stir in the lemon juice, and salt and black pepper to taste. Garnish with remaining thyme to taste and serve.
VEGETABLE TAGINE
Ingredients
2 cups basmati rice
1 tablespoon canola oil
1 onion, sliced
1 zucchini, sliced into thin half-moons
1 carrot, sliced into thin half-moons
1/4 cup sliced almonds
1 1/2 teaspoons salt
1/2 teaspoon sugar
1 14-ounce can coconut milk
1 1/4 cups water
Cilantro for garnish
Instructions
Preheat the oven to 375°F. Rinse the rice in several changes of water, until the water that runs off is clear. Let drain while you prepare the rest of the pilaf. Over medium heat, warm the oil in an oven-safe Dutch oven with a lid. Add the onions. Cook for 2 minutes, then add the carrots and zucchini. Cook for another 5 minutes, until all the vegetables are tender. Add 3 tablespoons of the almonds and cook for about 1 more minute, to toast them lightly. Sprinkle it with salt. Add the rice and stir to distribute it with the vegetables. Pour in the coconut milk, water, and the remaining teaspoon of salt. Return the heat to high, bring to a boil, give it one more stir, then cover and place in the oven. Bake for 25 minutes, until the water is fully absorbed. Remove from the oven and leave to steam, lid on, for another 5 minutes. Sprinkle with the remaining tablespoon of almonds and some cilantro.
TORTILLA ADOBO
Ingredients
Can of chiles en adobo(hot) or green chiles (mild)
Can of corn
Can fire-roasted tomatoes
Can of black beans
32 ounces vegetable broth
Bag of tortilla chips
3 tablespoons vegetable oil
1 teaspoon ground cumin
1 red onion, chopped
3 cloves garlic, chopped
1 avocado, chopped
1 lime, halved
Salt and pepper
Cilantro for garnish
Optional: sour cream
Optional: chicken
Instructions
In a large, deep skillet, heat 2 tablespoons of oil over medium-high heat. Add the corn and cook until charred at the edges, 10 minutes. Add the red onion and garlic, season with salt and pepper, and cook until the onion is softened, about 5 minutes. Stir in the broth, tomatoes, black beans, and chiles. Add the avocado and a squeeze of lime juice to each bowl. Ladle the soup over the avocado. Top with cilantro, and tortilla chips, or serve with sour cream.
RED LENTIL VEGETABLE
Ingredients
1 Tbsp. olive oil
4 medium carrots, chopped
1 small onion, chopped
1 can diced tomatoes
1 can vegetable broth
1 cup dried red lentils
1 bag baby spinach
Ground cumin to taste
Optional: parmesan cheese
Instructions
Heat oil in a large saucepan until hot. Add carrots and onion, and cook for eight minutes or until lightly browned and tender. Add tomatoes, broth, lentils, two cups of water, and a pinch of salt and pepper; cover and heat to boiling. Reduce heat and simmer, covering for 10 minutes or until lentils are tender. Stir in spinach until wilted. Add cumin as desired.
A perfect combination of hearty and fresh, there's something here for everyone in the family to enjoy. Warm up your kitchen this fall and tell us which dish is your favorite!