Dear Home Buyers,
Our lives are filled with seasons. Some are scary and messy while others are filled with joy and love. Our family is ending a season in a house that filled our lives with so much joy and love but also gave us so much support through some of our toughest seasons of life, filled with disappointment and sorrow.
To the next family that lives within these walls on Orchard Lane, there is so much you cannot see.
What you cannot see are the generations of my family that called this house a home. My grandparents were the second homeowners of this house in 1959. Here they raised their two boys, one of them being my dad…where walking to and from school was a daily occurrence and summer nights sitting on the front porch were the norm.
What you cannot see is the transformation this home went through; how my husband and I made it our own. My family's foundation is here. My grandparents', my dad's, my husband's, my sons', and mine. These walls witnessed my transitions from baby to toddler, teenager to wife, wife to mother of two. This house tells our story. These floors are where my babies learned to crawl, where they took their first steps.
What you cannot see are the scraped knees and bruises from learning to ride my bike up and down the long driveway as a little girl. You cannot see the number of one-on-one basketball games we've played with our son on the goal that was given to my husband for his 30th birthday, the endless games of pitch-and-catch played in the backyard with our sons, or jumping into the huge pile of leaves from our tree in the front yard each fall.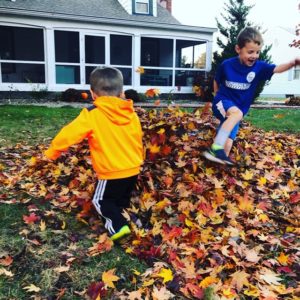 What you cannot see are the lasting memories that occurred on the front porch. The front porch will always hold a special place in my heart, and it is the hardest part of this house to let go. I have so many memories from that front porch. Sitting with family as a little girl, listening to the rain and thunder and walking to this front porch after the city fireworks to catch up with Grandma and Grandpa. Listening to Greenwood football games as they were announced from the high school field. Drinking wine as newlyweds dreaming of our future family. Relaxing after a long day, sitting in silence with our baby monitor close by. Hosting dinner parties and get-togethers with friends, celebrating our boys' birthdays… it was always a spot for loved ones to gather.
What we hope you CAN see is the hard work that took place in and out of this house. The pride my grandparents and now my husband and I took in keeping this house in pristine condition, we hope it is evident. This house allowed me to be creative and design, something I didn't know I would love SO much. What we hope you can FEEL is the love within this home and the joy that it has brought to our family and friends for so many years. When we leave this home, we hope it is filled with a family that can add to the joy, love, and memories that my family has been able to provide for 60 years.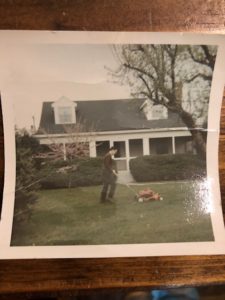 Take good care of this home, please. I know it will be good to you, too. We wish you the same love and joy that we've known under this roof.
Welcome Home.
Sincerely,
The Clancys