The holidays are coming! If you are anything like me, then you know you will be hosting dinners, parties and family get togethers galore! I mean, isn't that what the holidays are about anyway? This year I am starting early with the holiday hostessing and my first dinner comes just before Thanksgiving. However, my schedule is anything but simple. Between sporting events, dance class, school performances and work, we are running in different directions at every moment of time. That just means I need to be smart with my preparation and get a start on things earlier. My favorite saying is "Work smarter, not harder," which makes all the sense in motherhood!
But as we have grown into our house, we have also started to outgrow certain things. With all these holiday preparations, I told my husband we need to consider investing in a new refrigerator, especially as the kids are getting older. Our current one is clearly aging and the space just isn't there. But starting my research was too much – I mean, I honestly didn't even know where to start. However, the all-new Bosch Counter-Depth refrigerator quickly caught my eye. It has a stainless steel finish which matches our current kitchen style and includes touch sensitive controls that make operation so simple. The organizational set-up in this refrigerator is also ideal with five tempered glass shelves that are removeable, three gallon door bins (on BOTH sides!) and two humidity controlled compartments that provide plenty of storage space. The full width chiller drawers are ideal for hosting because I can make a platter and store it right in that drawer until I need it. I also can't live without an automatic ice maker plus the Bosch Counter-Depth refrigerator has an internal water dispenser that filters water in just one touch. I was delighted to see so many features offered with this appliance!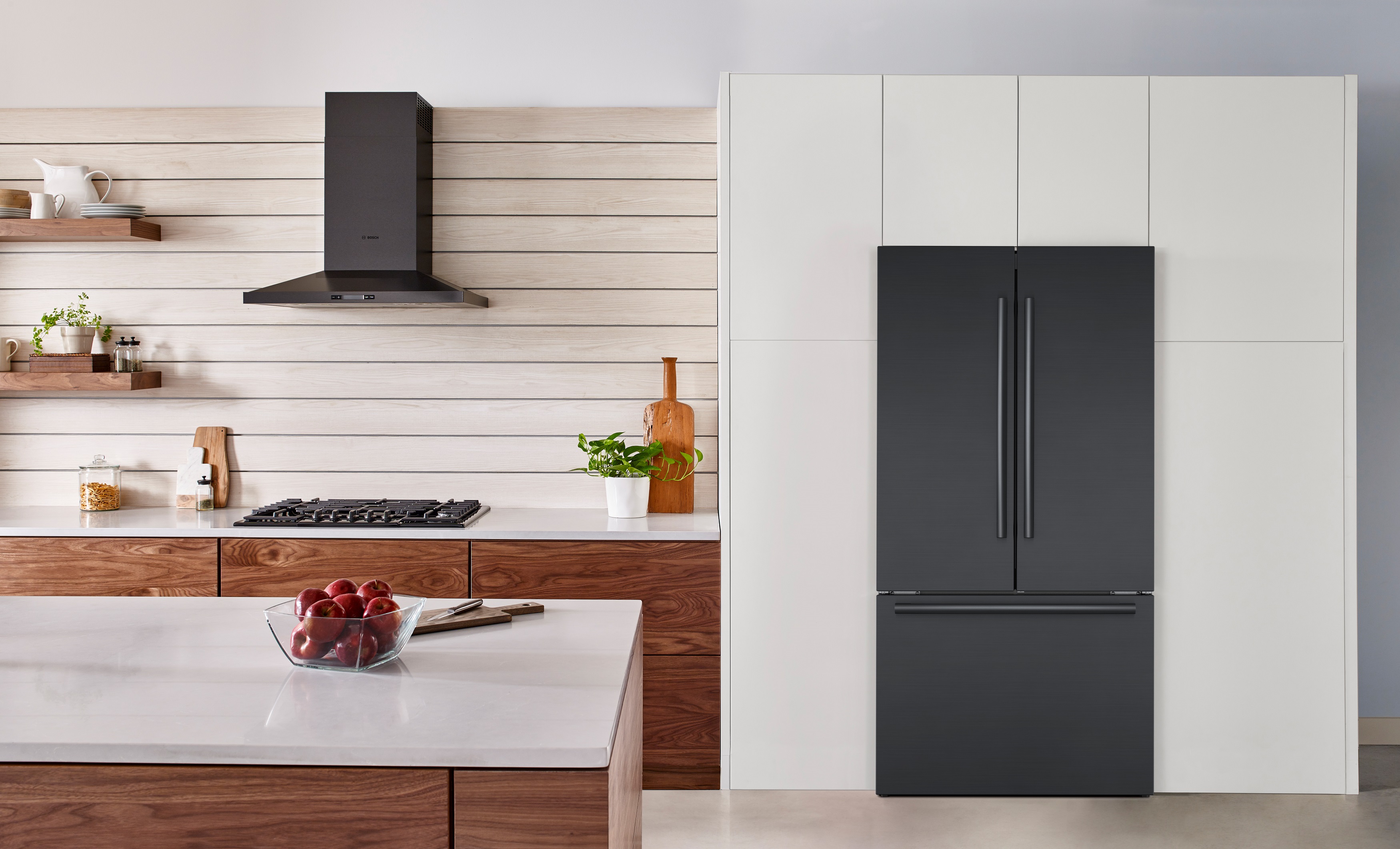 I also loved the FarmFresh System™ that combines four innovative freshness technologies to keep your food fresh longer (As compared to a Bosch refrigerator without FarmFresh System™. Results may vary among different foods.) :
VitaFreshPro™ offers preset settings that automatically balance both the temperature and humidity
FreshProtect™absorbs naturally occurring ethylene to slow ripening, so produce stays fresher for longer – YES!
MultiAirFlow™ evenly circulates cool, fresh air to maintain consistent temperatures throughout the entire fridge – from the door bins to back corners.
AirFresh® Filter absorbs even the toughest food odors, keeping your refrigerator and freezer air fresh – no more stinky, smells when your kids open that refrigerator door!
This system is super important to me not only with a family that had endless appetites, but also as I prepare for hosting friends and family. I know I can prep dishes and they will stay fresh for my guests, which clearly is an essential part of being a hostess.
But the feature that I was most impressed about was The Home Connect™ app that allows you to remotely monitor and control your Bosch refrigerator from your smartphone or tablet. You can control the temperature, adjust lighting or even run diagnostics from wherever you are (based on network and wi-fi levels) for the ultimate convenience. Like I said, work smarter – not harder!
With the hustle and bustle of the holidays upon us, I'm glad I started my research when I did. The features offered with the All-New Bosch Counter-Depth Refrigerator are convenient, customizable and will offer our family just a little bit more simplification that our busy lives need.