I recently had a conversation with a friend about the slump I feel like I've been living. It seems that once I sit down, I get distracted and struggle to get back on track. Motivation is a high priority not only as someone who works from home but also in my most important role as mom. I decided I needed to figure out different strategies to help make sure that I'm not only productive but that mentally I feel like I'm in a good place. So one afternoon I cranked up the music and just busted out everything on my to-do list. Not only did I feel great about the work I accomplished, but it left me in the best mood. I quickly discovered that music was my motivator and since then have been playing a variety of playlists on repeat so I can ensure that things get done.
But while I love playing music on a speaker at home, I started finding myself in situations where I wish the music could just follow along with me wherever I happened to move. Whether I was folding laundry or moving my computer to another or even letting the dog outside – nothing was more of a buzzkill when I couldn't hear my favorite song. I decided wireless headphones would be the way to go. However, the last pair I owned (ahem, thanks husband) basically made me look like I was mowing a lawn whenever I put them on and the sound quality was beyond terrible. But while browsing Best Buy's website, my eye caught Sennheiser's New MOMENTUM Wireless headhones. These headphones provided high sound quality with all the features I needed, especially as a business owner. The advanced active noise cancellation offers three modes that are tailored to different environments depending on where I wanted to work or where I needed to be focused. Like when I am outside on my patio getting some things done, the anti wind mode would provide noise cancellation optimized for the outdoors. Or when I need a softer noise cancellation, the anti pressure mode is ideal for at-home use. Regardless, the transparent hearing feature will allow me to enjoy music while still being aware of my surroundings. (Hi, Kids.)
Sennheiser's New MOMENTUM Wireless headphones also seem easy to use and simple to operate. The simple three button interface means I can switch between my music and making calls, which is a function I definitely wanted. I can also activate volume control by one button and link to voice assistant technology right away. The On/Off and Smart Pause functionality is genius and I can simply fold the earcups to turn my music on or off. Once I take off the headphones they will pause my music and then starts it right back up as soon as I put them on.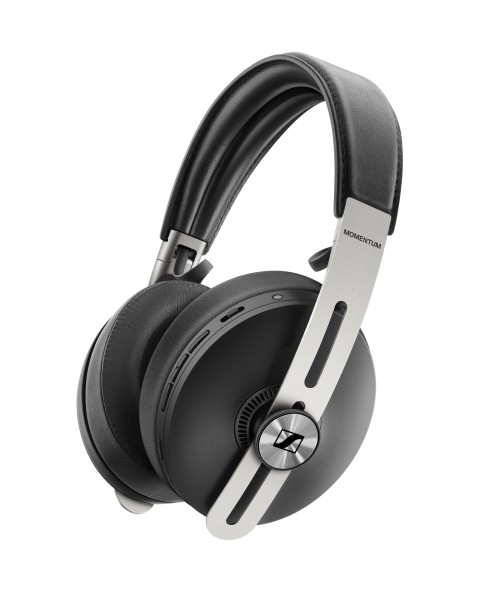 While I'm hoping this slump is only temporary, I'm relieved that I have figured out something to help alleviate the negative vibe I have going on right now. So I'm going to throw on my headphones, crank up that music and it's time to get stuff done!
For more information about Sennheiser's New MOMENTUM Wireless Headphones, visit Best Buy online or in a store near you! Check outSennheiser on Facebook too!