We were lucky enough to spend 16½ years with Kilroy. He was our first baby. And we just had to say goodbye to the greatest dog.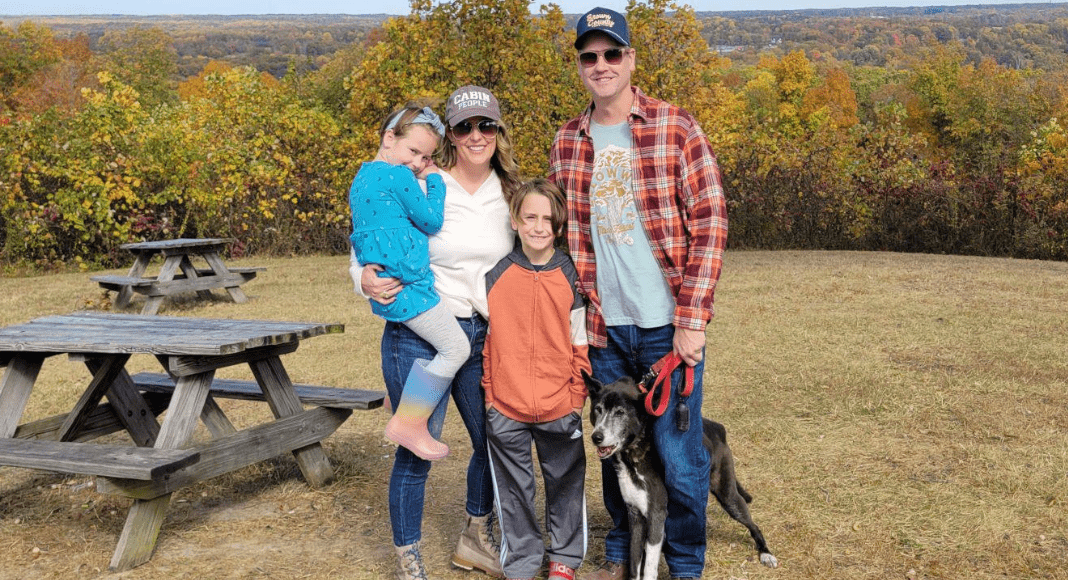 I was 23 years old when we brought him home. My husband and I went on vacation, and we knew when we got back we were going to adopt a furry family member. I'm 40 now and feel like we became official adults together through being newlyweds, buying houses, having kids, and creating memories through vacations and holiday celebrations.
Our son is eight, and when we talked to him about how we had Kilroy over twice as long as him, his mind was blown. It's an entire two lifetimes as a kid.
For us, it was a mix of expected and unexpected. He was above-average life expectancy, so we talked to the kids about what would happen at some point. But we weren't expecting him to wake up so sick one morning and take his last breath as we walked into the vet's office.
Kilroy wasn't quite acting like himself as we got our son on the bus that morning. And he got progressively worse quickly. We went back and forth about whether to take our son out of school but ended up picking him up. As I look back, I'm extremely grateful we did. It was important to experience saying goodbye together as a family, he deserved to have all of us there for him, and our son benefited from having that closure.
He was so gentle and loved our kids so much. He loved walks. He was extremely particular about treats and didn't even like human food much unless it was chicken or yellow cheese. We now have a paw print stone on a shelf as a physical reminder of the place he will always hold in our home.
The last thing he gave us was the gift of realizing that our house is not a home without a dog. We waited about two weeks before adopting a new puppy. We weren't expecting to adopt so quickly, but it was the right thing for us. There are two things people have said to me that will stick with me:
From my son: "Mom, a dog really changes your life." It's so simple and is absolutely true. They change our life for the better, and we love having a dog to love.
From the Director of the rescue where we got our puppy: "Why torture yourself by waiting?" She shared with us that when she lost her first dog, she waited a year before getting a new dog to love. She said it was basically torture but felt like it was the thing she "should do." When she lost that dog, she waited just one day for her new furry family member.
Dogs make us happy, and the amount of time we decided to wait to add a new dog to our home is absolutely no measure of how much we loved him. We may have said goodbye to the greatest dog, but we'll always remember you, Kilroy.