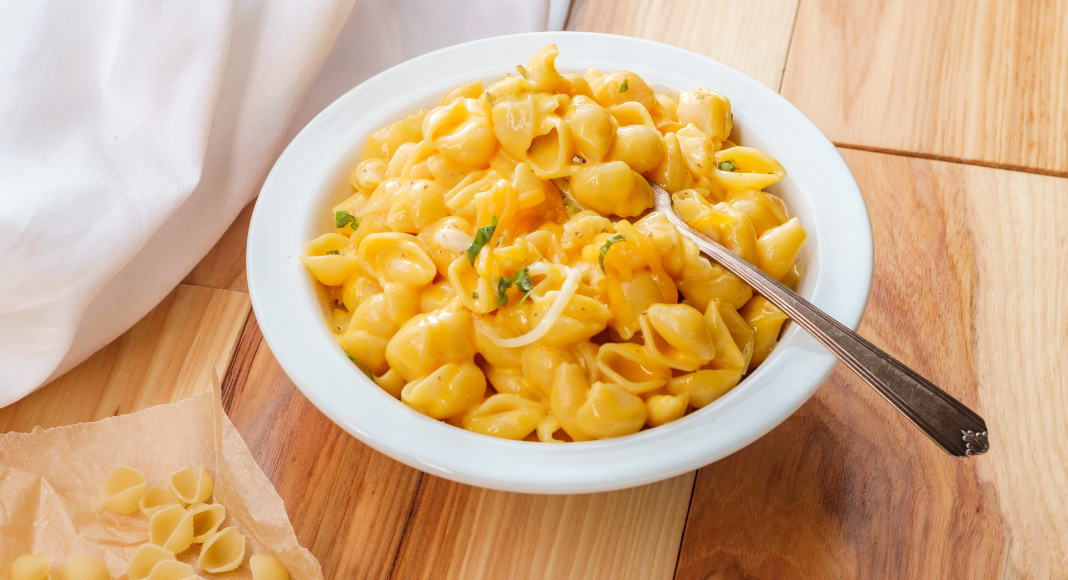 You want to know the secret to ensuring you have a good day? It's this ooey, gooey simple macaroni and cheese. Yes, you could just make some out of the coveted blue box (a true pantry staple in my household), but there's something about homemade mac and cheese that trumps all. This recipe is super simple and comes together in no time! Tonight, I paired it with steamed broccoli (my 4 year old's favorite food is broccoli… weird, I know.) and some sautéed Lightlife Plant-based Hot Dogs (trust me, the texture is way better if you crisp them up a bit in a pan!). But the best part about this recipe is it goes with anything: grilled chicken, chicken nugs, any type of vegetable or you can even serve it alone! Regardless of how you eat it, you should definitely make this a staple in your weekly rotation.
Ingredients:
-1 box (16 oz) of pasta
-1/4 c butter
-1/4 c all purpose flour
-3 c shredded cheese (I used a mixture of extra sharp cheddar, white cheddar and mozzarella)
-2 c milk (I used soy*)
-salt, pepper to taste
-*I also added two of my favorite spices from Trader Joe's Vegan Chicken-less Seasoning Salt and Mushroom & Company: Multipurpose Umami Seasoning Blend to help add a umami/savory flavor. I think even plain, unsweetened soy milk tastes a little sweet so these spice blends help counteract that.
Let's Cook:
Bring salted water to a boil, add pasta and cook 1-2 minutes shy of package instructions. (Your pasta will continue to cook a little once added to the cheese sauce.) Drain and set aside.
Shred cheese and set aside. Side note: Did you know shredded cheese from the grocery store has an additive in it that prevents it from clumping, thus making it harder for the cheese to melt. This additive is often sawdust (gross). If you have the time, I 100000% recommend shredding your own.
In a pan, melt butter and add flour. Whisk to combine until all flour is incorporated into the butter.
Once the butter/flour mixture is golden in color, add milk and whisk. Next, add cheese. Season with salt, pepper and whatever else floats your boat.
Combine pasta with cheese sauce and cook over low heat for a few minutes to make sure everything is evenly combined and all noodles are coated in cheese sauce.
Serve warm and enjoy! This simple macaroni and cheese will be a hit with the whole fam!
Sidenote: I had this as leftovers for lunch and jazzed it up by first sautéing some onion, kale and frozen corn, then adding some mac and cheese straight from the fridge to the pan to heat up. And let me tell you… ::chef's kiss::!