Dear Irvington,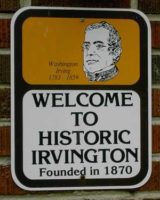 It's been 10 years now, and I grow to love you more each day. I was single when we first met. I bought a two bedroom bungalow on a sleepy little street on your northwest side. I loved your quaint historic architecture, your history and your winding, tree-lined streets. You felt like my little secret and when someone would ask where I lived, I would have to go to long lengths to explain where you were. Back then, people didn't understand my love for you and to be honest some still fear the east side but I love you, and you've come a long way, baby.
After living within your cozy borders for five years, I got married and I chose you again. I knew you were the kind of neighborhood I wanted to have children with, so my newly married husband and I bought a brick home upon a hill looking down on a winding creek just blocks from my first Irvington home I called my "girl power" bungalow.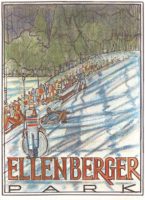 I was right. You are great with kids. Ellenberger Park is massive with two playgrounds, a bridge, walking trails, a pool, and the best sledding hill around. You are extremely walkable and rideable with the newly paved Pennsy Trail and the Pleasant Run Trail. Your school options are many from co-op to parochial school, public and charter. There's something for everyone. Plus we have a family owned ice cream shop named Wyliepalooza Ice Cream Emporium and a new exploratory art studio for kids named Line + Form Atelier and the ever-amazing Irvington Library.
Oh and you are so very good to my taste buds with old and new eats. I cannot possibly name them all, but our family favorites are The Legend Classic Irvington Café for good American classic food at every price point, Jockamo Upper Crust Pizza for unique artisan pizzas, sandwiches, and salads, and our new favorite, The Mug for farm to curb food like pork tenderloin and onion rings that were grown just miles away.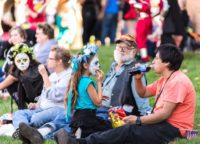 But where you really shine, dear sweet Irvington is during the month of October. In October, the tree-lined streets and green spaces begin to burst with color. For 70 years, you have celebrated Halloween on the last Saturday of October with your time-honored street festival. You welcome some 30,000 folks from far and wide to share in your strangeness and joy in all things creepy. You have over 20 events through the month of October dedicated to Halloween in homage to your namesake, Washington Irving. You certainly do have a Sleepy Hollow spirit.
And we can't forget your people. Your people are the jewels in your crown, Irvington. We are an odd bunch for sure but in the best kind of strange and passionate. We can walk down your streets, know our neighbors and our neighbors become our friends. This is a place where you can borrow a cup of sugar and return a pup that has wandered away from home because you recognize him from your nightly walks. I have made some of my closest friends of my life within your borders and many I consider to be family.
Irvington, I can't imagine sharing my life and those of my family with any other neighborhood. You continue to grow in your complexity and strength. I can't imagine calling anywhere else home.
Love,
Tara