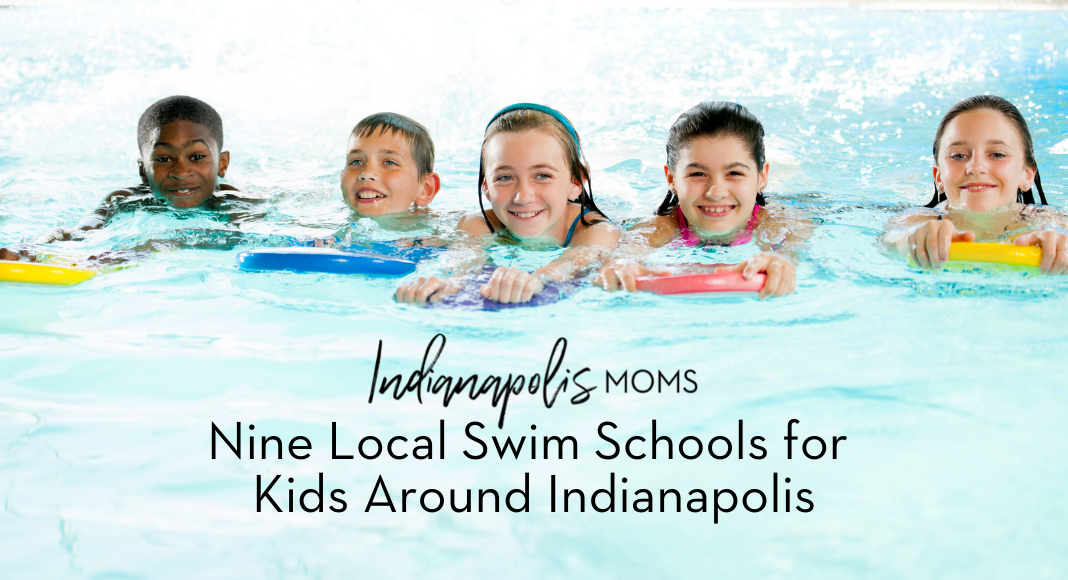 With summer right around the corner, you may be thinking about registering your children for swim lessons. But where do you start in your research? You start here! The Indianapolis Moms team has rounded up nine local swim schools (and a bonus school) for kids around Indianapolis for you. We have linked to each site below so you have quick access to registration information. Happy swimming!
---
Stony Creek Swim Center
Website: Stony Creek Swim Center
Locations: Noblesville, Carmel, and Geist
Class Offerings: Infant/Toddler, Group Classes at Ages 2+, Stroke Development, Adult and Young Adult Classes, and Special Abilities Classes
About: Stony Creek Swim Center offers swim classes for all ages throughout the year, so enrollment is always open. They have two pools, one for younger students, and one for older, more advanced students. I love Stony Creek for teaching my kids the "rollover" method of breathing during class. I also like the large changing area and friendly staff! They also offer one-on-one lessons for those with special needs.
---
Aqua-Tots Swim School
Website: Aqua-Tots Swim School
Location: North Indianapolis
Class Offerings: Private Lessons, Group Lessons (Parent & Tot, Basic, and Advanced), and Seasonal Fast-Track Lessons
About: The Indianapolis Moms team loves Aqua-Tots for their flexible schedule, their easygoing instructors who work well with little ones, and the fun, low-pressure experience for everyone involved. Aqua-Tots recommends children start lessons at 4 months old, but even if they don't, it's not too late to get started. They are another supporter of year-round lessons to gain the skills to stay safe while having fun in the water.
---
Center Grove Aquatic Club
Website: Center Grove Aquatic Club
Location: Greenwood
Class Offerings: 
About: The Center Grove Aquatic Club's enrollment is open for Spring 2023 and if you live on the southside of Indy, make sure you register soon! Their registration is first-come, first-serve. Children must be out of diapers in order to enroll at the Aquatic Club and accept students up to 12 years old. For more information about the summer evening lessons, click here.
---
InterActive Academy
Website: InterActive Academy
Location: Zionsville
Class Offerings: Regular classes are based on skill level, from ages 9 months to 12 years, Summer Swim Intensives
About: Our Indianapolis Moms team has always loved using InterActive Academy, with their program for both young and older children. The instructors will make your children comfortable in the water while they become confident swimmers. If you are new to swim classes, InterActive Academy offers free evaluations to help place your child in the proper level and to help them get used to the facility and pool.
---
YMCA
Website: YMCA Swim
Locations: Multiple locations based on class, please see website for class registration
Class Offerings: Parent/Child, Youth Lessons (3-12 years), Adult/Teen Lessons (13+ years), and Private/Semi-Private Lessons
About: The YMCA is another popular swim school, approved by the Indianapolis Moms team. There are member and non-member rates, as well as group and private classes. You can trust their team to effectively teach your little one to swim because they have over 150 years of experience! Make sure you register as soon as possible, as we hear classes are filling up fast.
---
Goldfish Swim School
Website: Goldfish Swim School
Locations: Carmel, Fishers, and Greenwood
Class Offerings: Mini (Baby): 4-35 months, Junior (Beginner-Intermediate): 3-4 years, Glider (Beginner-Intermediate): 4-12 years, Pro (Intermediate-Advanced): 4-12 years, Swim Force (Swim Team): 5-12 years
About: Goldfish has been a great resource for moms on our team, and they go above and beyond for children with special needs. Not only is pool safety important to the staff at each Goldfish location, but they also want to make sure your child can socialize with other swimmers and have fun. Check out their website to learn more about their Science of Swimplay philosophy.
---
Monon Center
Website: Monon Center Swim
Location: Carmel
Class Offerings: Parent/Child (6mo-2 years), Preschool (3-5 years), Learn to Swim (6-14 years), Youth (8-14 years), and Adult (15+ years)
About: The Monon Center says it's never too late to start swimming, and they make water safety a top priority for all ages with their swim lessons. Check out their website for their swim lesson class guide, which will take you through each class level your child will go through as they build their swimming skills.
---
JCC Indianapolis
Website: JCC Starfish Swim School
Location: Northside Indianapolis
Class Offerings: Private/Semi-Private Lessons, Group Swim Lessons (starting at 6mo old)
About: The Youth Aquatics program is taught by the Starfish Swim School as of January 2022, a nationally and internationally recognized swim instruction and instructor certification program. Babies can start as young as six months old and then the lessons continue based on skill level, going from level one to level four and then onto Starfish Stroke School. The Indianapolis Moms team loves utilizing the JCC for swim lessons with their family memberships. Also, scholarships are available to kids ages three to five!
---
Southside Indy Aquatics
Website: Southside Indy Aquatics
Location: Southside Indianapolis
Class Offerings: Level 1 (Preschool Beginner), Level 2 (Intro to Fundamentals), Level 3 (Intermediate), and Level 4 (Freestyle, Backstroke, and Competitive Strokes) 
About: Registration is officially open at Southside Indy Aquatics! Swim lessons, taught by past and current high school swimmers, are offered for children ages three and up at Perry Meridian High School. Swim lessons are available from April through September, with lessons running monthly, two days a week for 30 minutes each class.
---
Bonus… Big Blue Swim School
Website: Big Blue Swim School
Location: Noblesville
Class Offerings: Baby Blue (3mo-3yrs), Bright Blue (3-5yrs), Bold Blue & Big Blue (both 6yrs and up)
About: We wanted to add a bonus school here because it hasn't even opened yet as of this publishing of this post! The Big Blue Swim School, located in Noblesville, is set to open in May 2023. According to their website, when you sign up for continuous swimming lessons at Big Blue Noblesville today, you can take advantage of their "FIRST DIP DEAL!" Pay just $49 for your first 4 weekly lessons.
Share with us! Where do you go for swim lessons around Indianapolis?