October is here, and Fall is in the air! Yes, of course there are apples and pumpkins galore, but Indy has that and much, much more! No tricks, all treats…here is our October list of activities for family fun, as well as date night ideas, in and around Indianapolis!
---
October 1 – November 25
DC Super Heroes – The Children's Museum of Indianapolis
With this creative theme and exhibit, you can work alongside your favorite super heroes to find clues, complete missions and defeat villains. Channel your inner superhero!
https://www.childrensmuseum.org/exhibits/dc-super-heroes
---
October 1 – 21
Holmes and Watson – Indiana Repertory Theatre
Holmes and Watson is a fast-paced mystery encompassing mild adult themes, strobe lights, gunshots and fog.
https://www.irtlive.com/plays-and-events/2018-2019/holmes-and-watson
---
October 1 – October 26
Fall Hayrides – Traders Point Creamery – 8 p.m. and 9 p.m.
Come ride, dine, sip and soak up Fall! Hayrides last 30 minutes. Remember to dress for the weather!
https://traderspointcreamery.com/events/full-moon-hayrides/
---
October 1 – October 28
Corn Maze – Conner Prairie – 10 a.m.
Traverse your way through corn-lined trails that twist, turn and dead-end. The family-friendly maze features three paths: A small maze for younger guests, a long maze for teens and adults, and new this year a spooky maze filled with tricks and surprises. Guests 15 and younger must be accompanied by an adult.
http://www.connerprairie.org/things-to-do/events/corn-maze
---
October 4 – 28
Halloween ZooBoo – Indianapolis Zoo, White River State Park
Filled with decorations, photo opportunities and family-friendly activities, ZooBoo provides many fun festivities with a Halloween twist. Children are encouraged to dress up in their favorite wild costumes. Please review costume guidelines and restrictions outlined on the website and come out for a wild time at the zoo!
https://www.indianapoliszoo.com/
---
October 5 – 7
Fall Fest – Indianapolis Museum of Art at Newfields – 11 a.m.
Presented by Barnes & Thornburg LLP, this event contains a fall-colored atmosphere, pumpkin crafts, food, beverages and more.
https://discovernewfields.org/calendar/fall-fest-presented-barnes-and-thornburg
---
October 6
Croquet Roquet – Benjamin Harrison Presidential Suite – 5:30 p.m.
All fun and thrills, no competition! Croquet lessons are offered at the beginning of the event and pros will be on hand to help guide you along the way. Walk the lawn, enjoy beverages and food truck delights, join in a playful leisure tournament and try your hand at the Croquet Roquet challenge. The first 100 registrants get free admission. 21 and over event.
https://bhpsite.org/events/croquet-roquet/
---
October 6
Monument Circle Art Fair – 10 a.m.
Regional artists showcase their work around the Soldiers' and Sailors' Monument in downtown Indianapolis. Visual artists, music and food trucks will be available at this free, family-friendly public event.
https://www.monumentcircleart.org/
---
October 6
Woofstock & The Survivor Charity Walk – Nickelplate District Ampitheater – 11:30 a.m.
Come check out Indiana's largest pet and musical festival showcasing tons of vendors, activities for kids and dogs and much more1
http://www.woofstockrocks.com/
---
October 6 – 7
Indiana Renaissance Faire
Costumed characters, jousting, pirate music, sword play, merchants, food vendors, kids' games and more! Entertainment includes Knights of Valour joust team, Rogue Blades, Chaste Treasure, Jester Jim's Gypsy Magicke, Red Rum, Ric Roc Zoo, Molotov the Gypsy, Knotty Bits Sideshow, Enchantments, Thee Bluebeard, Drunk & Sailor, Cutlass Cooking, Mousetrap Theatre (Punch & Judy), Kings' Court Singers, and Lute & Lady Lawson.
https://www.indianarenfaire.com/
---
October 6 – 7
Red Bull Air Race – Indianapolis Motor Speedway
The Red Bull Air Race returns to the track for the season finale, where the World Champion will be crowned. Experience full-throttle aerial racing on a unique course inside the iconic IMS oval designed to push the best pilots in the world to their limits.
http://airrace.redbull.com/en_US
---
October 8 – 19
Fall Break Art Camp – Indianapolis Art Center – 8:30 a.m.
Geared for ages 8-12, these Fall Break Art Camps will witness children participating in a multitude of art activities including painting, drawing, hand-built ceramics, and sculpture. "Play, Discover, Create."
https://www.indplsartcenter.org/camps
---
October 9
WWE Smackdown – Bankers Life Fieldhouse – 7:45 p.m.
Come see your favorite WWE superstars, including AJ Styles, Jeff Hardy, Shinsuke Nakamura, Samoa Joe, Asuka, Carmella, Charlotte Flair, New Day, and many more.
https://www.bankerslifefieldhouse.com/
---
October 11
INconversation with Victor LaValle – Indianapolis Public Library (Central Library)
From the creator of the Destroyer comics, hear the "Frankenstein" myth by way of Black Lives Matter.
http://indianahumanities.org/QLINconversation
---
October 11 – 28
Headless Horseman – Conner Prairie – 6 p.m.
Based on the classic "The Legend of Sleepy Hollow," this annual family-friendly event showcases a corn maze, games, rides and more!
http://www.connerprairie.org/things-to-do/events/headless-horseman
---
October 13
Get Your Rear in Gear 5K Run/Walk
This 9th annual event is part of a nationwide series of 5K Run/Walks to raise awareness for colon cancer. Funds raised will be granted to the local community to help increase screening rates and educational programs.
http://join.coloncancercoalition.org/
---
October 18 – 20
Hauntless Halloween – Holliday Park – 5 p.m.
Join Holliday Park Staff and actors from Booth Tarkington Civic Theater for this fun, "hauntless" evening! Families will hike along candlelit trails and also enjoy refreshments and activities in the nature center. Pre-registration is required. Hiking groups leave every 10 minutes; registrants sign up for a specific timeslot.
https://www.facebook.com/events/1875147759456102/
---
October 20
Pacers 5K Run/Walk – Bankers Life Fieldhouse – 9 a.m.
This inaugural 5K race is for all ages and fitness levels, so the entire family can participate! Run downtown Indy, starting at Bankers Life Fieldhouse and finishing with a post-race party. Boomer, the Pacemates, the Pacers drumline and Pacers alumni players will be there to provide cheers and jumpstart the new season.
https://www.nba.com/pacers/pacers-5k-registration
---
October 20 – 27
Historic Irvington Halloween Festival – Historic Irvington, P.O. Box 19721, Indianapolis
70 years strong, the Historic Irvington Halloween Festival has united thousands of residents, dozens of neighborhood organizations and countless Eastside businesses in a fun-filled celebration embedded in heritage and community.
http://www.irvingtonhalloween.com/
---
October 21
Disney Junior Dance Party on Tour – Old National Centre – 4:30 p.m.
Get ready for an unforgettable music and dance experience!
http://www.oldnationalcentre.com
---
October 24 – 25
Ghoulish Garfield – Garfield Park Conservatory and Gardens
Get ready for it! Wear your creepiest costume, play goblin games, make creepy crafts, enjoy fun and get spooked on your tour of the Haunted Conservatory! Admission charge exists for the Haunted Conservatory; all other activities are free.
https://www.facebook.com/events/1740857199367318/
---
October 25
National Geographic Live: Ocean Soul with Underwater Photographer Brian Skerry – Clowes Memorial Hall of Butler University – 7:30 p.m.
Voyage across the oceans with one of National Geographic's most seasoned photographers, Brian Skerry, whose images celebrate the mystery of the depths and offer intimate portraits of creatures.
https://butlerartscenter.org/event/national-geographic
---
October 25
Trick or Treat Halloween Pet Parade and Costume Contest – Flat12 Bierworks, 414 Dorman St., Indianapolis – 6:30 p.m.
Pick out a fun and spooky costume for your furry friend and head over to this fun social event to kick off Halloween! Parade, prizes, food and drinks with plenty of dog-watching will encompass this event for dog owners and non-dog owners alike! Please see event page for further details and guidelines regarding pets.
https://flat12.me/events/2017/10/26/trick-or-treat-halloween-pet-parade-costume-contest-e3tsj
October 25 – 28
Dance Kaleidoscope's Music of the Night – Indiana Repertory Theatre
Through collaboration with American Pianists Association, IRT is "pleased to offer live music from pianist Eric Zuber for act one of this beautiful show."
https://www.dancekal.org/features/concerts/music-of-the-night-oct-25-28
---
October 27
Barktoberfest – Asa Bales Park, 132 W. Main St., Westfield, IN
This event is sure to stir up some noise and excitement! Food, beer, live entertainment and more! Pet-related vendors will be stationed at the Mutt Mart, activities for humans and dogs will keep everyone occupied at the Canine Cabana, a canine agility course will take place inside of the Agility Arena, a chance to win prizes and much more! All proceeds will be donated to the Humane Society for Hamilton County.
http://westfieldwelcome.com/barktoberfest/
---
October 27
Human MarioCart GP – Circle City Industrial Complex, 1125 E. Brookside Ave., Indianapolis
"Let'sa go!" Teams will pedal TRIAD DRIFT Trikes around a Mario Kart-inspired track. Fans and drivers can anticipate obstacles, an expanded track layout, beer stations, crowd participation, a kids' area and big prizes!
https://www.facebook.com/events/1816164968595024/
---
October 27
Dia de Los Muertos (Day of the Dead) Celebration – Eiteljorg Museum – 11 a.m.
Celebrate Day of the Dead and enjoy free admission! Music, performances, artwork, shopping and more!
---
Looking Ahead – Winter Playdates with the Indoor Play Hop Series
Hey Indy Moms, trust us, we get it. The winter in Indianapolis is FOR-EV-EVER. And there is nothing worse than being all cooped up for 6 months straight – right? But guess what? We have you covered! IMB has partnered with six local businesses to provide you with affordable playdates to get you out of the house and give you the chance to play and meet other Indy Moms just like you!
PLAYDATE 1: The Little Gym – Carmel, IN

When: November 6th from 12:15-1:15
Where: 271 Merchants Drive A-106, Carmel, IN 46032
Come run, jump and play with us at The Little Gym Carmel! Tickets are $5 and include a take-home snack bag. Follow our event page for updates and notifications when tickets will go on sale!
---
PLAYDATE 2: Goldfish Swim School – Carmel, IN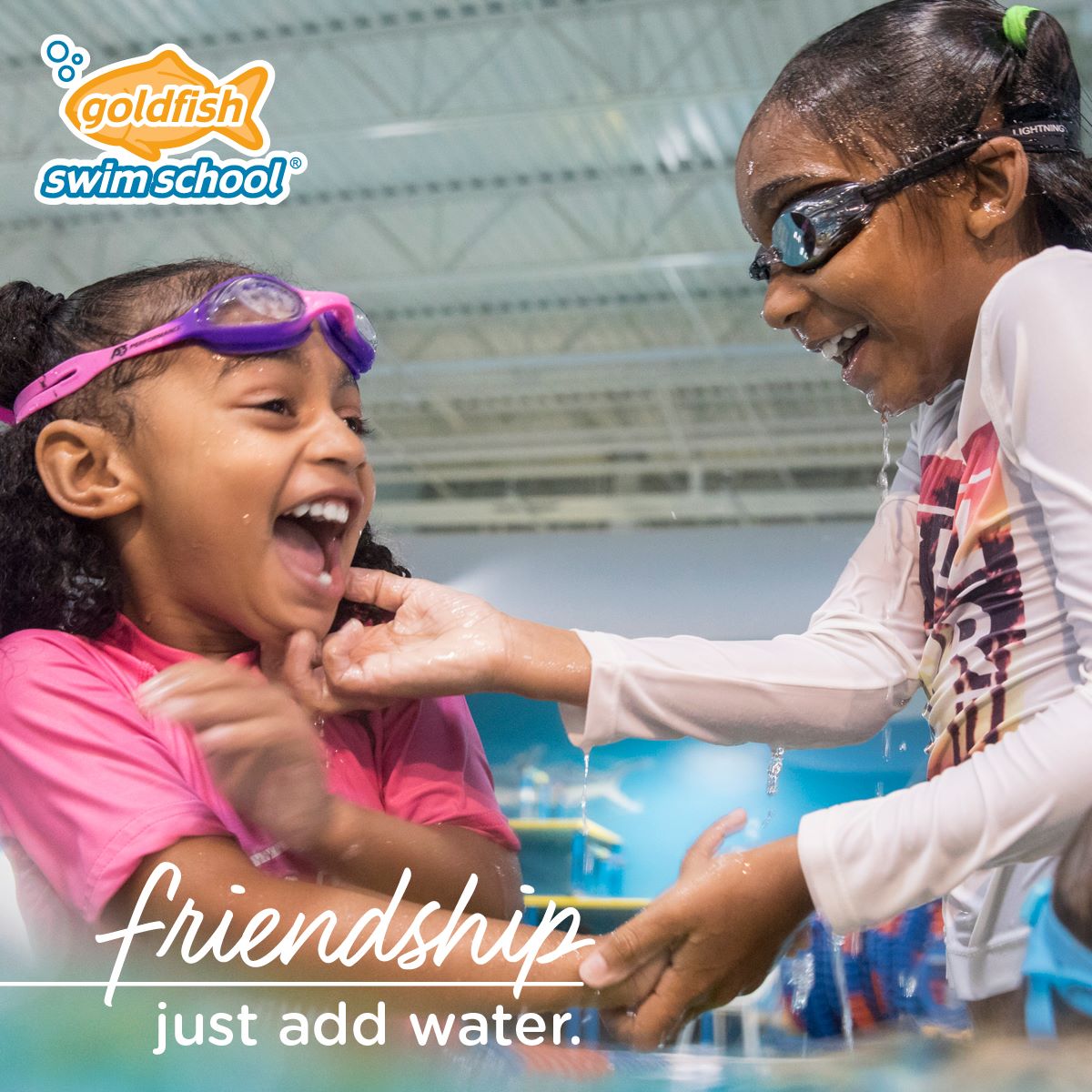 When: December 3rd from 9:30-11:00 am
Where: 271 Merchants Square Dr A-110, Carmel, IN 46032
Enjoy free swim and then a pizza lunch afterwards! Tickets are $5 and include the pizza lunch. Follow our event pagefor updates and notifications when tickets will go on sale!
---
PLAYDATE 3: Tie Dye Lab – Avon, IN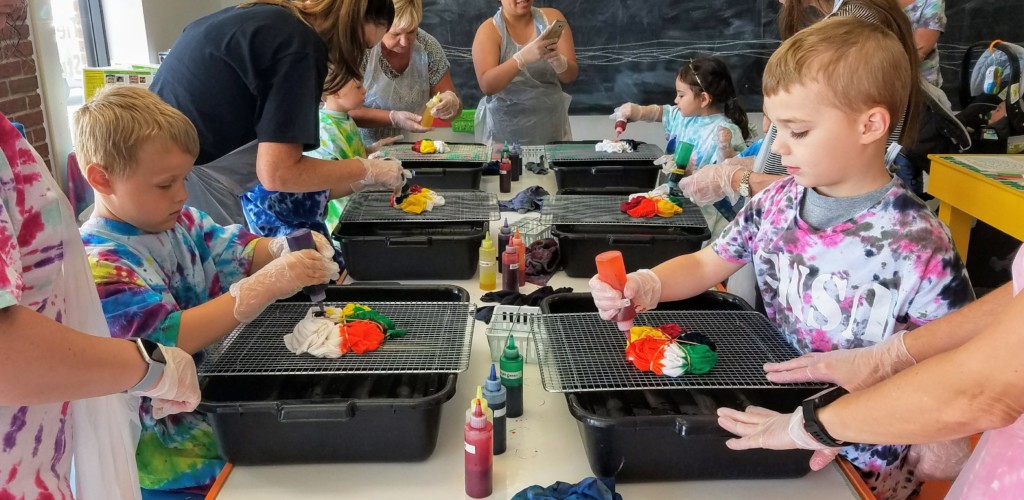 When: January 10th from 11 AM – 1 PM
Where:
8100 E US Hwy 36 suite l, Avon, IN 46123
Kids can create their own wearable item in an organized, fun and colorful space! Attendees can choose from the following items at the discounted rate listed:
Toddler Long Sleeve – $20.54

Toddler Short Sleeve – $16.37

Youth Long Sleeve – $22.46

Youth Short Sleeve – $18.30
Follow our event page for updates and notifications because registration is limited!
---
PLAYDATE 4: Gymboree Music and Play – Greenwood, IN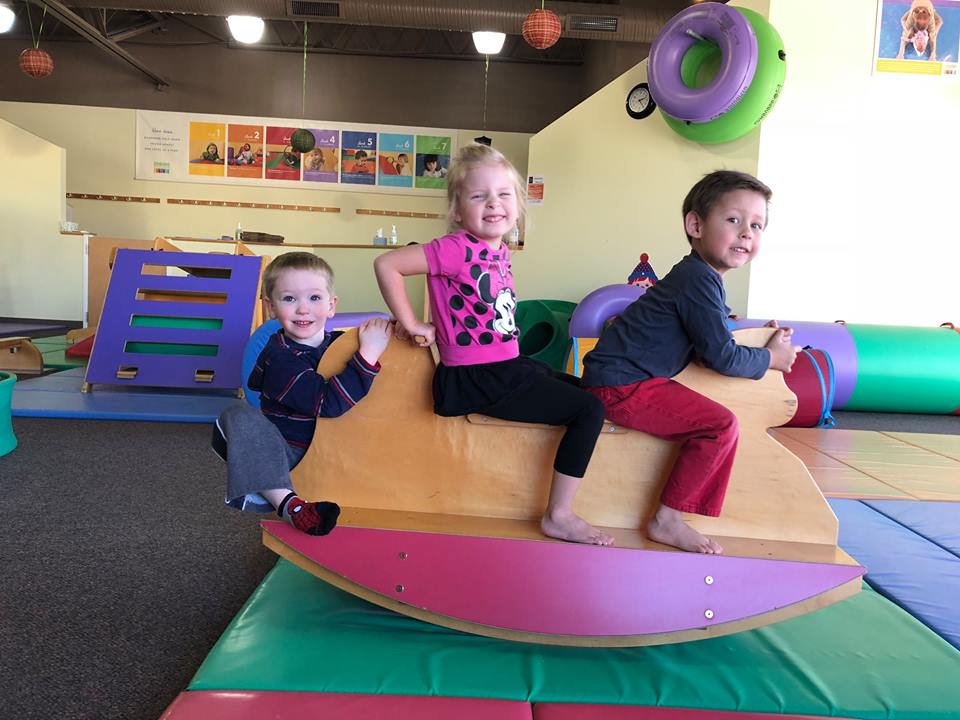 When: February 9th from 2:00-3:30 pm
Where: 1001 N State Rd 135 suite a-1, Greenwood, IN 46142
Come play the day away at Gymboree! Attendees are also welcome to sign up for a preview trial music class after playtime. Tickets will be half price at $10 and include playtime with Valentine themed crafts and activities. Follow our event page for updates and notifications when tickets will go on sale!
---
PLAYDATE 5: The Urban Chalkboard – Carmel, IN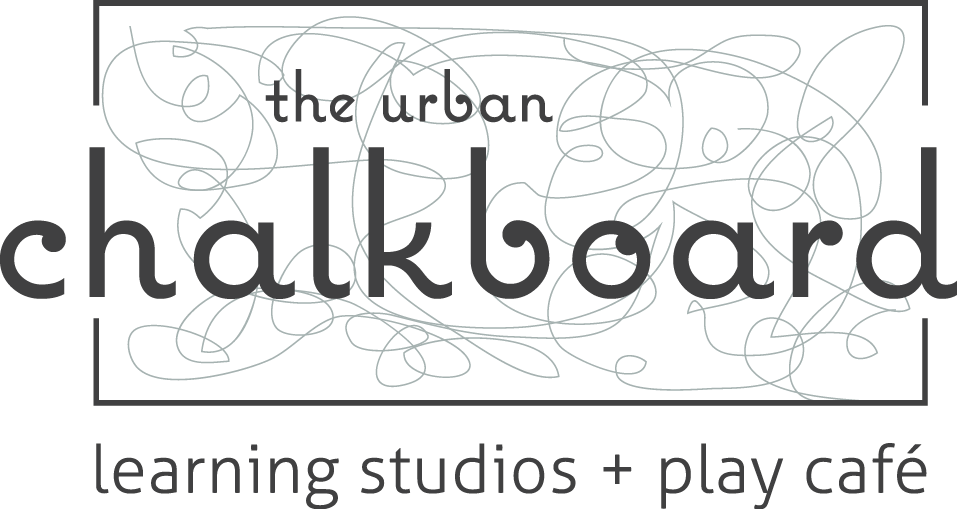 When: March 7th from 5:00-7:00 pm
Where: 452 E Carmel Dr, Carmel, IN 46032
March 7th is First Family Night at The Urban Chalkboard and that means BEER & WINE for Mom & Dad! Join us from 5-7 for Family Fun, pizza from Greeks of Carmel, and a drink for you. Just $5 per child with reservations and adults are always free. Follow our event page for updates and notifications when tickets will go on sale!
---
PLAYDATE 6: Sky Zone – Fishers, IN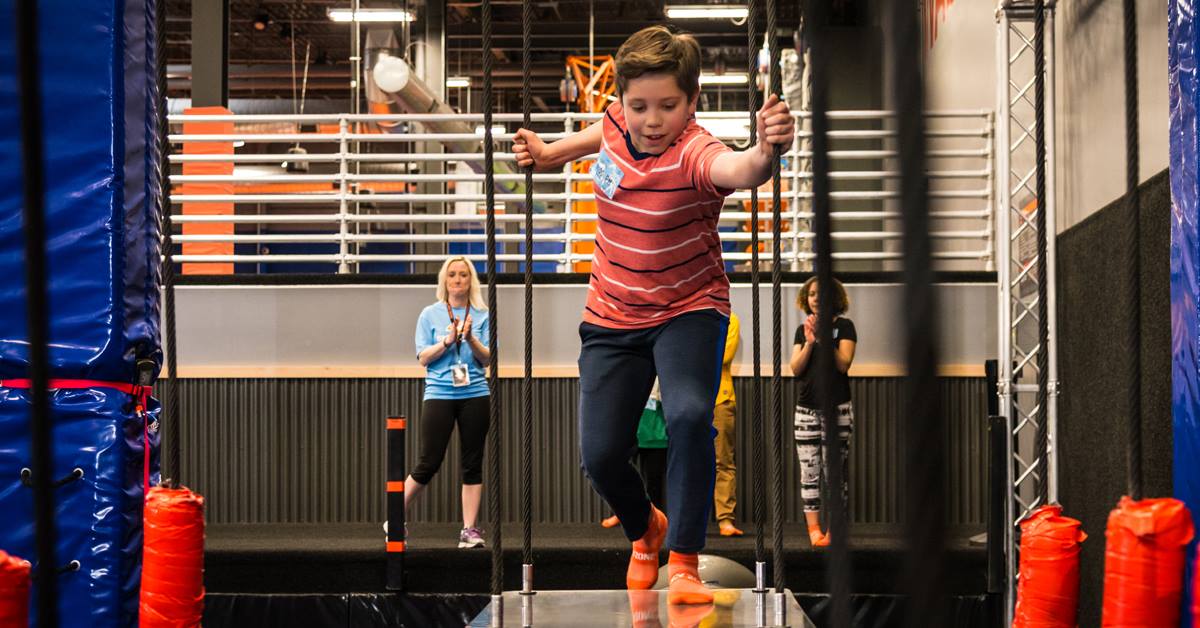 When: April 27th from 9:00-10:00 am
Where: 10080 E 121st St #182, Fishers, IN 46037
Our sixth and final playdate of our Indoor Play Hop series is at Sky Zone in Fishers. Tickets will be $5 for kids which includes 1 hour of jumping plus 1 free adult. Please note that Sky Zone socks will need to be purchased if you don't have a pair yet. Follow our event page to stay up to date for ticket sales coming soon!
---
Looking to get your event featured on our monthly round up? Submit all community events here to our Community Calendar!