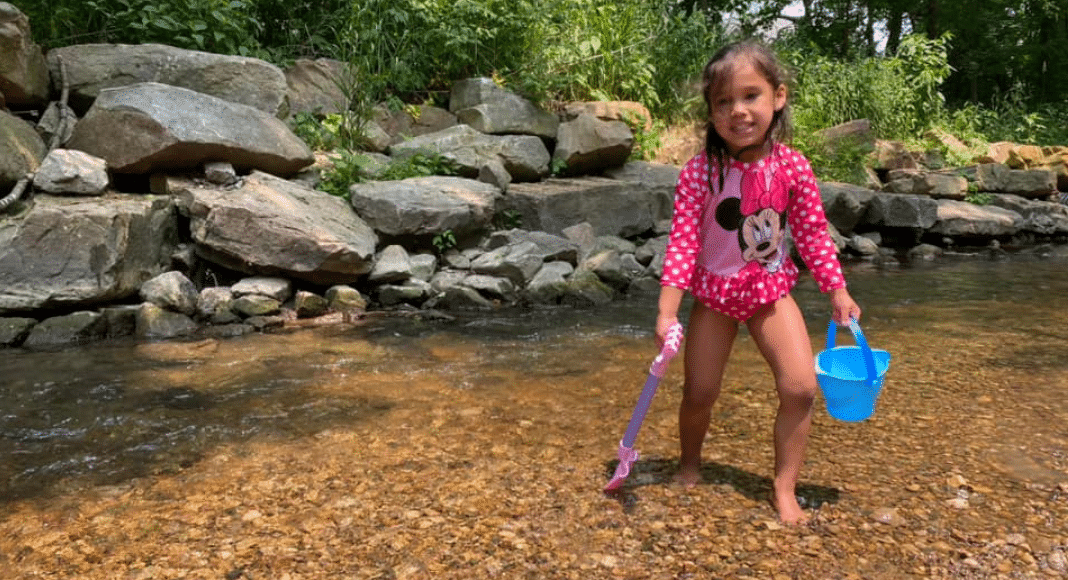 Growing up in the late 1980s and 1990s, I loved playing in my local park's creek. That kind of unstructured play is something I want to recreate with my own kids this summer. What better way to do that than with some good ol' creek stompin'? This summer, See Circle City with us and check out our top ten list of the best creeks for creek stomping around Indianapolis. Now, get to stompin'!
---
Cool Creek Park Nature Center
Where: 2000 E 151st St, Carmel, IN 46033
About: As one of Hamilton County's most popular parks tucked away off of 151st street, Cool Creek Park Nature Center allows families to experience the best nature has to offer while playing around their nature center and hiking trails. Grab a bucket and some nets for some fun critter-catching!
---
Marott Park
Where: 7350 N College Ave, Indianapolis, IN 46240
About: Enjoy the wildflowers at Marott Park, with almost 100 acres of unpaved trails to explore. You can stomp around Williams Creek, practice skipping rocks, and explore the grassy fields and dirt paths.
---
Flat Fork Creek Park
Where: 16141 E 101st St, Fishers, IN 46040
About: On the east side of Fishers, Flat Fork Creek Park will take you away from city life so you can get back to nature. This park features Hamilton County's tallest point at their sledding hill and also offers multiple tree houses to check out the view. Go stompin' around after checking out their fishing pond!
---
Mulberry Fields
Where: 9645 Whitestown Rd, Zionsville, IN 46077
About: Mulberry Fields offers multiple ways to splash around. Right next to their splash pad (open until Labor Day) is their man-made creek to continue the splashing fun. They get bonus points for how accessible it is for small children.
---
Southeastway Park
Where: 5624 S Carroll Rd, New Palestine, IN 46163
About: Buck Creek is just one of the amenities families can explore together at Southeastway Park. This massive park's creek is easily accessible through forest trails and has a wide area for kids to safely explore in the water.
---
Flowing Well Park
Where: 5100 E 116th St, Carmel, IN 46033
About: Flowing Well Park is one of our favorites, and is very suitable for toddlers (especially if they are obsessed with rocks!). This 15-acre park with a mile-long nature trail that wraps around Cool Creek will allow you to have hours of entertainment, with a quick walk back to your car to clean up before heading home.
---
Juan Solomon Park
Where: 6100 Grandview Dr, Indianapolis, IN 46228
About: A looping trail will lead you to the creek stomping area of Juan Solomon Park, and you will have a lot of fun in the shallow waters of Crooked Creek. When you're done exploring nature, check out their awesome playground and recreation center.
---
Fort Harrison State Park
Where: 6000 N Post Rd, Indianapolis, IN 46216
About: Don't have a canoe to drift down Fall Creek? No problem! Fort Harrison State Park is another great park to go creek stomping. Pack up your swim shoes and go on an adventure together amongst the trails.
---
Holliday Park
Where: 6363 Spring Mill Rd, Indianapolis, IN 46260
About: One of my favorite parks in Indianapolis, Holliday Park, has the coolest area for playing in the water. It's technically not a creek, but the Ruins water table is so fun for kids to run and jump around, so I had to include it here. They of course offer other fun hiking trail fun and water exploration not at the Ruins. Make sure to check out the beautiful scenery!
---
Hauge Road Nature Haven
Where: 9 S 8th St, Noblesville, IN 46060
About: Hauge Road Nature Haven allows families to stomp along Cicero Creek during a beautiful summer day. I can't wait to take my little ones! You can either walk along the river or enter by trail to get the best experience.
---
Northwest Park Annex
Where: 1600 Fry Rd, Greenwood, IN 46143
About: Northwest Park Annex is a great place to creek stomp on the south side of Indianapolis. You won't have to walk far to get to the water playing fun in Pleasant Run Creek. And when you're done splashing around and looking for critters in the water, enjoy their forested walking trails.
Share with us! Where are your favorite places for creek stomping around Indianapolis?