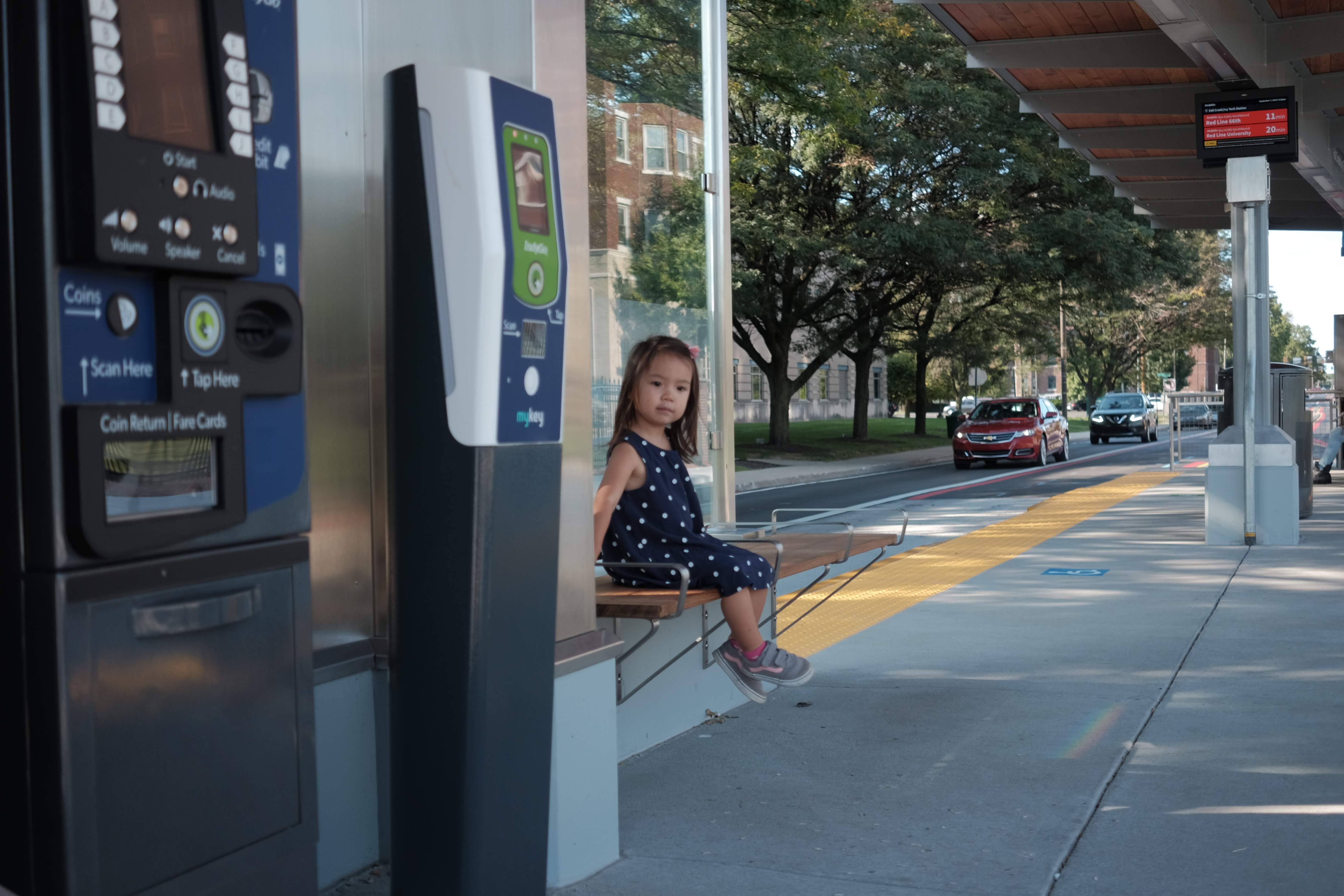 The Red Line is officially open, Indy! The Red Line, IndyGo's latest project, runs along a 13-mile stretch of Indianapolis's most densely populated (with residents and employers) corridors. The buses themselves are a whopping 60-feet long and are completely electric! They can go travel up to 275 miles on pure, clean energy–not a single cloud of exhaust is emitted! To make things even better, IndyGo Red Line rides are entirely free for the entire month of September.
Whether you rely on public transportation as your sole mode of getting around town, are a weekly commuter to work or just want to try something new with your family, here are some tips for your first Red Line adventure:
Prepping for Your Trip:
-During the day, the Red Line runs every 10 minutes (Monday- Friday) and every 15 minutes (Saturday & Sunday). Each station has a digital marquee with time estimates on when the bus will arrive. You can download MyStop from the app store, which will also provide you with real-time bus tracking and let you know how many riders are already on the bus.
-Plan your route by visiting the IndyGo website for stop locations. You can even print out a map for your child to use on the bus. Added bonus if you customize your map by drawing/highlighting where you plan on stopping and what activities you will do.
-Bring snacks and activities. If you're on a long trip, having a stash of distractions is a lifesaver! We love to carry a little notebook with some crayons and draw what we see out the windows.
At the Stops and On the Bus:
-Each stop has a crosswalk for accessibility, but it's always important to be extra cautious when walking to the stop—especially at those busy intersections. The Red Line stops are still new to Indianapolis drivers, so being alert when crossing is key.
-Once on the platform, you'll notice a yellow line on each side. Remind your kids they must stay behind the yellow area for optimal safety.
-The stops' ramps make taking a stroller (or wheelchair, or bike!) on the bus easy-peasy. Little ones can remain in their strollers as long as the strollers aren't blocking the aisle, but if the bus is super crowded and you are able to, folding them down is preferred. If you don't want to the hassle of a stroller, try baby-wearing!
-It's always a good idea to give your kids a talk about proper bus etiquette before riding. Using quiet voices and keeping arms and feet to yourself are much appreciated by fellow riders.
Takeaways:
-The most important thing about riding the Red Line is to be patient. It's new, and some kinks still need to be worked out. Be flexible in your plans and if it doesn't work out the first time, try again! *Full Disclosure, the first time we tried a family trip on the Red Line was a Saturday evening. We live only three blocks from a downtown stop and were going to take it north to Greek's Pizza. The screens at the stop told us the bus was 11 minutes away, we waited and waited and waited until finally the "11 minutes away" ETA was changed to 45 minutes away! We totally had to bail and walk home so we could drive to the restaurant in order to meet our friends on time. Womp womp. But… my husband has successfully commuted to work for a full week, and it only takes him 20 minutes from door to door!
-Be present on your ride. You'll probably see both familiar and unfamiliar faces while on your trip. Take this opportunity to chat with your fellow bus riders. This is an excellent time to show your kids how simply taking the time to talk to someone is the start to building community.
-Don't dwell on the negatives. Yes, there was construction that seemed to last forever. But you know what? It's over now, and we have a state of the art bus rapid transit line. This is amazing for Indianapolis and speaks to our city's dedication to not only helping its people but also our environment.
Starting in October, rides will still be free for kids under the age of 5, but the price for adults will go up to $1.75. Passes can be bought on the platforms with cash, debit, or credit. You can also download their app MyKey for a digital pass. K-12 students, college students, senior citizens, veterans, people with disabilities can take advantage of IndyGo's Half Fare option. For more information, visit their FAQ on Fares & Passes. While we still have a few weeks of September left, I encourage all of you to try out Indy's newest ride, the Red Line!