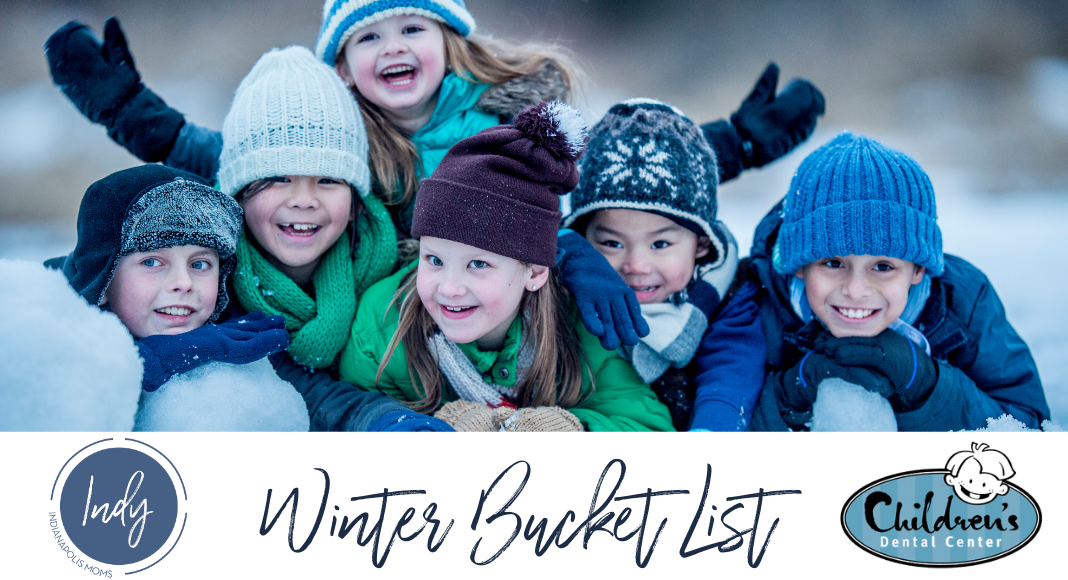 Here we go again – we are entering another winter season during a global pandemic. We made it through the wild rides that were 2020 and 2021, but now the winter months are going to keep us mostly indoors again. However, that doesn't mean we can't have some family fun! Our annual Winter Bucket List will keep you and your family entertained, even mid-pandemic. There is still so much to do whether you are a homebody or you'd like to get out of the house this winter. Grab your family members, your list, and check these items off to help pass the time this winter! We're all in this together.
---
1. Bundle up and go for a walk.
In the last two years, we all made it more of a priority to get outside and move our bodies. Why not keep this habit going? Hold a competition to see who can get dressed for outdoors the quickest. Who can throw a snowball the farthest?
2. Cosmic Kids Yoga is a great resource for indoor exercise during the winter.
And if your child is doing virtual learning at home, these videos give you and your child "brain breaks" to help break up your schedule. Check out the YouTube channel here.
3. Have an indoor family picnic!
This is an easy one to check off your Winter Bucket List. Changing up your lunch or dinner scenery keeps the day interesting and you'll feel less cooped up.
Their motto is, "Same museum you love. New ways to keep you safe." Jolly Days may be over but there are a lot of events still to enjoy. See the exhibits list here.
Disney Plus came out a few months before the pandemic hit and has no doubt kept many families entertained during 2020 and 2021 (including ours). New movies and tv shows are being added on a regular basis, so enjoy them together snuggled up in the blankets! Our new favorite is Encanto.
6. Newfields is hosting Wee Wonders on Friday mornings.
Join Newfields with your kiddos on Friday mornings on Facebook Live for their Wee Wonders program this winter. From 10 – 10:30 am, you can enjoy storytime, art-making, and art hunts! Grab your art supplies for the weekly lessons. Visit here for more information.
7. Donate all those old toys your kids don't play with anymore.
If your house looks like mine, it is currently a minefield of old toys and new. Do a toy clean-up and check out our post on places to donate items.
8. Conner Prairie has two great at-home resources available for free.
Check-in with Conner Prairie at Home as they update their page with content to enjoy from the comfort of your home. Conner Prairie in the Classroom provides modules for students to include in their lesson plans and for history buffs to learn and engage virtually.
9. Have a dance party in your living room!
If you were able to enjoy an actual concert during the summer, keep that spirit alive and enjoy a "concert" in your pajamas. Check online to see if there are any upcoming live stream concerts. Another idea is to pull up YouTube, find your favorite music videos, and get to dancing!
10. Do a family game night with some of your favorite classics.
Put the phones down, turn off the TV, and enjoy a good ol' family game night. Start with the classics like Monopoly, Sorry, and Yahtzee – all the classics you grew up playing. We recently got a fun game called Qwirkle that we've been enjoying lately. Highly recommend!
11. You can still golf during the winter months.
For those missing the lush greens of golf season – head to Top Golf for fun, food, and drinks in safely-spaced hitting bays. Another fun option for more serious golfers is X Golf Carmel. Bring your own clubs to use the state-of-the-art golf simulator, "playing" at the world's best courses.
12. Have a Gift Card Day.
We are bringing back "Gift Card Day" for this year's Winter Bucket List! Using only gift cards you got during the holidays, treat yourself to a day of shopping and eating. Make sure to utilize the store or restaurant's curbside pickup.
13. Give back.
Volunteering may look a little different now but you can still donate to your favorite charity. Other ideas are to host a pajama and book drive for the Pajama Program (and utilize contactless drop-off!), and research ways to donate to Wheeler Mission.
14. Join the Indianapolis Moms Book Club.
The Indianapolis Moms Book Club is back for its second year! If you have a reading goal for 2022, or miss interacting with other readers while discussing good books, join us on Facebook! We read one book a month and hold Google Meet discussions at the end of the month. And hopefully in the warmer months, we'll be back in person again.
15. Reconnect with your significant other on a date night.
Book a sitter, get out just the two of you (in masks of course), and talk about anything except being a parent. Up the ante, book an igloo at Capri or Urban Vines, and sit back and enjoy each other's company.
16. Enjoy the popular hot chocolate bombs.
Hot chocolate bombs have become all the rage during the winter months. Jump on the bandwagon and enjoy this yummy treat as a family. Check out our local roundup here!
The Jingle Rails Adventure continues through January 17th. See a list of additional exhibitions here.
18. Take your mind off of everything and do a puzzle.
You'll be surprised at how stress-relieving it can be! Silver in the City has some great puzzles to choose from.
The Indiana State Museum is another great option if you want to get out of the house and enjoy the downtown museum or their eleven historic sites across the state. They also have a YouTube channel for people to enjoy while at home.
20. Outdoor adventures at Perfect North.
Take advantage of all the winter outdoor activities at Perfect North Slopes. They even have a page dedicated to first-timers, with tips for your first day, what to wear, and what to bring.
---
Click on the below image to download your Winter Bucket Checklist!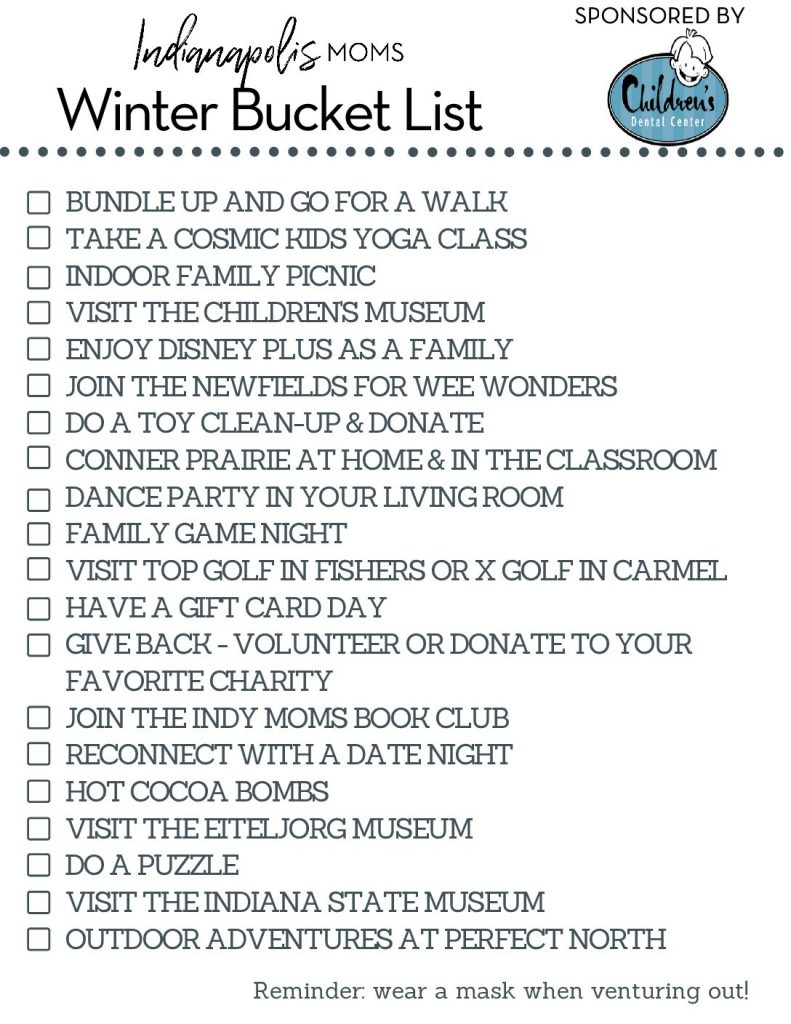 Share with us! What is on your family's winter bucket list?
Children's Dental Center

The Children's Dental Center opened in Fishers, Indiana in March of 2007. They are located minutes from I-69 and are easily accessible by residents of Central Indiana, including the areas of Indianapolis, Noblesville, and Carmel. For more information and to schedule your next appointment, check out their website and contact information below!