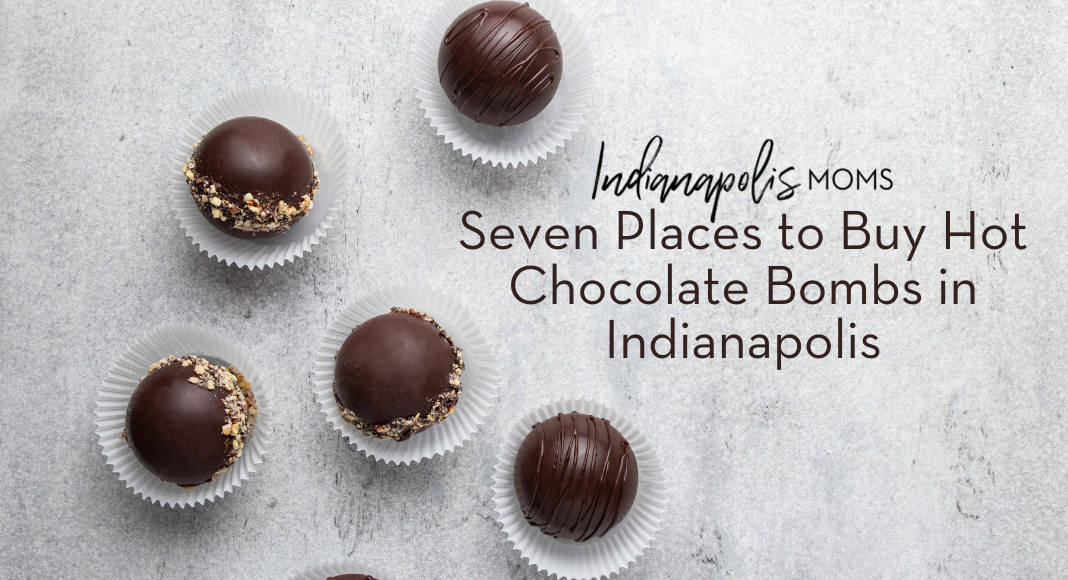 I don't know about you, but sometimes I need a pick-me-up to get through the cold months in Indianapolis. Hot chocolate bombs, or hot cocoa bombs, are the perfect way to provide a yummy treat to cheer you up! If you've never had a hot chocolate bomb before, they are a chocolate sphere filled with hot cocoa mix (or other flavors) and marshmallows. Here is what you do to enjoy a delicious hot chocolate bomb – Step 1: buy a cocoa bomb (or ten). Step 2: place your cocoa bomb in your favorite mug. Step 3: pour hot milk over your cocoa bomb and watch the ingredients magically appear. Step 4: enjoy! Here is our local roundup of where you can buy hot chocolate bombs in Indianapolis. Now the most important question I have for you is – what is your favorite hot chocolate bomb flavor?
---
The Cake and Confetti Shoppe
Website for ordering: The Cake and Confetti Shoppe
Cost: $9 each
About: The Cake and Confetti Shoppe, run by a self-taught baker, is another great option for indulging in a cocoa bomb this season. Their cocoa bombs are $9 for regular hot cocoa bombs and have adorable winter-themed options, including an elf snowball hot cocoa bomb, with a peppermint spoon in a red holiday box with a cute elf note, as well as a golden nutcracker hot cocoa bomb – both for $9 each. They have a long list of cocoa bomb flavors to choose from. Enjoy!
---
Sweet Treats by Janese
Website for ordering: Sweet Treats by Janese
Cost: $6 – $24 
About: Sweet Treats by Janese have nut-free, dairy-free, and gluten-free options available in flavors including cappuccino, double chocolate, salted caramel, white chocolate birthday cake, and white chocolate peppermint. While you're at it, scroll through the rest of the menu and try not to let your mouth water.
---
Schakolad Chocolate Factory in Plainfield
Website for ordering: Schakolad Chocolate Factory
Cost: $5.99 each
About: According to their website, Schakolad has cocoa bombs available in milk chocolate, white chocolate, dark chocolate as well as peppermint, salted caramel, and white chocolate raspberry.
---
Tweety's Sweeties
Website for ordering: Tweety's Sweeties
Cost: starting at $8 each
About: Tweety's Sweeties offers delicious flavors for her hot cocoa bombs to enjoy during the fall and winter seasons. You can choose to add a mug to your order and then choose from milk, white, or dark chocolate. Yummy! Please note that at this time, shipping orders is not an option. Delivery and meetup only.
---
Vanilla Bean Bakery
Website for ordering: Vanilla Bean Bakery
Cost: call the shop at 317.337.9470 for pricing
About: Vanilla Bean Bakery offers delicious cocoa bombs and deluxe decorated cocoa bombs for your enjoyment. They currently have the following flavors available – white chocolate, milk chocolate, pumpkin spice latte, dark chocolate, and holiday decorated varieties. Give their shop a call or visit their Facebook page to learn more about their cocoa bomb offerings and availability!
---
Fundaes Ice Cream and Sweets
Website for ordering: Fundaes Ice Cream and Sweets
Cost: $6 individual, $22 for 4 pack, $50 for 9 pack
About: Located in Whitestown and Avon, Fundaes Ice Cream and Sweets not only offers ice cream cakes and pies, they offer hot chocolate bombs available in the following flavors: classic chocolate, classic peppermint, and cookies 'n cream.
---
Lisa's Hot Chocolate Bombs
Website for ordering: Lisa's Hot Chocolate Bombs
Cost: starting at $7
About: Lisa's Hot Chocolate Bombs offers hot cocoa bombs for residents in Franklin Township. They offer mini bombs, classic (milk, dark, and white chocolates), as well as deluxe (snickerdoodle, peppermint, pumpkin spice, chocolate carmel, chocolate peanut butter, and cookies & cream) flavors. Enjoy!
Share with us! Where will you shop for cocoa bombs this winter?