Summer is here and the kids are out of school! No more homework or packed lunches – HOORAY. It also means hours of time with your beloved kiddos. If you are looking for affordable and fun ways to stay busy and explore our city, look no further! Our team has created the frugal and free summer guide for you and your family.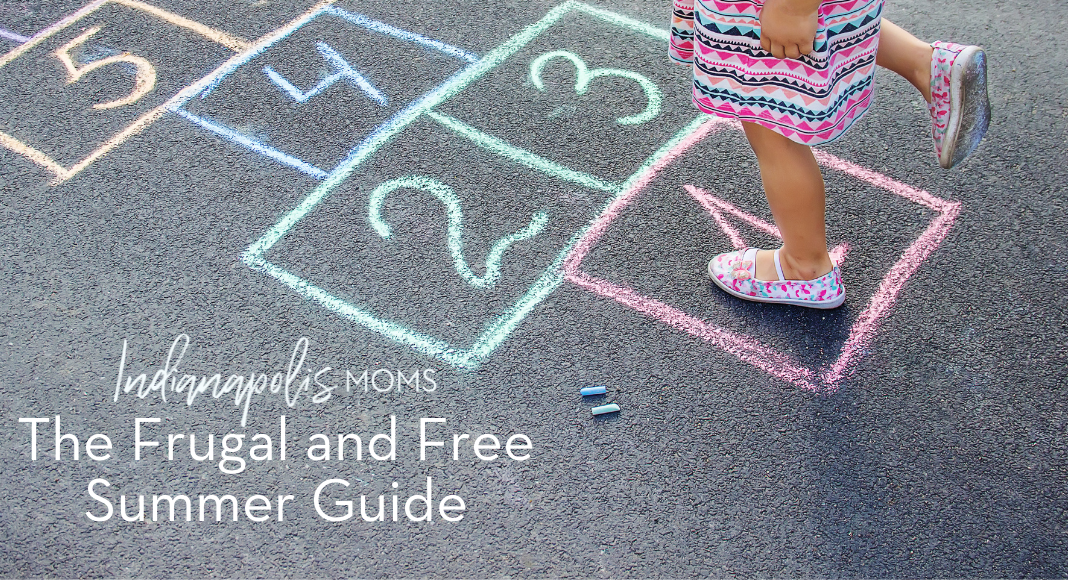 ---
Free Summer Meals – Make sure to check out our Free Summer Meal Guide for information on where and when school districts and organizations in Indianapolis are providing free meals for children 18 and younger.
Indy Parks Summer Concert Series – The parks have a full lineup of concerts, most of it is free!
Birdies – Kids eat FREE on Tuesdays at the Birdies Grillhouse and Sports Bar in Westfield. Start at their mini golf course for some family fun, of course!
Indy Park Spray Grounds – There is literally a spray ground in every part of our wonderful city. Make it an adventure, try them all! Also, make sure to check out our Splash Pad Guide for a full list of splash pads and water fun in Indy and surrounding areas.
Indianapolis Public Library- The Library is a great first stop for free summer fun! Check out their events and activities page for ideas. Also, check out their kids & teens summer reading program as well as their adults summer reading program.
Carousel Corner – This year is the 100th birthday for the Carousel Corner located in Noblesville. Celebrate with carousel rides for $2, and mini golf for $3.
Farmers' Markets – Our list has all the local farmers' markets listed for you and your family to enjoy.
The Treehouse Children's Center – Located in Plainfield at the Plainfield Christian Church, the Treehouse is an indoor playground for all the families in the community to enjoy.
Saxony Beach – Free for Fishers residents or just $7 per person (kids 2 and under free), you can have a family beach day that's a quick drive away.
Holliday Park – What's not to love about this place? They have their awesome nature center, the ruins, trails, and the playground is a favorite of the kids.
Roots Burger Bar – Kids eat free on Tuesdays at Roots Burger Bar, located at 71st and Allisonville Road. And be on the lookout for a new location opening up in Carmel!
Indiana State Museum Canal Nights – Most Wednesday evenings the Indiana State Museum offers a great, fun and free themed program.
Lowe's Kids Workshops – The Noblesville location hosts a fun kids workshop, and they have one coming up in mid-June! Check back to the link in case you missed it for upcoming workshops.
Indianapolis Indians games – Take your family out to a ballgame with this great deal! Check out their Daily Deals here.
Kid City – For just $5 per child, you can explore Kid City, a year-round indoor play zone located in Greenwood with STEAM-focused activity centers.
Goodrich Quality Theaters – This chain of theaters offers a fun, free morning show time. Join their rewards program to take advantage of this deal!
Ignite Studio at the Fishers Library – If you haven't experienced Ignite Studio, you must. They have 3D printing, clay, jewelry making, and more. It's all free and you don't need a library card.
Cars & Coffee at the Indianapolis Motor Speedway Museum – Every second Saturday of the month through October, attendees will get coffee by Founder's Grounds and donuts by Jack's donuts for free.
Kids Bowl Free – When the weather isn't cooperating with your plans, head indoors and go bowling, for free at select bowling alleys!
Midtown Plaza Carmel – Surrounded by shops in the old industrial area in Carmel, Midtown Plaza has free activities, too. There is an interactive play area with outdoor billiards, ping-pongs, and cornhole.
Indiana State Fair – We LOVE the fair! Take advantage of this deal and purchase your tickets early.
Summer Movie Express at Regal Theaters – The tickets for 2022 Summer Movie Express are just $2 on Tuesdays and Wednesdays. Check the link for select locations.
Creek Stomping – If you haven't checked out our round-up of the best places to creek stomp, what are you waiting for? It's free and so much fun.
Tibbs Drive-In Theatre – For $11 and under, you can enjoy a movie from your car! Check the link for movies and show times.
CR Heroes Family Pub – Kids eat FREE every Tuesday night at CR Heroes, located in Fishers (with each adult meal purchase of $8 or more). Bonus, they have face painting and balloon animals!
Bar Louie – Located in Carmel, you can dine-in on Tuesdays and take advantage of their $5 burgers. And if you get there before 7:00 pm, they also have a selection of appetizers that are half-priced!
WonderTree Farm in Zionsville – Our team loves WonderTree. It's $10 to park but in exchange, you receive a $10 voucher towards the food they sell! So really, your $10 is being used for food and you're also supporting a local farmer.
The Well Community Center – Located at the Well Community Church in Brownsburg, the Well Center was created for family fun time. You can go during their hours open to the public, or reserve a private play time.
---
Share with us! Where do you go for frugal and free fun in Indianapolis?