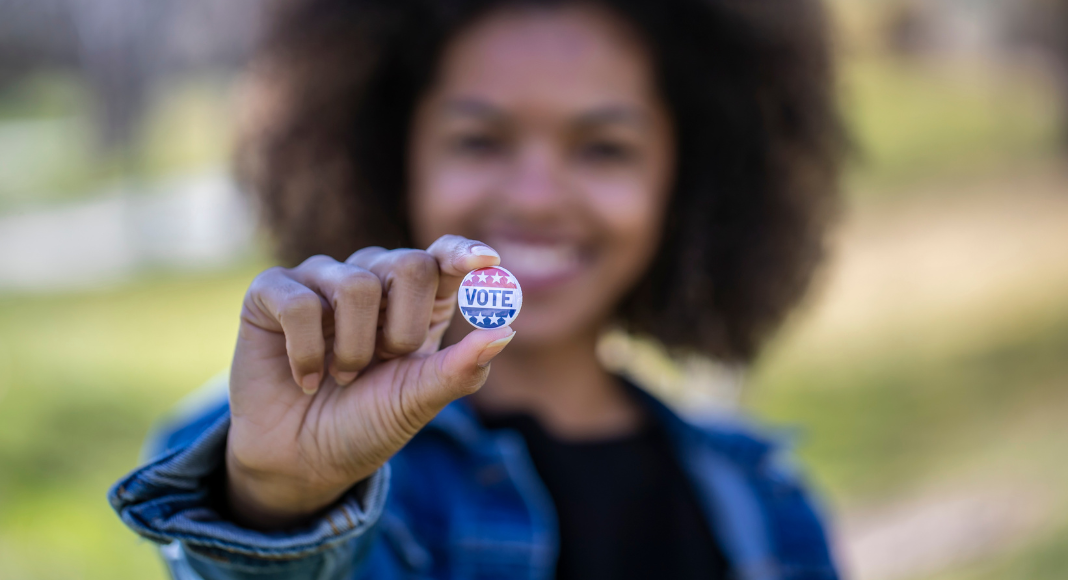 I've become a lot more, let's say – passionate – about issues since becoming a mom and watching the world my kids are growing up in. Mid-term elections are coming up, and it's our chance to vote to make our voices heard on important issues like gun violence, healthcare, environmental protection, and education.
Mid-term elections are what they sound like – they happen in the middle (two years) of a President's four-year term. Presidential election years get a lot more hype, but in just a few weeks, all 435 seats in the House of Representatives and 34 seats in the Senate will be on ballots across the county. Plus, many, many more at the local level.
With all these opportunities to make our voices heard, just 46.5% of eligible Indiana voters took part in the last mid-term election. We can do better.
First Things First
Are you registered to vote? If so, you still need to check to be sure. If not, you can easily get registered online. You must be a citizen of at least 18 years of age and have lived in your precinct at least 30 days before the election.
Important Dates to Add to Your Calendar
October 11. In Indiana, you must be registered by this date. You may not register to vote on election day.
October 11-November 7. Early voting is available, and anyone registered to vote is eligible. I always vote early – because, as a mom, you never know what kid might get sick or what else might come up on election day.
October 27. This is the last day to submit an application for absentee voting.
November 8. Polls are open from 6 am to 6 pm; you just need to know your polling location. On election day, you'll want to bring a photo ID that the state or the US government has issued. If you find that your ID is expired, you can still use it if the expiration date is more recent than November 3, 2020.
Useful Websites
Indiana's Voter Portal is the official site where you can register to vote, check your voting status (again – do this today even if you think you're registered!), find your polling location, and learn who is on your ballot.
Vote411 allows you to input your address and access side-by-side comparisons of candidates. The candidates submit responses so you can learn their stance on important issues in their own words.
AllInToVote works to increase college voting nationally. College students can pledge to vote, find out how to volunteer on campus, and request an absentee ballot. If you know a college student, it's a great link to share.
Gun Sense Voter allows you to search for candidates and learn if they are endorsed by the Everytown for Gun Safety Action Fund.
A Note About School Board Elections
School boards write and vote on policies and approve budgets. Before I had a child in school, that sounded super boring, and I didn't even vote for school board members because I thought the candidates were all the same – parents that just wanted to be involved. They all cared about education and the well-being of students, teachers, administrators, and staff about the same.
But I've quickly learned that who we elect to our school boards has a tremendous effect on making sure all students are treated equally and respectfully, that we're able to retain and attract great educators, and that we're providing students with what they need to succeed in school and life. These positions are technically bipartisan but have become very politically motivated. I know in my district, we have some outstanding candidates, but we also have some with specific agendas in mind that I know would be harmful to our schools and our community.
There is no single resource for school board candidates throughout the state, so I suggest starting your research now – make sure you know who your candidates are (districts can change election to election), talk to friends, look at candidate websites and social media sites, and start discussions with groups that you know align with your priorities. Encourage those without school-age children to vote for school board members; our schools impact everyone.
There are a lot of issues, and there are a lot of opinions. But, there are also a lot of resources to help you pick your candidates. Check them out and most importantly – get out and vote!