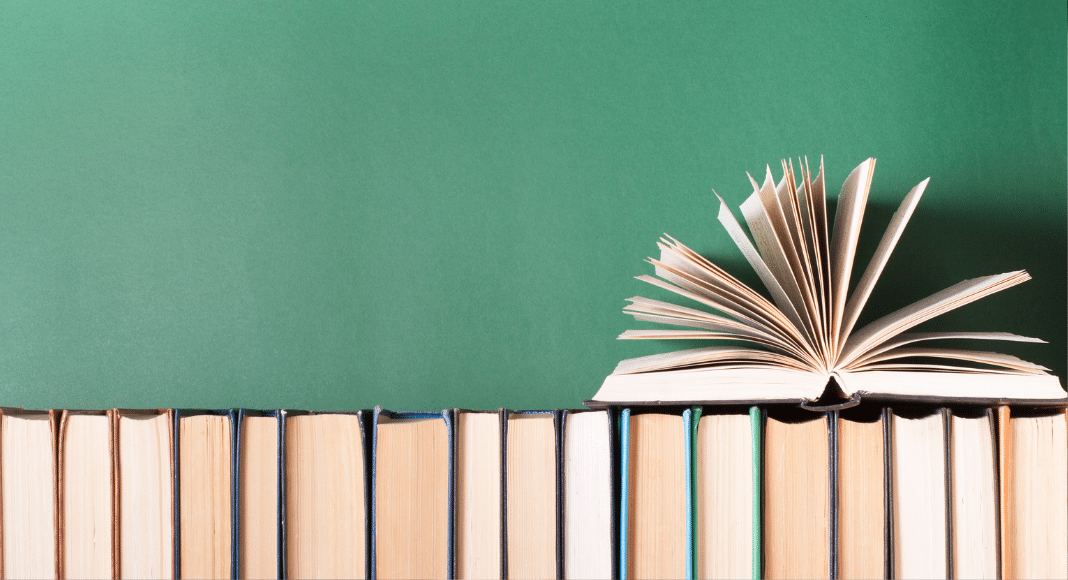 Banning and challenging books isn't new and, unfortunately, happens frequently across the country. Books are being challenged and sometimes removed from shelves in schools and public libraries. In 2022, the American Library Association reported 681 attempts to restrict access to library materials, and 1,651 unique titles were affected. These stats are the highest they've ever been, and if you follow the news, it looks like 2023 could be on track to meet or even exceed these numbers. 
Recently, a school district in Martin County, Florida, has been at the center of this issue and is getting a lot of media attention. Authors Jodi Picoult and Judy Blume have weighed in on the controversy. As a matter of fact, 20 of Picoult's books were included in the list of titles being pulled from the shelves. Not to mention the viral video of a 100-year-old WWII widow speaking out against book banning at a school board meeting. 
Let's bring this conversation a little closer to home. About a month ago, the Indiana Senate passed forward SB 12, a bill to remove "harmful" material available to minors. Essentially, this bill will allow any parent to challenge a book in the school library that they believe is inappropriate. Teachers and librarians could face criminal prosecution for having these materials available to students. This bill also says the teacher/librarian would not be able to argue that a book was available for educational purposes as a defense if they were to face criminal proceedings.
On April 5th, SB-12 was brought up when SB-380, a bill about graduation rates and diplomas, was scheduled to be discussed. It's unclear why this discussion slipped into the agenda. It was brought up that the House Committee will be re-admitting language about "obscene" material being available to minors in our public libraries. Any community member could challenge a book, and it could potentially be removed or reshelved in another part of the library.
The trouble is, what books and materials are considered inappropriate, harmful, and/or obscene? This question is clearly subjective, and it seems too open for interpretation. Some of the books referenced in some testimonies regarding SB 12 are Gender Queer by Maia Kobabe, Let's Talk About It by Erika Moen and Crank by Ellen Hopkins. These are newer titles, but many classics are also often brought up. Books like The Color Purple by Alice Walker, the works of Kurt Vonnegut, The Bluest Eye by Toni Morrison, The Hate U Give by Angie Thomas and The Absolutely True Diary of a Part-Time Indian by Sherman Alexie.
Let's look at those first three books a little closer. Gender Queer is a comic book style memoir by Maia Kobabe, who uses e/em/eir pronouns and explains what it means to be nonbinary and asexual in eir gender identity story. Crank by Ellen Hopkins is a novel written in verse, telling the story of a brilliant teen girl who meets "Crank" and how easy it can be to get sucked into the world of drugs and the destruction they can cause. Let's Talk About It by Erika Moen is a guide for teens that covers anatomy, body image, sex, relationships, and many other topics that are on the minds of kids going through this stage of life. 
I'm going to be really honest, potentially banning books is not something I believe in. I believe in intellectual freedom and everyone's right to have access to learn and expand their worldview. I trust our teachers, school librarians, and public librarians to provide our children with intellectually, emotionally, and age-appropriate material. Books are our windows to the world and experiences, and it's also important for people to be able to see themselves in stories. Reading is a fundamental and powerful tool in creating empathic, kind, and strong communities. 
I ask why? Why are we still trying to silence these stories, these voices? Why are we trying to keep these books out of the hands of our children? Why should one family be able to limit access to a certain book for another family's child? I can understand limiting access to my child but not someone else's. 
As my oldest daughter was entering puberty, I asked if she felt comfortable having a discussion with me about the changes that were coming or if she'd prefer to read about it. She decided she'd like to read about puberty, which was fine with me. All that mattered is that she felt comfortable and supported. As we walk further into the teenage years, I absolutely want her to have access to a book like Let's Talk About It. But what if she was too embarrassed to ask questions or wanted to be able to discover something like this on her own? Not everyone can hit *add to cart* and buy a book without a second thought. More reasons why books like this need to be available in places like school and public libraries. 
There are a lot of books out there that deal with tough topics or topics that we aren't ready to confront as parents. But it's our responsibility to raise good humans. Books can help us. If you aren't ready for your kid to read a particular book, that's okay. It's not okay for you to say what can and can't be available on school and public library shelves.
Let's do the work and show up and support our school and public librarians. Read those banned and challenged books, write to your representatives, post on your social media, talk to your kids, and keep these conversations going.