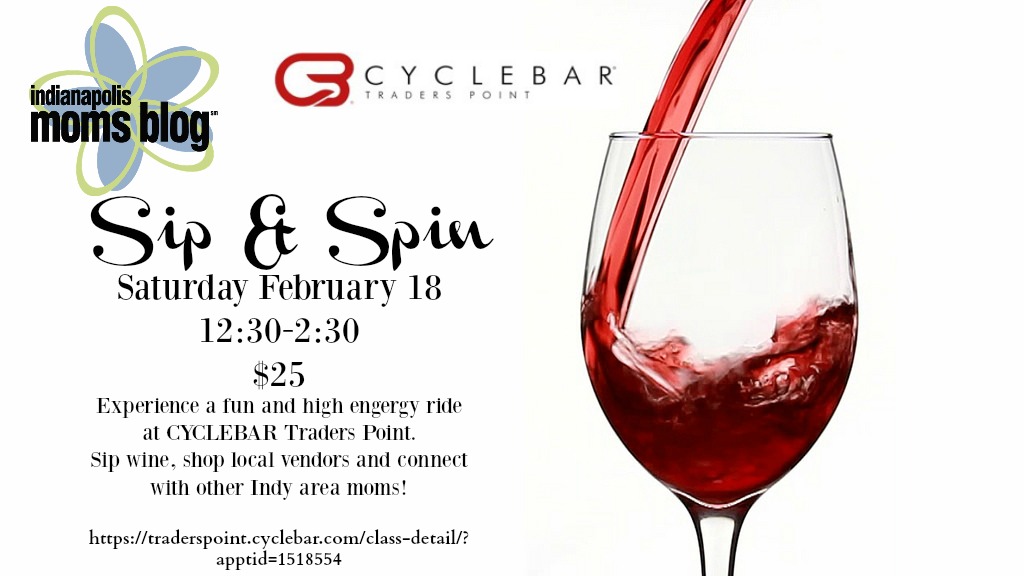 I don't know about you but even though February is the shortest month of the year, it always feels like the LONGEST! So let's break up the month with some fun!
Indianapolis Moms Blog presents Sip and Spin at CYCLEBAR Traders Point – a high energized indoor cycling class followed by wine, snacks, and shopping with Indianapolis area moms just like yourself!
Why should you come? Here are our top 5 reasons why you'll be sad to miss out on this event:
5. Experience the Power of Indoor Cycling
These classes are like none other! Each ride offers something for everyone at every fitness level with a mix of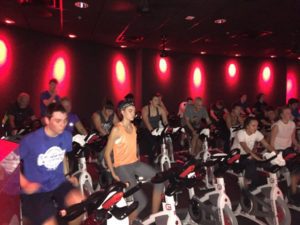 challenges, endurance, hills and strength all coordinated with rocking tunes you know and love. Sip and Spin is the perfect way to get your daily workout in and you don't have to worry about being interrupted by kids in the process! Plus you get to drink wine, eat snacks and mingle with moms afterwards. How many workouts can offer you that option?
4. Free Wine (and Other Free Stuff)
That's right, we said it – FREE WINE! Each ticket includes a complimentary glass of wine along with light snacks to enjoy after the ride. Plus you get a swag bag full of goodies and entries into all of the giveaways offered at the event. But seriously, it's never too early for wine.
3. Shop Local Vendors
Sip and Spin will offer a selection of local vendors with products ready for you to shop! It is the perfect opportunity to check out some amazing small businesses and support local momprenuers from the Indianapolis area.
2. Meet Friends from All Over the City
This event offers the ideal situation to meet new faces and connect with moms that live in and around the Indianapolis area. I don't know about you but we definitely feel like there is no such thing as too many friends!
1. An Afternoon ALL ALONE
This should be the kicker right here – treat yourselves mamas! Give yourself an excuse to get away for two hours on a Saturday afternoon to enjoy a good workout and a free glass of wine. YOU DESERVE IT!
Tickets are just $25 and include your class, a complimentary glass of wine, light snacks, entries into our giveaways and a swag bag.
Space is limited so purchase your tickets today!
Still curious about the event? Be sure to check out our Facebook live event Wednesday evening at 5:30 – you won't want to miss it!