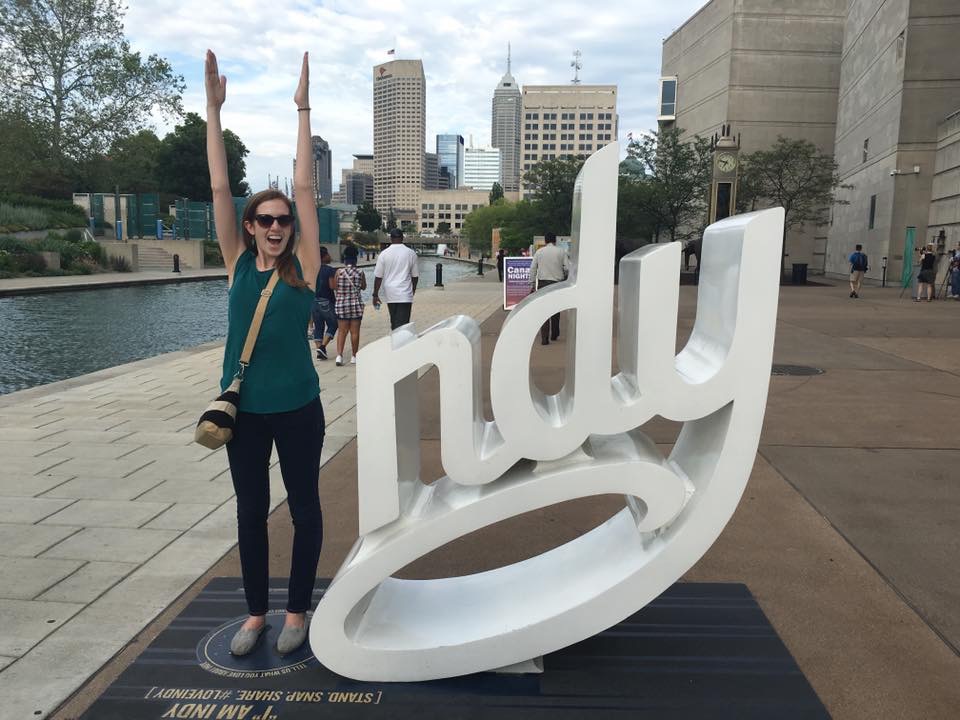 We moved to Indiana from Wisconsin for my husband's job in the summer of 2016. I remember tearing up on our house hunting trips to Indy, after mile 6 million of flat farm fields, I silently thought, is this really where we are going to live? Flash forward three years, my husband has graduated, and we are moving back to Wisconsin. Just a few weeks ago I teared up as we drove past all the same farm fields for our house hunting trip in Wisco, silently thinking am I really ready to leave this place I have fallen in love with?
Hoosiers

(The People) – I come from a state that is often known for having friendly people, but I may argue that Hoosiers are some of the kindest, most welcoming people I have met and yes I have been to all 50 states, so I feel like you can take my opinion seriously. I have found that living in Indianapolis means we are just south enough that people have some southern hospitality (and sometimes a little southern twang), but also north enough to be very midwestern in the way that people are down to earth, easy to talk to and eager to help! I saw this countless times whether it was my neighbor coming by to mow our lawn when our lawnmower was broken, striking up a conversation with a stranger at the grocery store, being invited to different local events or people offering to bring meals when I just had a baby. We were so excited at how quickly we were able to make friends in Indianapolis as well! It took us about two years to find a group of friends in Wisconsin after moving there from Honduras, but it was a matter of months when we moved to Indiana. So thank you Hoosiers for loving on us so well and making us feel so welcome!

Food

– We have fallen in love with the restaurant scene in Indianapolis and have traveled north, south, east, and west to devour all the different food Indy has to offer. Not only have we enjoyed food that we never tried before like Sugar Cream Pie or basically anything we ordered at Blue Bread, but we also were able to get some of our favorite international food fare on a regular basis. We frequented Honduran, Indian, Thai, Japanese, and Ethiopian restaurants that were within 15-20 minutes of our house weekly. We have loved going to Mass Ave as well. Bakersfield will always have a special place in my heart as I went into labor while enjoying lunch there, sorry if that ruined anyone's appetite. I will also remember certain restaurants because I was able to enjoy such great company like going to Nada during Devour Indy or celebrating my husband's graduation at Revery by eating their to die for short rib! I do have hope we will find some great food in Wisconsin as well, umm hello cheese curds, but I will definitely miss all the amazing options we have found in Indy!

Climate

– Although I have been reassured by many Hoosiers that you do in fact get some brutal winters, I did not experience it while living here. After coming from the "Frozen Tundra," the winters were so mild in Indy. In fact, I am pretty sure my husband and I only shoveled our driveway once or twice in our three years here, which felt like nothing short of a miracle in my mind. Winter is also a season that does not last half the year as it does in Wisco. When living in Indianapolis, you get to experience all four seasons within a somewhat responsible time frame. It was fun to experience the crispness of fall, the coolness of winter, the dampness of spring, and the humidity of summer. However, I was not prepared for a thing called corn sweat until moving here, man oh man humidity is fierce in your neck of the woods, but nonetheless, I still enjoyed all that each season brought!

There's Always Something To Do

– I loved exploring Indy as a DINK (double income no kids) for our first year here, and have enjoyed exploring Indy even more as a SAHM (stay at home mom). There is seriously so many fun, often free things to do as a family with young kids. Plus, since Hoosiers are so friendly, it was so easy to connect with other parents to find out where to take little ones. We will definitely miss all the museums, local parks, splash pads, libraries, canal, sporting events, the concert scene, biking trails, festivals, Gymboree and Greenwood Community Center/Kid City, among many others!

My Favorite Job

– Lastly, one of my favorite jobs ever was right here in Indy. My first year here, I had the privilege of being a preschool teacher at the Children's Museum. I had some of the best co-workers and students, which made going to work something I looked forward to every day. I learned so much about early childhood education, the wonderful things the Museum has to offer and learned more about Indy from all the different people I met on the job. I'm not sure if I will ever have a job quite as cool again, so for that, I am forever thankful to Indy. Also, if you did not know the Museum has a preschool, be sure to check it out, seriously amazing!
I leave Indy with a grateful heart (and family that doubled in size – two kids in three years) for all the wonderful things I was able to experience while here and I know that Indianapolis has forever changed me as a person. So again, I say thank you Indy for allowing me to grow into who I am today!