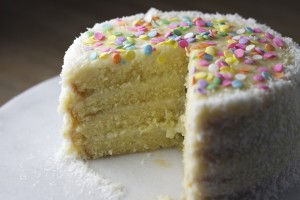 Do you remember many of your birthday parties from when you were a child? Or maybe a better question is: did you have birthday parties when you were a kid? My husband remembers having one party when he was about eight years old. The details are fuzzy, but he thinks a bunch of kids came to his house, ran around, and then ate cake and opened presents. That's it. I think I always had a birthday party (I mean, I remember at least a few), but it was nearly the same thing: a bunch of girls got dropped off at my house, we ran outside in the yard, followed by a little drama between a few of the girls, and then we ate sheet cake, and I opened presents. Of course there was no Pinterest or Internet in the 80's, which means there also weren't parties with creative, original themes based on specific interests displayed through coordinating games, handmade decorations, adorable finger foods, and an ornate buttercream cake from a local specialty cake shop.
I gotta say, this is one area where comparing parenting in the 80's to now is like, come on. Our parents had it so easy! Just let the kids out in the yard and call them in when it's time to cut the cake! In the span of my daughter's seven years on this earth, she has already had parties that involved a spa for little girls, complete with manicures, up-dos and a fashion show, as well as a glow in the dark cosmic bounce house that was like a rave for kindergarteners. (I swear if I would have had a vodka tonic and some sparkly eyeliner on, it would have been the most fun I have had in ages.) For her parties held at home, I have hand made buntings with fabric and ric rac. I've placed carrots in individual dainty plastic containers with ranch dressing and told the guests they were supposed to look like "Olaf's nose." I even once made an unfortunate framed number three made of tissue paper and covered wooden number three's in glitter. And we're not the only parents doing this; last year my daughter went to a home spa party where each child made their own flavored lip gloss, flip flops and got their own robe to wear and take home. I mean, the list could go on and on, but you get the idea.
There are obviously pro's and con's to all of this this creative madness fueled by Pinterest, blogs and Etsy. The obvious benefit is seeing our kids have so much fun. I mean, real, crazy, honest-to-goodness joy. They're making memories – specific, "remember that party where we made homemade cotton candy and had a karaoke machine" memories, unlike my husband and I's blurry "we had parties, didn't we?" musings. There will be no mistaking it – our kids had birthday parties. Glorious, memorable affairs with themes, beautiful cakes and carefully planned outfits and decorations.
Unfortunately, I think the downside is for the mamas on this one. I recently chatted through Instagram with a friend whose five year old daughter wanted a rainbow party. I know this mom is going to pull it off, but I could sense the slight desperation in her voice. It was like I could hear her thinking, "Why don't we just go to a unicorn petting farm? Would that be fun? Would it?!!" (There is an actual farm in Westfield where they color the ponies' hair for birthday parties…but I digress.) Planning and pulling these parties together is no small feat.
At my daughter's seventh birthday party this past weekend, while the music was blaring and the strobe lights were flashing, I started to panic. I asked my husband how many more times we were going to get to do this. Three more years? Five? Because soon she's going to be too cool to even involve us in her birthday parties at all. The thought was heartbreaking. So have no doubt, in less than a year, I'll be asking her where she wants to have her party and searching Pinterest for super cool, fun ideas for the ultimate bash. I'll be stressed and frazzled once again the weekend of the party, making sure everything is perfect and no detail is forgotten. But these are the years, the family years, where we only get one chance to do it right. She will be grown and gone in the blink of an eye. For these reasons alone, I wouldn't have it any other way.
Do you plan elaborate parties for your kids, or keep things simple and sweet like when we were growing up? What have been some of your children's most memorable parties? What are some unique venues around Indy to throw great parties for kids?