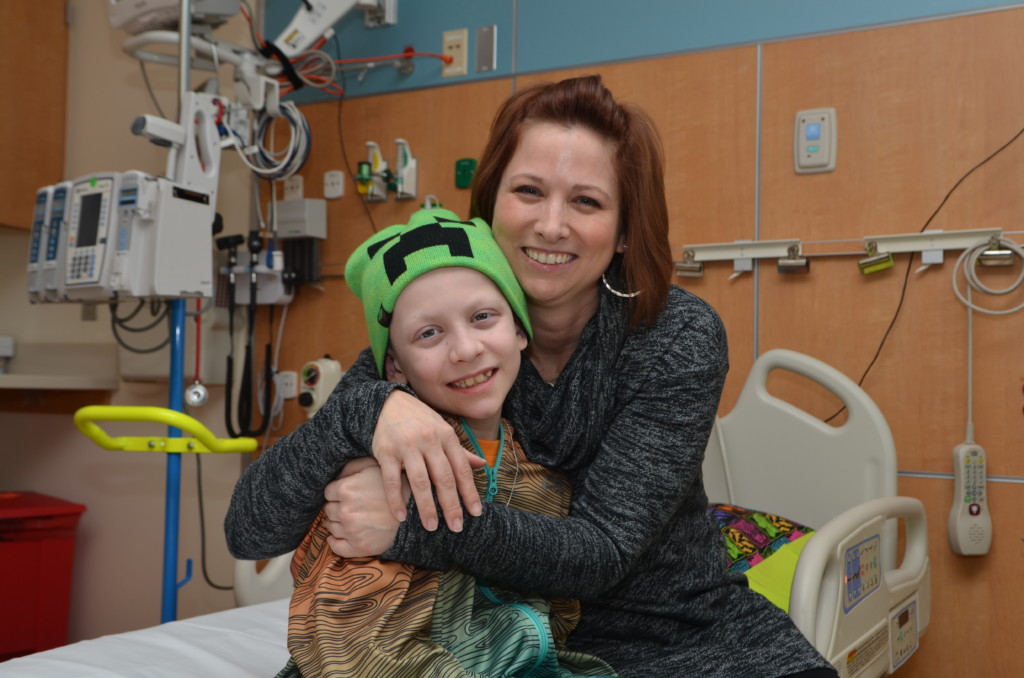 When you talk to Amy Adams, you can't help but smile. She has one of those contagiously energetic and upbeat personalities and I could sense her positive disposition immediately, even through the phone. You'd never guess upon talking to her that Amy's 11-year-old son Parker battles childhood cancer. This Mother's Day, our friends at Northwestern Mutual, through its Foundation, are honoring heroic moms of childhood cancer patients with a $50,000 donation to Alex's Lemonade Stand Foundation (ALSF) to help find a cure, and Amy is one of these amazing women.
In August 2014, Amy found herself at the doctor, stricken by severe stress in the week following Parker's stage four neuroblastoma diagnosis. Given 50/50 odds with cancer in his adrenal glands, liver, kidneys and heart, Amy stayed by Parker's side through four rounds of chemotherapy and stem cell treatments at Riley Hospital for Children at IU Health in Indianapolis.
Today, Parker's latest scans are clean, but the journey getting here has left its mark on Amy's family. When asked how the experience has changed her as a mother, Amy says that she's learned to let all of the little things go and doesn't sweat the stuff that once stressed her out. She dropped everything, including work, to be by Parker's side throughout his entire treatment. Amy says she's forever grateful to the elementary school where she works as a teacher for giving her the entire year off so that Parker never had to be alone.
One of the hardest things about Parker's diagnosis was that he was old enough to understand the seriousness of the situation. But Amy says that he never complained—not once—and that he put his game face on from the moment they found out. He was extremely positive throughout the entire process (something he no doubt inherited from his mother). It's one of the things Amy admires most about her son. Something that Parker did struggle with was missing school and his friends. The family even sold their house last year so that they could be closer to his school, and now that he's back, Parker doesn't take being there for granted and has nearly perfect attendance.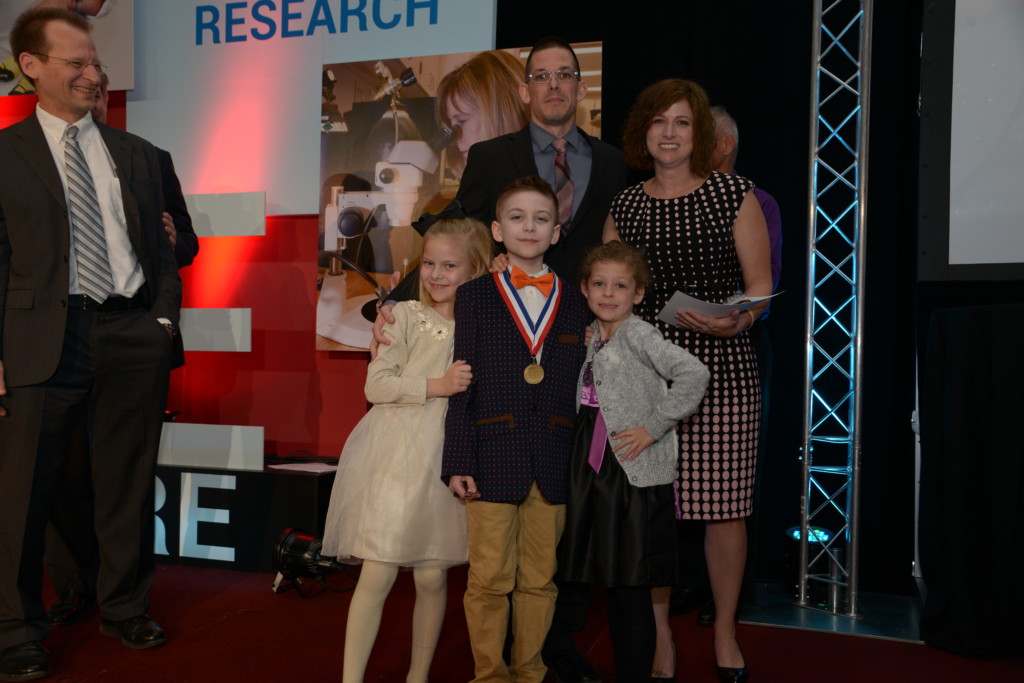 Aside from dealing with the financial issues that come with a childhood cancer diagnosis, another area that was tough for Amy and her husband to navigate was parenting. Amy explained that they would feel guilty when they started getting on Parker for something, but would then have to remind themselves that it was important to still treat him like a regular kid. Finding that balance was tough. But being a parent to a child who suffers from cancer is tough all around. Amy likens it to being on an island— you feel terribly alone, like no one really understands what you're going through, when all you want is other people who you can talk to, vent to and be real with about the whole situation. That's why her advice to parents in the same place is to reach out to others, because chances are those parents in the hospital rooms surrounding you feel the same way.
Unfortunately, there are many, many families that join the Adams in the fight against childhood cancer. It's the leading cause of death by disease past infancy among children under the age of 19 in the United States and about 10,380 children in the United States under the age of 15 will be diagnosed with cancer in 2016. Of those, about 1,250 are expected to die from cancer this year. Shockingly, less than four percent of the federal government total funding for cancer research is dedicated to childhood cancer each year.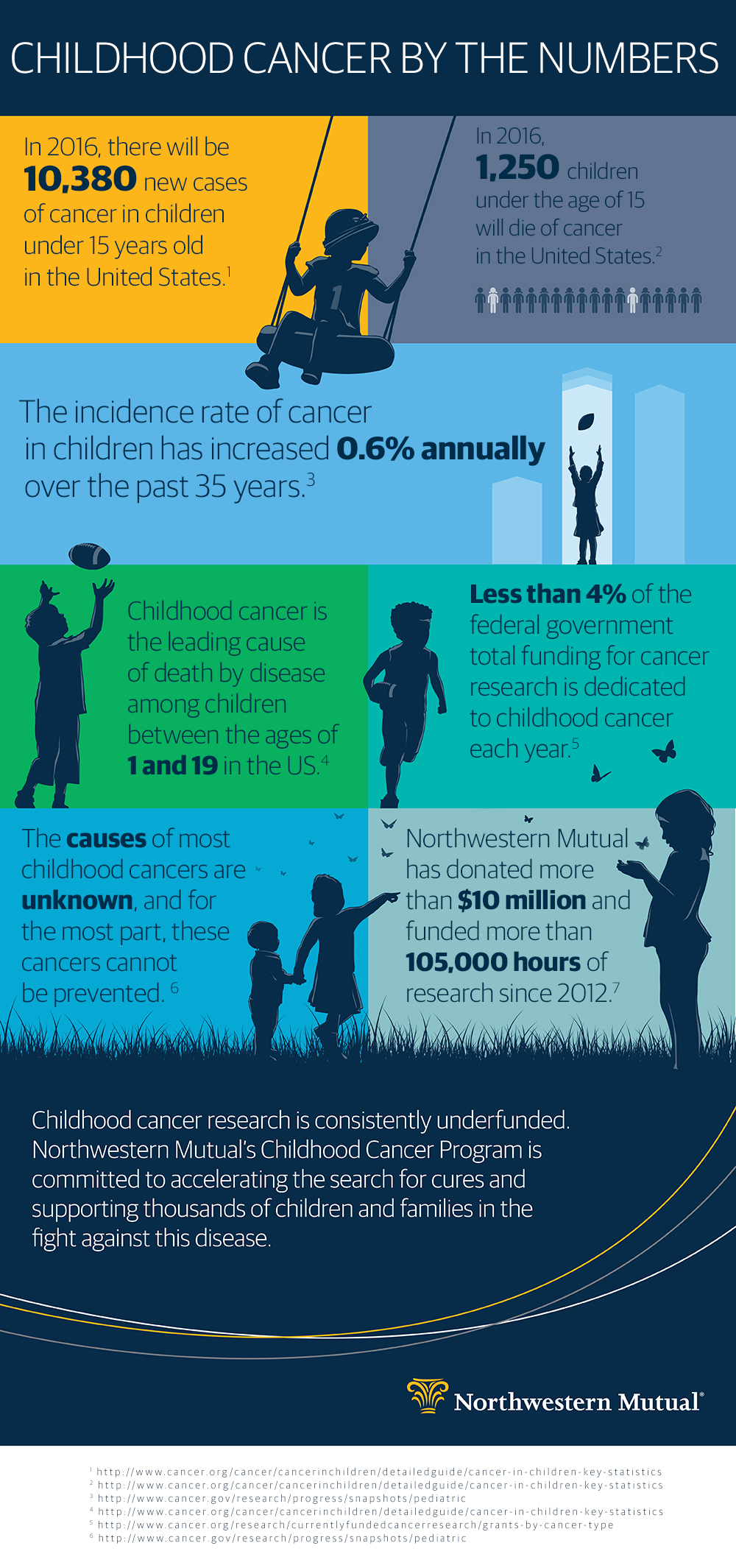 This is why Northwestern Mutual launched its Childhood Cancer Program in 2012 – to accelerate the search for cures to childhood cancer and to provide support to families battling the disease. To date, Northwestern Mutual and its network of financial representatives have raised more than $10 million and funded 105,000 hours of research to help discover life-saving treatments.
The work of a mother is never easy, but this is especially true for the heroic mothers of children diagnosed with childhood cancer. In speaking with Amy, I was in awe of her strength, and I'm not the only one. When we asked Amy's husband, Scott, if there was anything he would say to his wife, this was his response: "I'd say thank you. Thank you for always being with our son. Thank you for making sure that he never had to go through treatment alone. Thank you for being the backbone of our family and being stronger than I was during this time. Thank you for putting Parker, Sophia and Lily first during Parker's treatment. Thank you for bringing our son home healthy and giving him a fighting chance with this awful disease. I love you."
Learn more at NorthwesternMutual.com.