When my husband and I decided to wait to find out the sex of our first child, one thing I was excited about was the challenge of creating a cute gender-neutral nursery. I envisioned a colorful, fun space that reflected our growing family and brought me a spark of joy during bleary-eyed 4 a.m. diaper changes. My husband and I decided to base our design plan on our shared love of music, accentuating the black and white music theme with pops of teal and turquoise. (Well, let's be honest, ladies—it was MY design plan and my husband just helped to execute it!)
We live in a 65-year-old brick ranch in Broad Ripple with around 1,500 square feet of living space, and our former office made for the perfect cozy nursery. While I certainly love the look of high-end nurseries with designer furniture, I love a good bargain even more. I knew we could create a beautiful space without draining our savings account, and I absolutely love the final product.
Here's the before, once we'd cleared out our office furniture: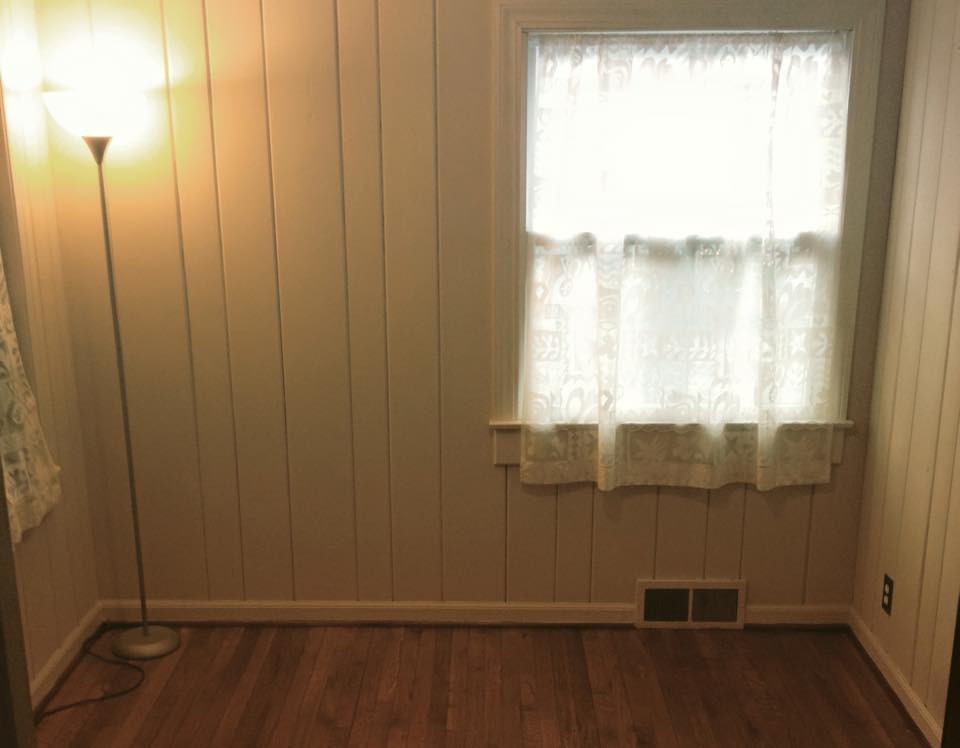 And here's the after!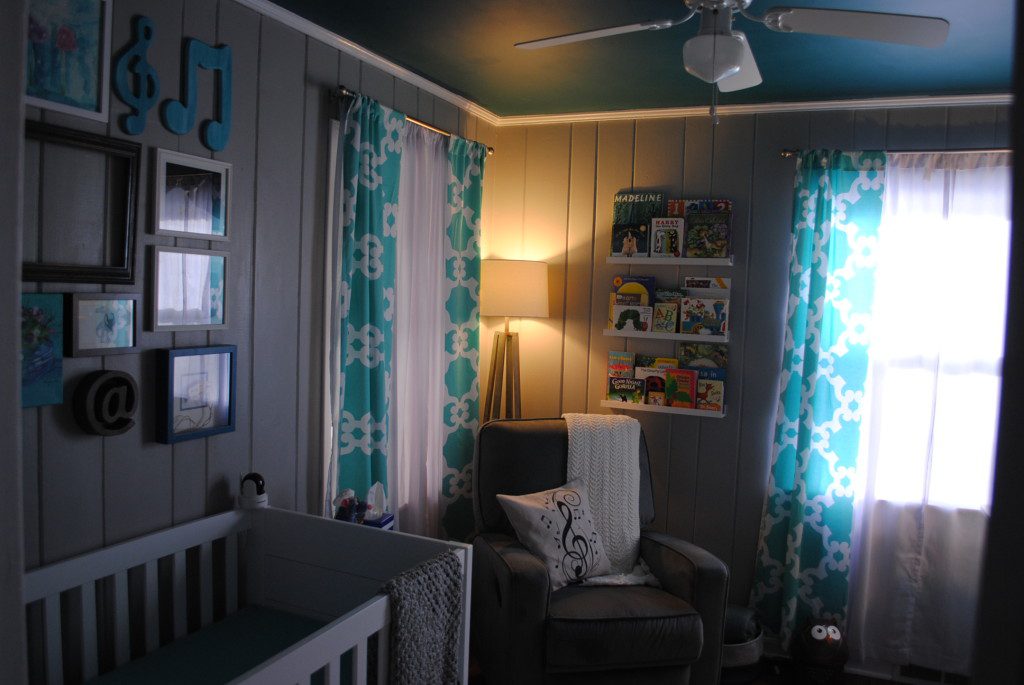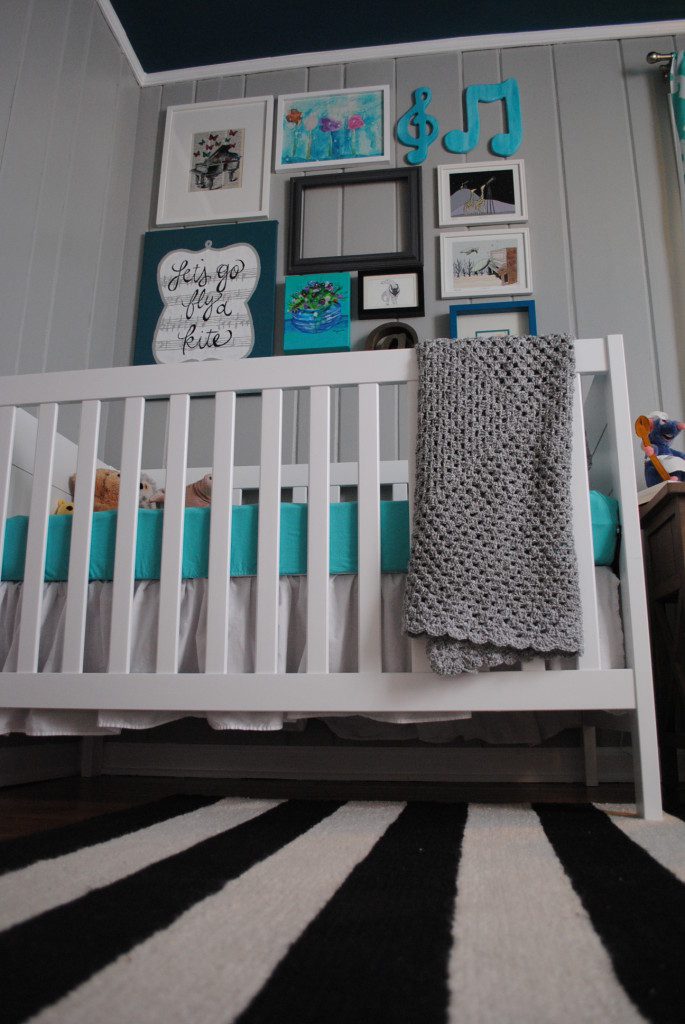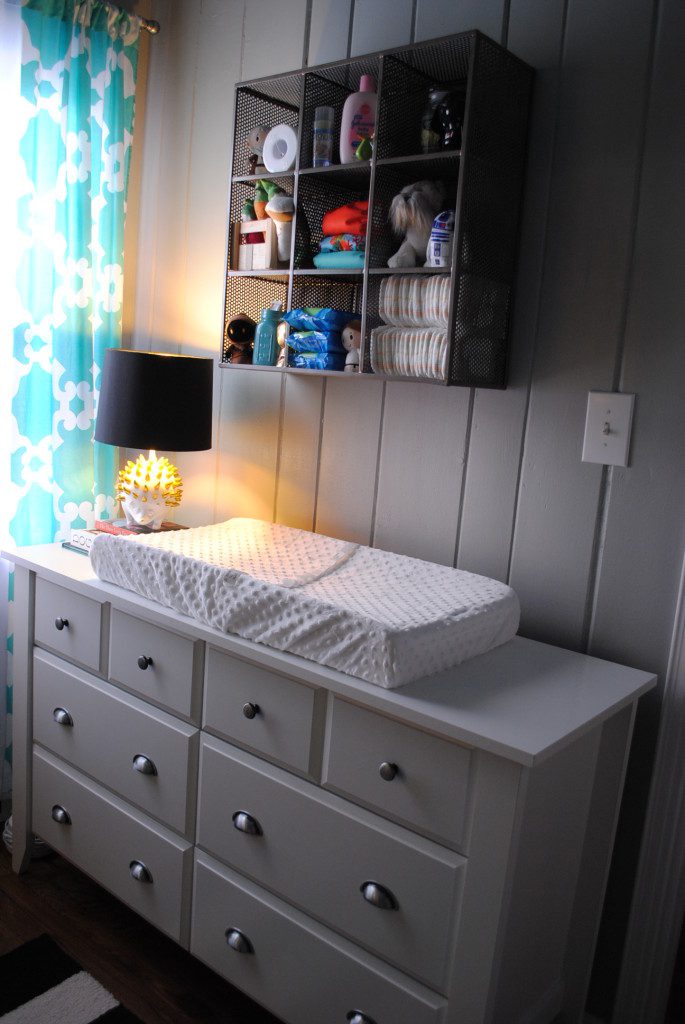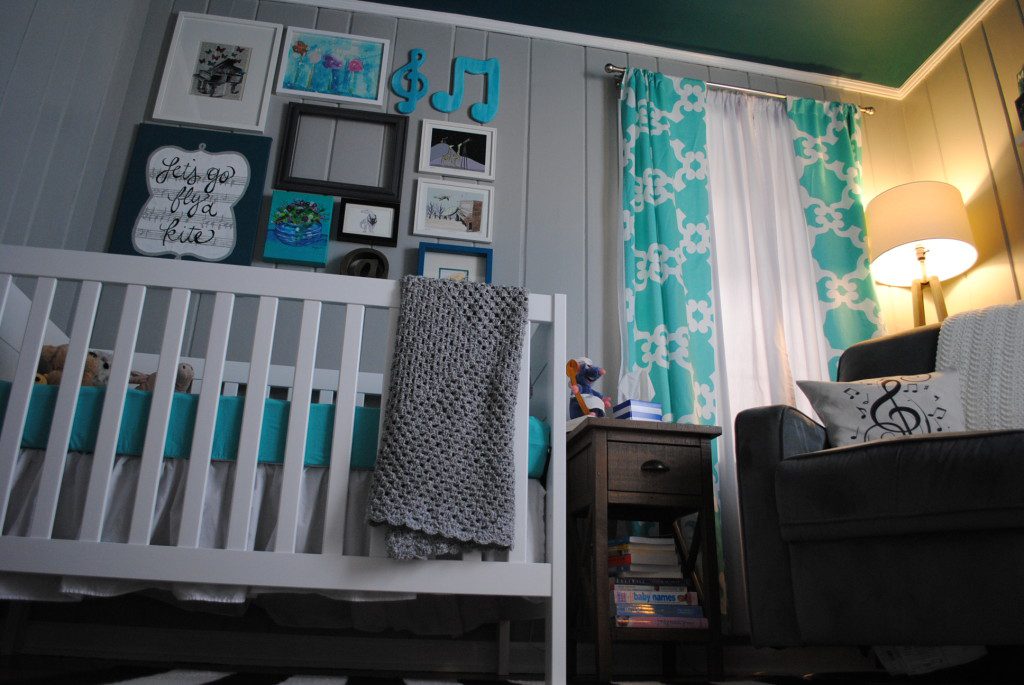 We painted the walls the same soft gray as our living room to provide some continuity with the rest of our house (Valspar's Urban Sunrise), and to inject a bit of personality, we painted the ceiling a bold teal (Valspar's Ocean Slumber). Taking the trim from dingy cream (an unfortunate choice by the previous owner) to white helped brighten up the room and make the ceiling pop.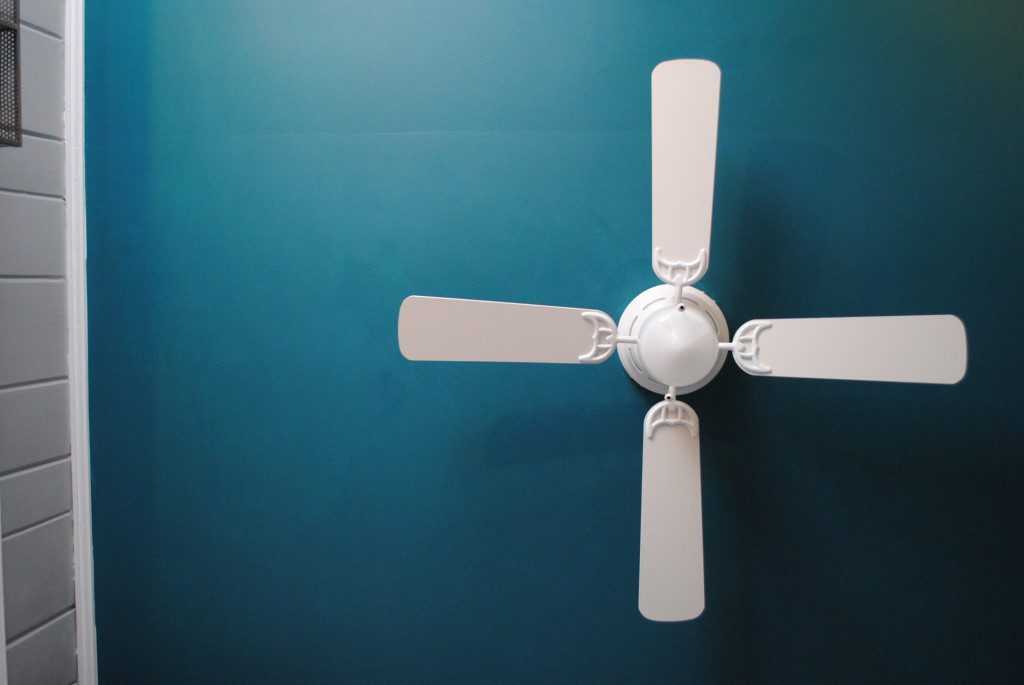 We selected furniture (this crib, this dresser and a comfortable glider), and then the real fun began! We found a cushy black and white rug and sturdy end table at Marshall's, and we received as gifts this floor lamp and fun hedgehog lamp.
In terms of storage, I knew I wanted to use as much vertical space as possible given the room's small size. We used three picture ledges from IKEA to make a floating bookcase.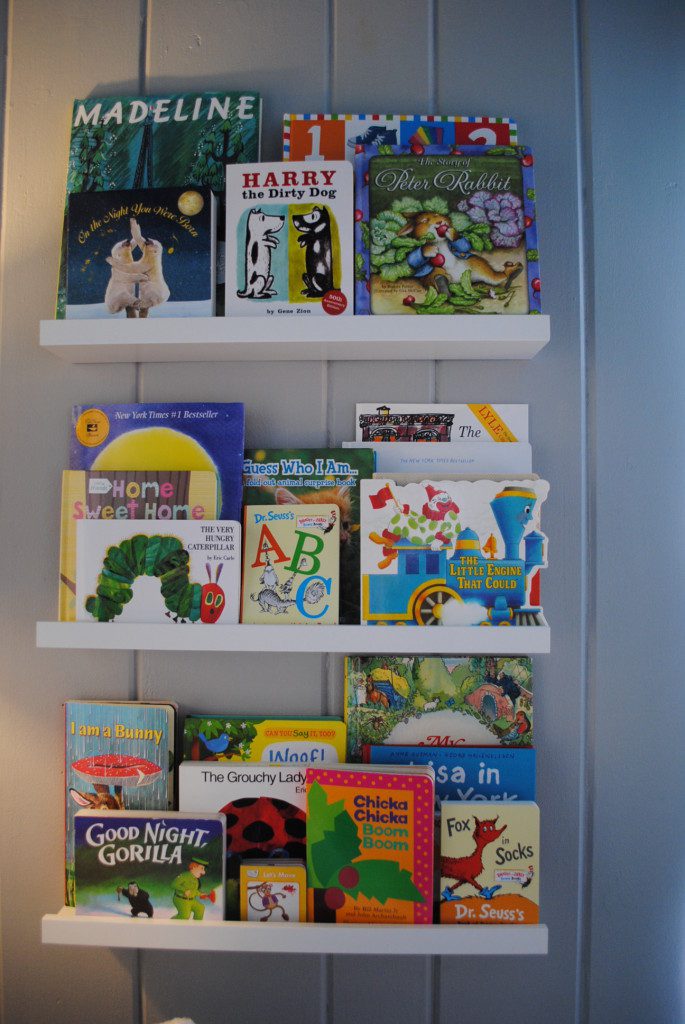 I also found this mounted storage rack from CB2 to store diapering essentials above the changing table.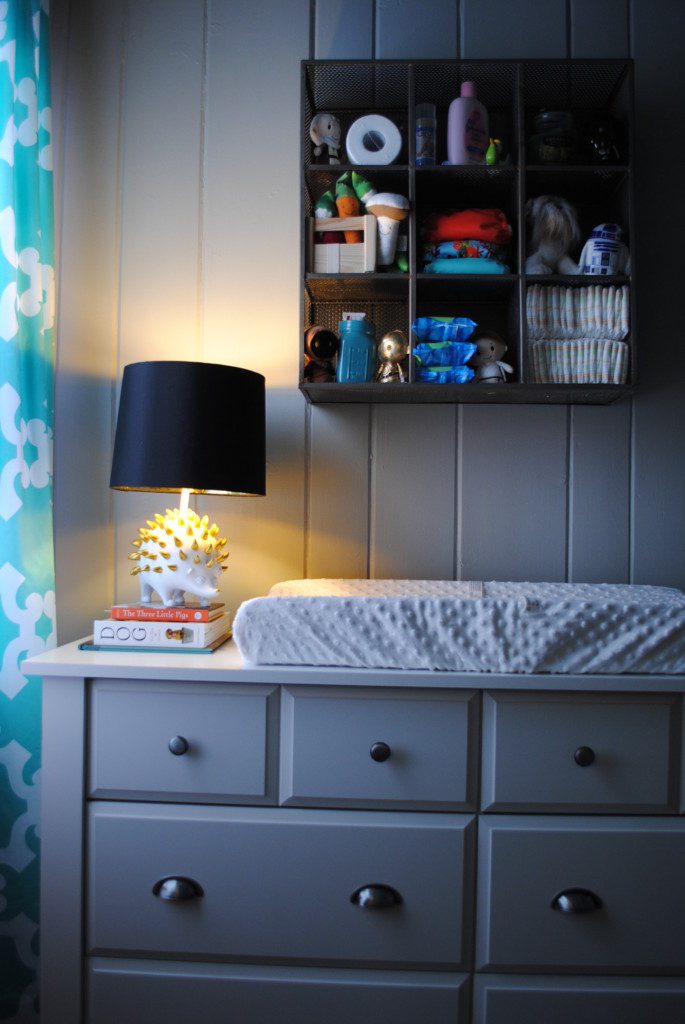 Lastly, I knew I wanted to create a gallery wall filled with meaningful pieces. Each item holds significance: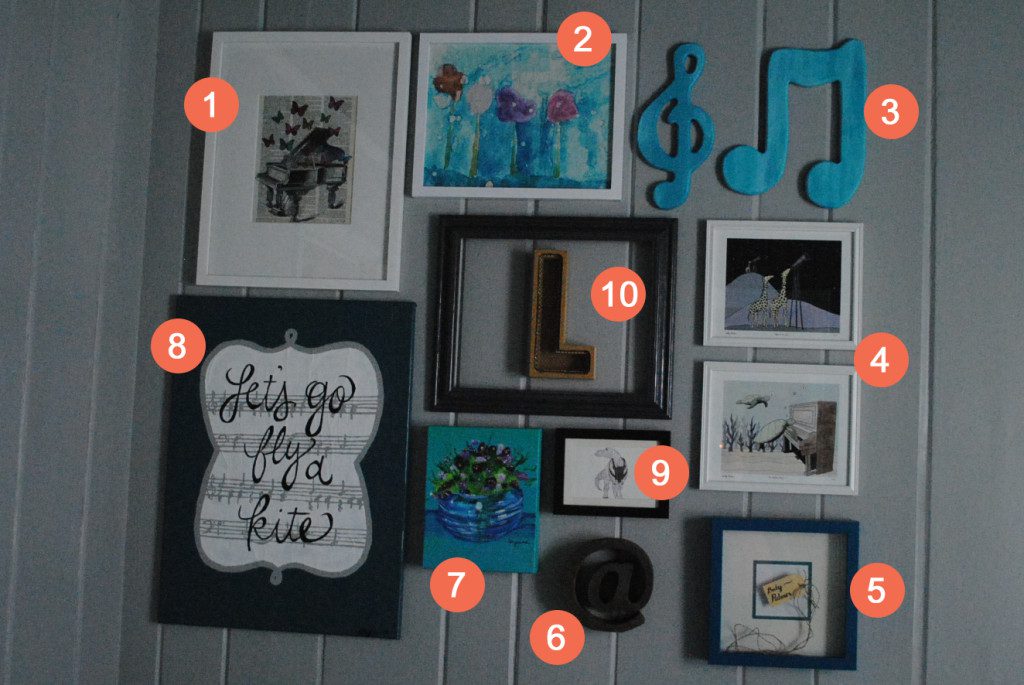 My husband plays piano, so this grand piano print from Etsy worked perfectly. Its dictionary page background also references our shared love of language.
This watercolor is perhaps the most meaningful piece of all. I painted these flowers at age seven, and my grandmother kept the painting taped to the wall of her closet for over 20 years. When she passed away a few years ago, I took the painting home and set it in a pile of papers in my basement. It somehow remained intact and finally received a frame this year, 23 years after its creation. Every time I look at it, I'm reminded of my grandmother's love for me, and how much she would have loved my daughter.
I painted these wooden music notes to tie in with our theme.
We picked up these animal prints at a craft fair years ago and relocated them to the nursery.
A friend with gorgeous handwriting made this special tag for a gift at my baby shower, so I popped it into a shadowbox as a keepsake.
This @ sign references my husband's line of work, email marketing.
My talented mother painted this colorful masterpiece!
My friend and colleague created this gorgeous custom canvas in the exact paint colors of our nursery.
Our friends gave us this cute card of a T-Rex wearing a Baby Bjorn when we shared the news of our upcoming bundle of joy.
We finally added the baby's first initial as the gallery wall's focal point one week after bringing home our sweet girl, Lyra.
Thanks for letting me share my new favorite room with you! Any other amateur interior designers out there?