If anyone else's family is like mine, the kids are going to get plenty of candy in their Easter baskets without me contributing to the sugar-rush. Now, don't get me wrong — I'm definitely including a few sugary treats in the baskets this year (the rainbow Twizzlers were too cute to pass up!), but I wanted some other non-sugar items to include in the five Easter baskets that I'm filling up for various kids in my family. I'm also on a budget this year since I left my corporate job to stay home and get my own business up and running, so I had to get a little creative with finding items that the kids (ages 3 months to 8 years) will actually love.
Here are some fun goodies that I've incorporated into the baskets this year, along with some that I'm keeping on the back-burner for next year's baskets: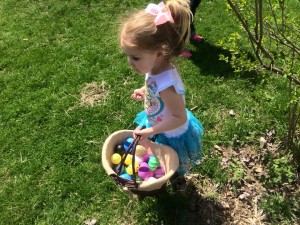 Kites: Walmart had some great 25-cent foil kites in character designs near the toy section this year. The four oldest kids are each getting a kite for some windy-day fun.
Toothbrushes: To combat some of that sugar, each of the four oldest kids is getting one of these awesome light-up toothbrushes.
Hair Bows: Target and Walmart always have great selections of adorable hair bows in the $1-$3 range. Or, even better, find a local crafter who specializes in hair bows and headbands and support a small business!
Hot Wheels: What kid (or adult!) doesn't love to race these little cars around? You can typically grab them for $1 each at Walmart or Target.
Character Figurines: My daughter is in love with My Little Pony (and I have to admit — so am I!). I grabbed individually-wrapped ponies at Walmart ($3 each) for my daughter and my niece.
Shopkins: Walmart and Target have these hot items in the $2-$5 range right now depending on the size you get. These are perfect for the older kids in your life. The $2 boxes are sized great for basket fillers.
Sidewalk Chalk: Buy a jumbo box for under $5 and package 2-3 pieces in a snack bag. If you want to fancy these up a bit, buy some Easter treat bags to put the chalk in and tie off the bag with a ribbon.
Bubbles: I might be in the minority here, but I've loved, loved, loved bubbles for my four-year-old ever since they kept her occupied during her role as flower girl in my brother's wedding when she wanted to follow me up the aisle as a bridesmaid. They're great to stick in the summer pool bag, too!
Crayons & Coloring Books: This was always my mom's go-to when we were kids and she didn't know what type of gift to give. It's a classic activity that I think most kids (and adults) enjoy.
Sunglasses & Sunscreen: I'm a melanoma survivor and a huge advocate of sun-safety, so I love putting new shades and sunscreen in the Easter baskets. Easter is a great time of year to check the expiration dates on your sunscreen and restock, too!
Gardening Gloves & Tools: Create a themed basket for the teeny gardener or farm kid in your life. A new bucket with work gloves, a spade, rake, hoe, and a flower to plant is a sure-fire way to get your kid outside (and maybe helping with the yard work!). My mom bought pre-made gardening kits for under $10 this year, and I know my daughter and niece are going to love them.
Experience Gifts: Gift certificates to the movie theater, skating rink, bowling alley, or ice cream shop are great gifts for kids who think they're too old for toys (but really, are any of us really too old for toys?).
Books: Board books for the littlest babes are fantastic, and Target usually has short stories for the little kids and chapter books for the bigger kids in the dollar spot for $1-$3. What parent doesn't like the gift of learning?
My last piece of advice for Easter baskets: gift bags and tissue paper. I've actually ditched the traditional basket and plastic grass and have moved to filling up gift bags with the Easter goodies and topping them with brightly colored tissue paper. My oldest daughter has received approximately 20 baskets and buckets in her four short years, and I know that we're not alone in this. She still has her fancy traditional Easter basket that I bought for her first Easter, but I've discovered that putting the gifts and candy in a bag frees up her basket for the egg hunts without a last minute dump of candy and grass and toys to clean out of my car later. (Seriously — does anyone enjoy trying to vacuum up that grass?)
Happy Easter & Happy Egg-Hunting!