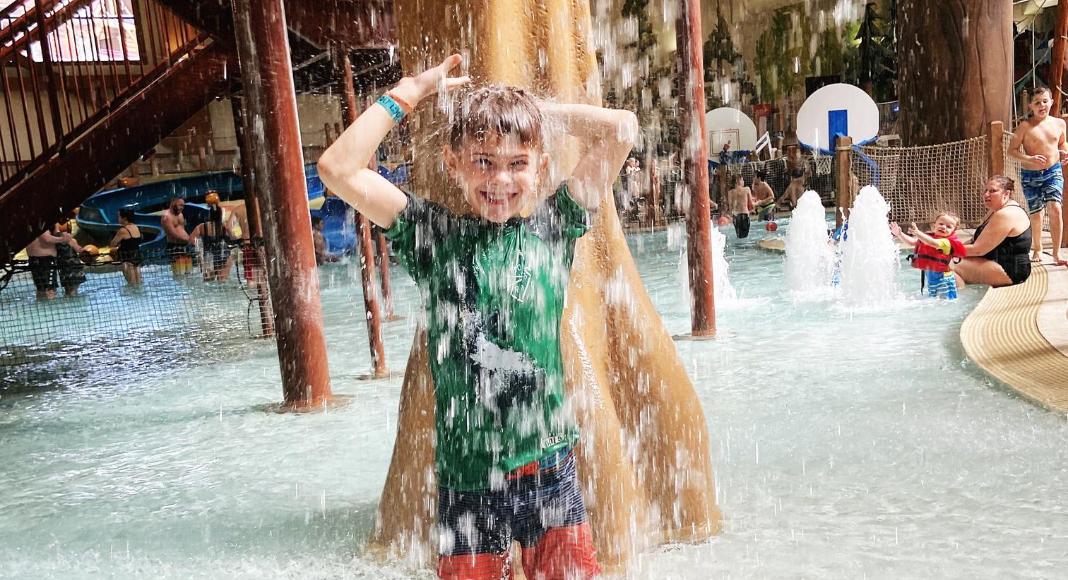 Every night before bed, my four year old asks me, "Can we go to Great Wolf Lodge tomorrow?" And I promise you, she is dead serious. It has been a few months since we spent the weekend away and it is still one of our favorite family getaways to date!
Are you considering a trip with your family to Great Wolf Lodge? If not, you should be and here are a few tips to help you get started with your planning!
Getting Started
Booking Your Stay
When you book your trip, your stay includes access to the water park and to the kids activities that are planned throughout the day as well as unlimited Wi-Fi throughout the resort. Some of the activities that are included are The Great Clock Tower Show, Story Time and PJ Party – which was one of our favorites from the entire weekend!
Mom Tip: Definitely make sure you watch The Great Clock Tower Show at least one time during your stay. After speaking with the GM, he shared the GWL in Cincinnati/Mason, Ohio is one of the last remaining resorts with this classic feature.
Dining Options
There are so many great dining options you can eat during your stay. From pizza to buffets to sit down restaurants, you will definitely have plenty of options to choose from for your family. When booking you do have the option of adding dining packages onto your stay, which makes the trip even more convenient!
Mom Tip: There is a mini fridge in your room, so pack snacks, juice boxes and even milk to stock up in the fridge to munch on after your waterpark adventure!
Activities and Attractions
Your stay does include access to the waterpark and several planned activities that were mentioned above. But there are SO much other attractions your family can enjoy that are definitely worth the investment! MagiQuest sends your family on an adventure throughout the hotel finding clues that you can solve with the help of your magic wand. Other attractions include the arcade, Howl-in-One Mini Golf and even a Build-a-Bear store. Snagging an Attraction Pass is the best way to get the biggest bang for your buck with three different level of passes.
Mom Tip: If you have early risers, hit up the MagicQuest first as soon as it opens for the day to miss the crowds!
The Indoor Water Park
While my family loves the water, we never had been to an indoor water park of this size before. I was a little nervous that my water hesitant child would be overwhelmed, but there truly is something for everyone here. My youngest (who is four) and I had a blast in the Cub Paw Pool with all the different activities that were perfect for her age. She also loved Fort Mackenzie and had a blast watching the buckets of water dump on people as they tried to walk up the stairs of this fort treehouse! As for my husband and older kids, they spent the entire time adventuring every single slide, including Coyote Canyon, which my son described as a big toilet. (It's literally a huge water vortex so this is an accurate description if I'm honest.) Slap Tail Pond was also a hit with everyone because who doesn't have fun in a huge wave pool? But truly you can spend hours at this water park and have a blast the entire time!
Mom Tip: If you book during the week, hit the water park during the evening to avoid crowds.
Covid Safety Plans
Great Wolf Lodge is committed to keeping your family safe during your stay but also ensuring you still have fun! Here are a few of the safety guidelines they have put into place:
All guests are required to wear face masks.
Social distancing (at least 6 feet) is enforced throughout the resort including seating at the water park and at various attractions.
Floor Squares are used to ensure social distancing during activities and character appearances as well as limiting guest capacity.
Increased cleaning and sanitizing with hospital grade disinfectants and cleaning products.
Contactless payment with credit cards (no cash will be accepted) as well as online and mobile app for check in and ordering.
You can read more details about all of the safety measures GWL has put into place here.
Our Experience
I joked with my friend who was getting ready to book a trip with her family that Great Wolf Lodge is the "Disney of the Midwest." The fact that everything is contained into one resort makes it convenient and fun, and the ideal getaway for anyone. My family played hard from early in the morning until late in the evening and we didn't have one meltdown – until we had to leave of course. I'm looking forward to planning another trip soon because it truly was a memorable experience my family will never forget!
For more information, check out Great Wolf Lodge online and start planning your trip with your family!