On Sunday, April 29, Indianapolis Moms Blog was thrilled to host our second annual Bloom event! Bloom celebrates the shared experience of motherhood and brings moms in communities all over the country together for a day of connection, fun, shopping, food, swag, giveaways and more!
We're proud to work with our City Moms Blog Network partners to bring this event to Indianapolis for the second year in a row.
Thanks again to our title sponsor, Hancock Regional Hospital
Our title sponsor for Bloom 2018 was Hancock Regional Hospital, and we were so grateful to partner with such an incredible local resource for expectant parents and their little ones. Better healthcare for women has been key to Hancock Health's mission since its founding. We even had the pleasure of hearing from two of Hancock's experienced care providers, Theresa Lueder, Service Line Director for Women and Children, and Lisa Buksar, a labor and delivery nurse with more than 20 years of experience bringing babies into the world. Theresa and Lisa provided insight, education, and reassurance to the expectant mamas in attendance during our labor and delivery panel discussion.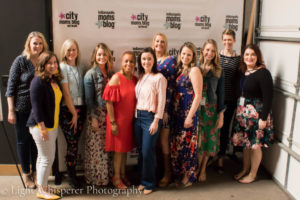 On the big day, a crowd of around 100 headed to Speak Easy in Broad Ripple. The Speak Easy is a gorgeous event and co-working space located right off the Monon in South Broad Ripple, and it ended up being the perfect venue for Bloom. The sunny, warm spring weather was better than we ever could have expected after the mostly dreary spring we experienced throughout March and April. As local moms began lining up outside, chatting and getting to know each other, the excitement was building!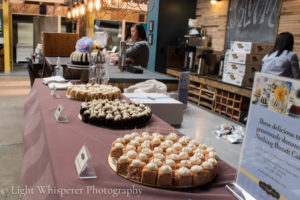 Our attendees enjoyed shopping and treats for the first block of the event, and we had some amazing food and shopping sponsors for our mamas to enjoy! Our fabulous food vendors included:
Bloom 2018 Marketplace Vendors
After getting treats, attendees browsed the fabulous shopping options. We were so thankful to partner with these incredible local business. Our marketplace vendors included:
Motherhood & Parenting Panel
We took a break from shopping for our motherhood and parenting panel featuring three incredible Indy mamas! Our event emcee, Kylie Conway of WISH-TV, led a discussion with: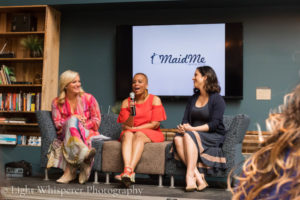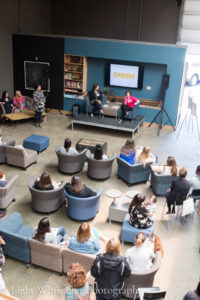 These ladies seriously brought down the house with their honest, hilarious, and relatable take on the everyday challenges of motherhood. Thank you again to Kylie, Candace, Erin, and Lauren for making Bloom so special!
Featured Speaker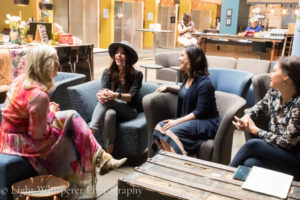 After the motherhood panel, Kylie introduced our featured speaker, Anissa Zajac of HouseSeven Design + Build. Anissa is a local interior designer, business owner, Instagram guru, and mother of three. Anissa shared her story of starting her first business as a stay-at-home mom. She continued pursuing her dreams and trying new things until her Instagram account focused on designing her family's seventh home really took off. Her design talent was in demand, and she soon found herself managing a booming interior design business. HouseSeven has recently expanded to include construction services courtesy of Anissa's husband, Brian. Thanks again to Anissa for her inspiring and lively talk!
Giveaways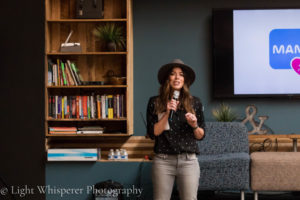 Once the talks concluded, it was time for giveaways! And we had some AWESOME prizes up for grabs. Giveaways included:
Bloom 2018 Sponsors
We have so many people to thank for making this event possible. Other fabulous event sponsors and vendors included: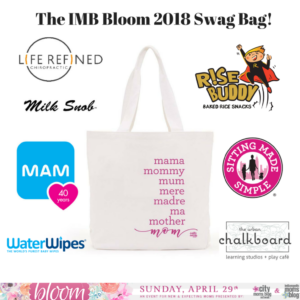 Swag bags were loaded with awesome goodies from Milk Snob, MAM USA, Water Wipes, Rise Buddy Snacks, Sitting Made Simple, The Urban Chalkboard, Life Refined Chiropractic, Abboo Candle Company, Ballerinas Academy, MaidMe and more! A huge thank you to all of our wonderful swag sponsors.
Bloom 2018 was an incredible celebration, and we are so grateful for the opportunity to bring together our mom tribe here in Indianapolis. Thank you so much to all the beautiful mamas who joined us! Bloom 2019 will be even bigger and better, so stay tuned for next year's event details.