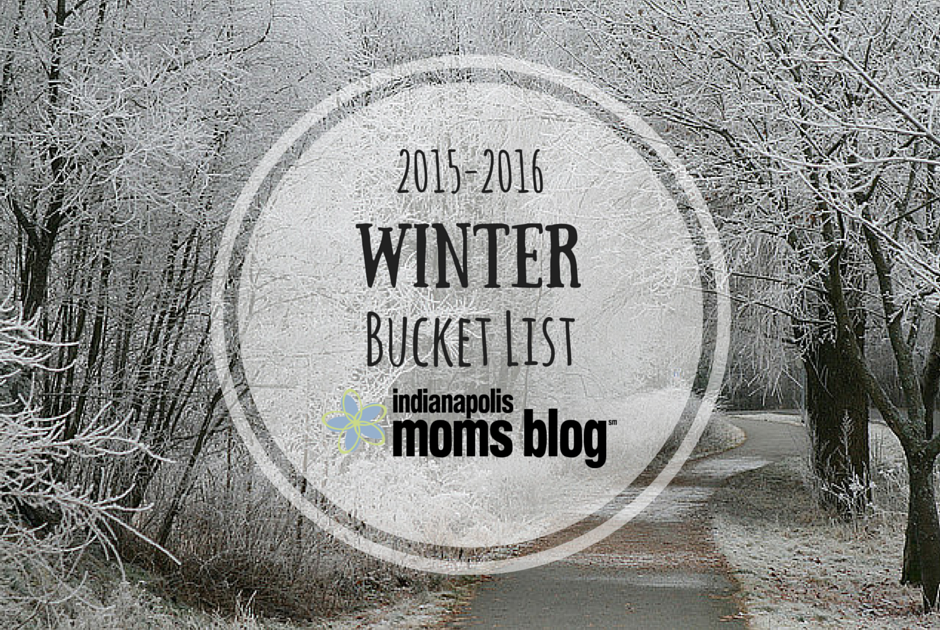 Despite the fact that this fall has presented warmer temperatures than normal, winter is almost upon us here in Indianapolis, and Hoosier country is ready with some fun, family-friendly events and activities. So grab your coat, camera, and our 2015-2016 Indianapolis Winter Bucket List to help you navigate this busy holiday season. Bring it on old man winter, we're ready for you!
Watch how candy canes are poured at Martinsville Candy Kitchen and bring home a few to enjoy later! They even do custom orders for different flavors, colors, and shapes to fill Christmas stockings.
Skid down the Yule Slide, make it snow in the giant snow globe, and "ice skate" in your socks at the Children's Museum of Indianapolis' Jolly Days Winter Wonderland.
Drive through the free Christmas lights display at Reynolds. It's a great way to keep kids of all ages entertained and warm!
Meet Santa in person, snap a picture of him with your terrified, crying children, and be sure to tell him everything you want for Christmas this year. The following locations are offering Santa sightings:

Indianapolis Zoo: Nov. 27 until Dec. 23
Children's Museum of Indianapolis: Nov. 27 until Dec. 24
Indiana State Museum – Celebration Crossing: Nov. 27 until Dec. 24
Clay Terrace: Nov. 21 until Dec. 24
Hamilton Town Center: Nov. 12 until Dec. 24
Greenwood Park Mall: Nov. 7 until Dec. 24
Castleton Mall: Nov.7 until Dec. 24
Keystone at the Crossing Mall: Nov.21 until Dec. 24

Board the Sullivan Express to be transported to the North Pole. $20 includes admission for the whole family to ride the train, visit Santa, and take unlimited selfies of the experience.
Spend a night watching Christmas movies as a family and add to the fun by preparing elf spaghetti for dinner!
Attend a live nativity scene to learn more about the experience Mary and Joseph had more than 2,000 years ago.
Start the tradition of giving your child a Christmas ornament of their own each year so that they can decorate their own tree when they're grown. You can even create a family keepsake ornament book as you go to keep track of them all!
Leave your kiddos with the grandparents to bake Christmas cookies, go shopping for all those last minute gifts with your spouse, and head your favorite restaurant for wine and appetizers. Leave your server a generous tip, remembering it's a very busy time for wait staff and can really help someone out who's pinching pennies for gifts.
Visit the Garfield Garden's Conservatory on December 12 to meet Santa and see Conservatory Crossing, the holiday train and poinsettia show. Kids can also make toys with Santa's elves!
Pack a shoebox full of presents for a child in need through Operation Christmas Child.
Learn about new and old holiday traditions at the Indiana State Museum's Celebration Crossing. While you're there, be sure to ride the Santa Claus Express!
Participate in the 27th annual Jingle Bell Walk/Run. Nearly 3,500 people tie jingle bells to their shoelaces, don festive holiday costumes and join friends and neighbors to support a cure for arthritis.
There's nothing quite like the smell of a real Christmas tree during the holidays, and when you visit the Indiana School for the Blind and Visually Impaired's annual Christmas tree and wreath sale, you get to support a great cause and take some greenery home with you. Plus, if you visit on December 5, you may just get to meet Santa and some of his baby reindeer.
Sip a French Hot Chocolate at any of Cafe Patachou's Indianapolis locations and rest assured that the food (including their amazing kid's menu!) is just as good as it sounds.
Experience Christmas at the Lilly House at the Indianapolis Museum of Art. The house will represent decor from the 1930s and 1940s, a time that was indicative of Depression era frugality.
Enjoy a family game night and picnic in front of the Christmas tree. Pick your favorite board games, turn on Christmas tunes, and break out the fort building materials.
Go wild for Christmas at the Indianapolis Zoo. There will be treats, lights, carolers, and even mistletoe. Who knows–your littles may even see Mommy kissing Santa Claus!
Clean out your closets and donate the clutter to the Wheeler Mission, an organization that provides for the homeless of our community.
Make a ridiculously cute Christmas craft to hang year after year (even when your kids are old enough to be embarrassed by them).
Write a letter to Santa and deliver it to his direct mailbox at Monument Circle to ensure it arrives safely. While you're there, admire the world's largest Christmas tree, complete with nearly 5,000 lights and stretching over 240 feet tall. The tree has been named by Travelocity as one of the top five must-see Christmas trees in the nation.
Hear the angelic voices of the Indianapolis Children's Choir at one of their holiday performances.
Create a Gingerbread house from scratch or go the route of buying a kit at the store. Either way, enjoy making memories as a family.
Buy matching pajamas for the whole family and take an embarrassing family photo on Christmas morning.
Decorate a plate for Santa's cookies to use year after year at a pottery shop. Pottery by You, You are the Potter, and Kiln Creations are some great local places.
Make gift giving interesting this year and go the route of choosing a theme, whether it's travel, the color blue, or some other category you come up with. Or keep it simple by only buying four presents: something you want, something you need, something to wear, and something to read.
Visit Conner Prairie during the day for a flurry of holiday activity and return at night for Conner Prairie by Candlelight, a tour that features costumed interpreters who discuss the history of various holiday traditions. After the tour, be sure to check out Gingerbread Village!
Make your own set of Santa binoculars to see if you can spot that Jolly fellow on Christmas night!
Attend the "Yuletide Celebrations" performance put on by the Indianapolis Symphony Orchestra. It's an awesome way to support local performers and celebrate the arts and the holidays.
Pick your favorite childhood Christmas story, pull your child close and read it to them.
**We will continue to update this list throughout the season, so be sure to check back for even more great ideas and events this winter!