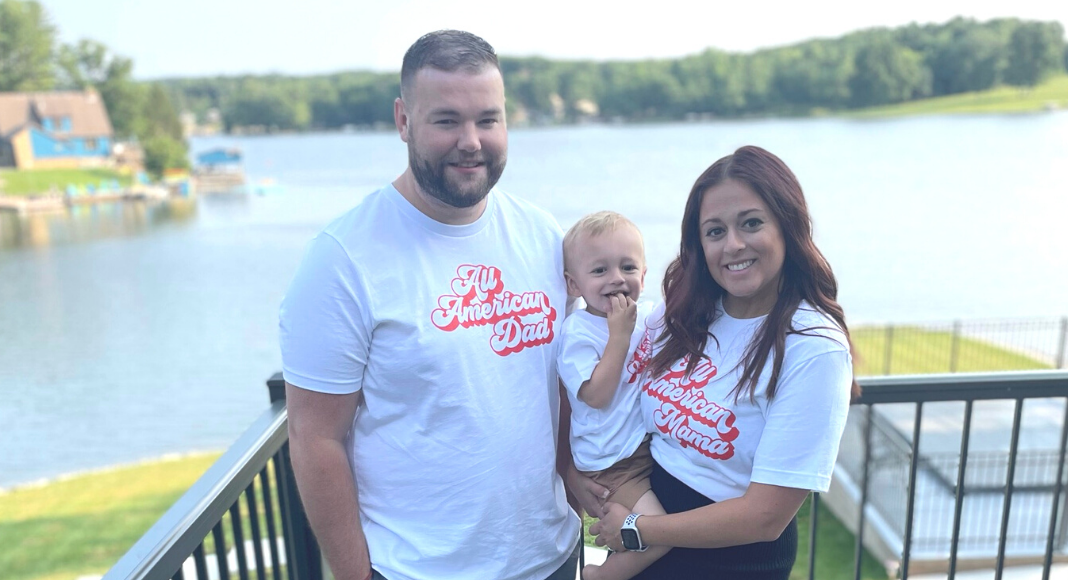 Hey guys, I'm Allie! In my heart, I am a Georgia peach, but my Hoosier blood runs deep. I grew up in Indiana for 24 years, then lived in Georgia for 6 years, and now I am back in Indy! My husband, one and a half-year-old son, our rescue pup, and I are currently living in Carmel.
I am an aspiring stay-at-home mom, that is currently filling the roles of work-from-home mom, stay-at-home mom, wife, housekeeper, and much more. I studied Psychology and Criminal Justice at Indiana Wesleyan University. As is the case with many other college grads, I have not used my degrees specifically, but have worked in some wonderful nonprofit organizations that provide services for adults with intellectual and developmental disabilities. I currently work remotely in HR, at a nonprofit that I worked at while we lived in Georgia.
My husband and I met through a setup from a mutual friend. We hit it off that night and were in a long-distance relationship (him in Atlanta, me in Indy) for two and a half years before getting married. We both love God and have worked hard to make sure we keep Him in the center of not only our lives but our marriage and family too. We rescued a sweet, shy, but also very bossy Chihuahua a couple of years into our marriage. She quickly stole our hearts…and a bigger than necessary part of our bed.
We welcomed our son Pax in 2019 and are so spoiled by how great of a kid he is. He is unbelievably happy, loving, and easy-going. He loves to talk, eat, play with cars, make animal sounds, and play in the water. I used to roll my eyes when I heard parents say things like, "they grow up so fast"…BUT GUYS…he's growing up so fast!
A few other random tidbits about me. I very well might have missed my calling as a criminal investigator, but I get filled in that area by listening to Crime Junkie every week. Even though I am 30 years young, I have the heart of an 80-year-old; I can often be heard using phrases such as "good grief" and enjoy eating my dinner at 5 pm. Donuts are one of my favorite foods, so much so that I started a donut Instagram blog to share my donut adventures with the world. My guilty pleasure tv show is Keeping Up with the Kardashians, I love watching Khloe and Scott prank people. Also, DoorDash and Amazon probably have me on their "regulars" list.
Can't wait to share more with you all through my work with Indianapolis Moms!