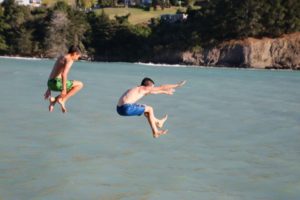 I am packing my 9 year old's suitcase for his 1st ever sleep away camp. I'm super excited for him to leap into this new experience and I know he's going to have a great time, but I'm having a just tiny twinge of anxiety about it! He's responsible and mature for his age, but he's still my baby (my baby who is going to be away for 5 days for the 1st time and not with family!) I mean, he doesn't want to even take his most precious stuffed puppy he has slept with since a baby—when did he get so big? I know I'm going to tear up when we say our goodbye's and geez…I'm already thinking of how even harder it will be when dropping him off at college.
So mamas…deep breaths. We've all been there and or will be in the future. I've asked a lot of other more experienced moms in this area for their survival tips on how to prepare him (and me!) Here's what they have to say…
Packing: For each day, I am packing his outfits in gallon baggies and writing the day of the week on the outside of the bag. That way, he hopefully he won't have to second guess what to wear each day. I'm planning on including a note in each bag for him from me and his daddy (probably with jokes and other things to make him smile). I'm also packing a trash bag for him to put all of his dirty clothes in (well, because hard telling how gross his clothes will be by the end of the week!)
Care Packages: I'm going to send him a little care package while he's there (no food allowed). I'll probably be including some of his favorite things like a fidget spinner, a card game, temporary tattoos, etc. Do yourself a favor and look on Pinterest for some ideas (but don't get too overwhelmed—keep it simple and think of what your kiddo would like).
Notes from Home: There really isn't much communication coming back to us as parents, but we do get to use an electronic system where we send "Bunk Notes" to him each day. I'm going to do this in additional to our little notes we're leaving in his outfit baggies.
Don't Show Fear or Worry: Above all, don't show fear or worry to your kiddo to ensure they won't worry and they will have fun while away from home. Time will fly by and they'll be home before you know it for you to hug them tight.
So excuse me while I go smother my son with hugs and kisses before he leaves and comes back probably filthy dirty, stinky and full of wonderful stories about his first experience away from home at sleep away camp.