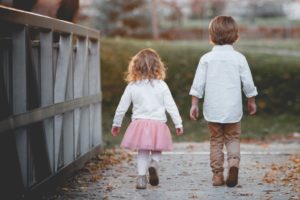 Many of times, I have heard the phrase "2 kids under 2", which is usually followed by the trials and tribulations of having two small humans that are completely dependent on an adult. I always knew that I wanted to have two kids but as life goes, I wasn't sure that I was going to get what I wanted. After multiple miscarriages and unexplained infertility, we (naturally) became pregnant with our son and at that point, I could not have been happier. My husband and I knew that if he was going to be our only child, we would be totally ok with that. I had always wanted two kids because while my sister and I fought like crazy, we are great friends now and I wanted my own children to experience that same sort of sibling relationship.
Fast forward to my 6 week postpartum checkup and I was cleared for "regular activity" again. My doctor gave me the speech about birth control and I remember laughing in my head because why would someone who had infertility issues need birth control? Well…on December 29th, I finally got the answer to that question. In my hand, I was holding a positive pregnancy test while our newborn, 8 week old son was asleep in the room next door. My husband and I sat in virtual silence for the rest of that Friday evening, trying to process what just happened and then wrap our heads around the idea of TWO babies. Literally.
THE POWER OF POSITIVE THINKING
After the initial shock wore off, I started researching blogs and Instagram posts related to "Irish Twins". Since our babies were going to be 11 months apart, give or take, I thought looking to parents who had lived to tell through it would be the best place to start. As I read through various posts, I started to feel more at ease with the idea of having two kids so close in age. Like I mentioned above, we had always planned for two kids, but maybe not QUITE this quickly (my C-section scar was still fresh, for goodness sakes!). We approached this pregnancy just like every other one, with cautious optimism, and as the weeks went on, everything seemed to be going along perfectly. My fertility doctor kicked me out at 10 weeks, telling me I had set a record for the fastest turnaround in his career. While it was all somewhat humorous to think about, it was also a true miracle that was beginning to unfold.
As I type this, I am 26 weeks pregnant with a baby girl and trying my best to enjoy all the one on one time with my 8 month old son before his sister turns his world upside down. Along with my growing belly, we have figured out that we are going to need a bigger car because of the two car seats and are in the process of building a house to accomodate our growing family. It's a little funny to think of how quickly your life can change in such a short time; my husband and I (and our 3 dogs) went from having a fairly carefree life, doing things as we please, taking trips and enjoying "adult-like" things. And now, my focus has redirected itself to adding not one, but TWO kiddos into the mix and trying not to completely lose my mind.
Am I nervous? Absolutely. Managing two kids is a challenge, regardless of their ages. But when baby girl arrives in August or September, I will have a newborn and an 11 month old. They will both need my attention and I worry about how I will juggle my mom responsibilities. My husband knows that he will have to step up even more than he already has because having two babies (literally) is going to be A LOT of work. We are still learning a lot about parenting and by no means, have we figured this all out. But, ready or not, baby girl is coming and we are going to do our best to provide a loving, stable, enriching and fun environment for both of our kiddos as they grow into little humans.
Challenge: accepted!