I remember getting my hospital bag ready for my first baby and being seriously overwhelmed. Where was I to even start? Of course I had the recommended list of items that I was given at our birthing class, but did I really need everything? And was there anything I was missing? After having three children, I think it's safe to say I've figured it out. I've compiled a list of things I know I would need, as well as things that I find helpful, especially for the first time mamas.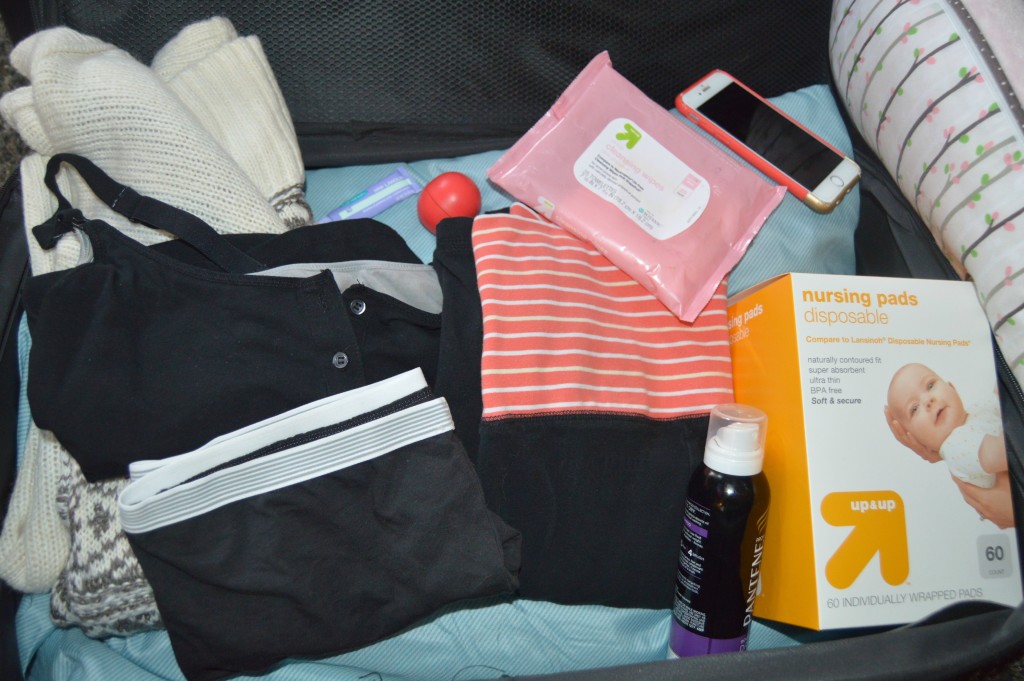 Clothing and Accessories
Nursing Tanks or Sports Bra- If you plan on nursing, a nursing tank is a must!  With a simple unclasp you are ready to feed your bambino.  And trust me, in the middle of the night when you've had just a few hours of sleep, simplicity is a must.  If you don't plan on nursing, I recommend a snugger sports bra to help with the drying out process.
Boy Short Underwear- Yes, I totally shared a picture of my underwear with you all.  However, these are the best post baby underwear ever–almost as great as the mesh granny panties they give you in the hospital. While these don't take the top spot, they do take second place and I love the comfort and coverage they have to offer during the post baby recovering period.
Boppy Pillow- If you plan on nursing, I definitely recommend this pillow.  It also comes in handy when siblings want to hold baby as well as when you are sitting in your bed, it makes a comfy place to put baby down for a minute or two.
Bed Pillow- While my hospital may have recently been renovated to resemble the atmosphere of the Conrad, the pillows unfortunately were not upgraded. I felt like I was sleeping on a trash bag filled with paper.  My husband was prepared and brought his along, only for me to guilt him into sharing it with his poor wife who just delivered a baby. But any little comfort from home helps the healing process as well as makes it just a little bit more comfy during your stay.
Maternity Leggings or Yoga Pants- I bought a pair of maternity leggings from Gap when I pregnant with Lola and they may have stayed in my regular clothes pile ever since. You definitely want some comfy pants for lounging around but especially ones to head home in. Trust me, you won't want to wear anything else for the next six weeks or probably forever.
Cardigan or Comfy Open Sweater- Hospitals can go from hot to cold in a matter of seconds.  Now add in the roller coaster of hormones and you'll go from freezing one second to sweating bullets the next.  It was nice to have something I could easily throw on and off in a matter of seconds as well as a sweater I could take off when the nurses had to check my vitals.
Beauty Must Haves
Face Cleansing Cloths- You will want to spend as little time getting ready for bed as possible while at the hospital because you will likely be exhausted, and when that baby sleeps you will want to sleep too. I love the convenience of these wipes as well as the grapefruit smell. They are gentle and not too harsh for sensitive skin and get the job done.
Lip Balm- I have an obsession with lip balm, so making sure I have it with me is always a priority, especially with the dry hospital air. I love these EOS balls because they smell so good and let's be real, they are super cute too!
Nursing Pads and Nipple Cream- It might take a few days for your milk to come in, but when it does you want to be prepared! I like these Up & Up pads because they have a sticky side that will make sure the pad stays put in your tank or bra.  And the nipple cream is a MUST for nursing mamas. You forget how sore and cracked you get when first starting the nursing process, so this helps offer a bit of relief.
Dry Shampoo- While I was eager to shower as soon as the nurse gave me the go ahead, I was definitely happy to have my favorite beauty product packed the next day of my hospital stay. With a couple of quick sprays and a brush through the locks, my hair was smelling great and ready to tackle the day (meaning it didn't look greasy and I was totally okay when baby spit up in it). You'll want to keep an extra can on hand for the rest of your mommy life–trust me.
Electronics
Camera-  This is the first baby that I got to use my fancy camera on. The only downside is you have to make sure the people taking pictures for you know how to us it–sorry Dad, we need to practice on your photography skills a bit.
Phone/Phone Charger- Seriously, don't forget these.
Netflix- I'm half kidding about this one but I do highly suggest getting the app on your phone if you do have the service because I have almost finished all three seasons of Orange is the New Black thanks to my middle of the night nursing shenanigans. I like to refer to this time as Netflix and Nursing.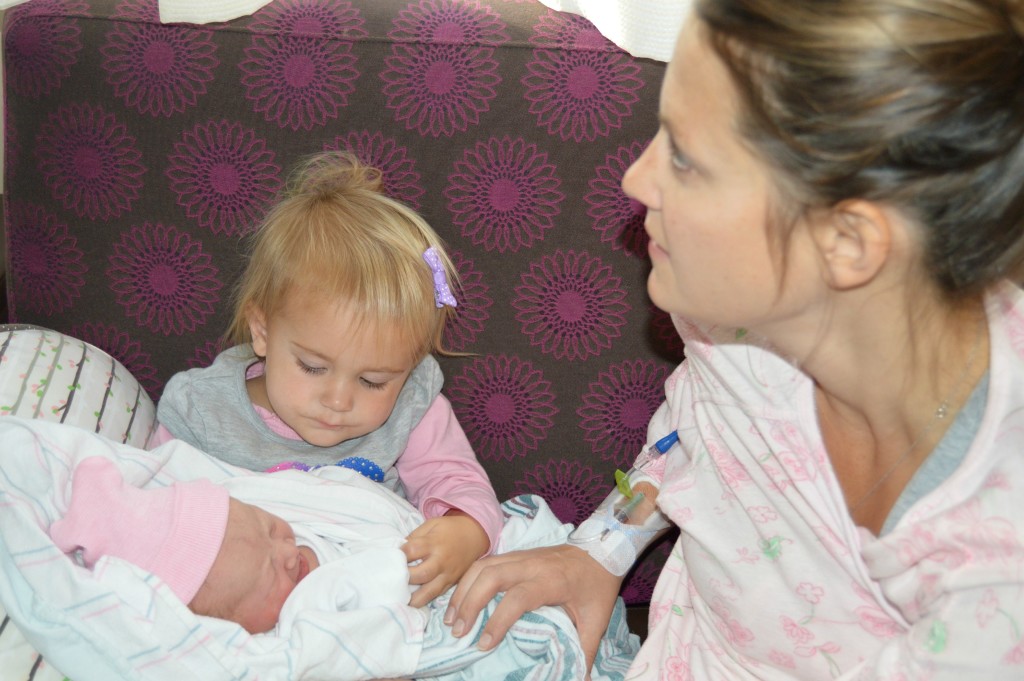 When I had my son, it was the first time I had ever stayed in a hospital and really didn't know what to expect. Now three kiddos later I guess you could call me an old pro (kidding..kind of). I knew not to over pack or pack the things that I didn't even end up needing (your partner will also appreciate not having to carry a 40 lb suitcase for you as you try to breathe through contractions). However, if you only have time to pack one thing, I recommend that you grab the yoga pants.  Trust me, you can never go wrong with the yoga pants.