Feeling the boredom of summer already? Never fear – we've got your checklist of family togetherness ready to go! #SummerGoals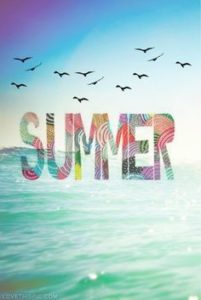 Day of planting – plan, purchase, pick out, and plant something new! Get your hands in the dirt and give back to the planet.
Swim day – find a new pool, waterpark or splash pad to try.
Animal outing – Let your monkey out of its cage and take a visit to The Indianapolis Zoo or a road trip to a family farm.
Beach day – Grab your shovels and sunscreen and head to the beach.
Volunteer – Find a volunteer opportunity in your town and donate items or your time to a good cause to help the local community.
Media free weekend – that's right, none! Can you do it?
Museum day – The Children's Museum of Indianapolis, The Eiteljorg, and The Indianapolis Museum of Art; put all three on your calendar and reserve time to go as a family! Make it a priority to make a whole day out of each.
Outdoor movies at the park – Many of our city parks host family-friendly movie night; check out the upcoming shows at Carmel Clay Parks & Recreation.
Have a water balloon fight!
Sleepover – Invite a friend or have a family sleepover, complete with movies, table topics and more.
Board game day – Make a day of nothing but games! Inside or outside, there are some lawn games that will have your kids entertained for hours. Did I mention Pie Face? Your kids will love it.
Theater – Introduce your children to one of your favorite plays or musicals; The Center for the Performing Arts or Beef and Boards have great options for the whole family.
Campout – Even if it's in the backyard, there is something special about summer nights, tents, and a campfire. Share the joy of making s'mores and sleeping under the stars.
Hit the fair – Treat your children to a petting zoo, kiddy-rides and their favorite fair food at the Indiana State Fair.
Clean out the garage – Everyone helps! Go through all the areas of the garage and organize, then donate the rest.
Pack a picnic and head for a new park.
Family kitchen day – Grab your aprons and try out a new recipe: plan, shop, make, and most importantly, eat together!
Paparazzi – Head out to some of your favorite places in the city; arm the little ones with their own camera, and get a new perspective on how they see the world.
Letters – Write to some of your far-away family members – create pictures, and handwritten letters telling them about your summer adventures.
How many of these summer goals have you completed?